3 Common Sales Problems Automation Solves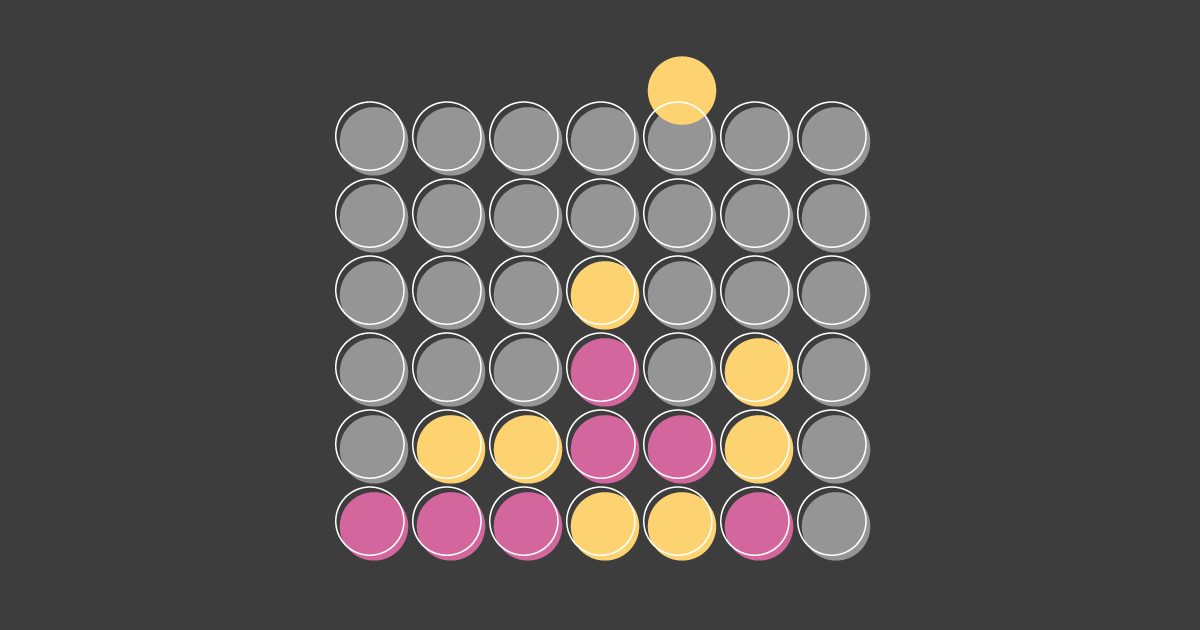 Quip for Customer 360 is changing the ways Sales teams work by bringing documents, data, and processes into Salesforce, and enabling teams to centralize the processes that historically lived outside of Salesforce. Quip is helping organizations achieve sales success because of its ability to solve specific problems sales teams are facing. There are three complaints that Salesforce Admins bring up again and again:
Sales reps aren't ramping fast enough
Despite my investment in Salesforce there still isn't a single source of truth
Sales reps are all doing things a little bit differently.
Automation in Quip can help solve these three core issues. There are 17 Quip actions in Process and Flow Builder that can be used to create consistent business processes and save your team time. With actions such as Copy with Live Paste, Add Document to Folder, and Send Message in Chat, the impact Salesforce Admins can have is huge. Let's dive in to how teams are solving these problems with automation.
Problem 1: Sales reps aren't ramping fast enough
This happens all too often: A new rep joins the team and despite being a top performer at their previous company they are slow to ramp up and start making impact. When this starts to become a pattern, you realize it isn't about the individual, but it's about the processes the team has in place.
Automating Quip for Customer 360 can play a key role in streamlining the onboarding process and making Sales Reps successful faster. Setting up guidelines using Process Builder and Flow Builder removes the guesswork of learning a new process.
Solution: Requiring a document be created before a stage change can occur.
By using Process and Flow Builder, teams can require a Close Plan be created on the Opportunity before the stage can change to Closed/Won. By setting these parameters Sales Reps don't have to remember to do the process, the built in automation will remind them and ensure even new team members have completed all the necessary steps.
Take it to the next level: Move a document to a folder.
Not only can you require that documents be completed, you can also make sure those documents are automatically added to the right folders so all the data stays organized in one central place. Through a simple Process Builder automation, when a document is created it can be automatically added to a folder in Quip. This creates organization so every document is in its place and shared with the right people. This means teams can start collaborating right away. Follow these step-by-step instructions to create this automation for your team today!

Problem 2: Data is leaving Salesforce
It's not uncommon that key information about Accounts and Opportunities live outside of Salesforce. This makes it hard for Sales Leaders to forecast, Salesforce Admins to accurately report, and Sales Reps to keep track of the information they need to close deals.
Automating with Quip for Customer 360 keeps teams working inside of Salesforce so you have more data than ever before. Stop emailing documents back and forth and worrying about new versions saved on desktops.
Solution: Have a Quip Template automatically populate when a record is created.
With Quip, all the work happens inside of Salesforce in collaborative documents. Templates make this even easier. With templates, everyone knows what information needs to be in the document, and using mail-merge syntax and the Salesforce Live Apps in template mode, teams save time and work within consistent documents on every account.
Streamline key processes by auto-creating documents when new records are created in Salesforce. For example, when a new account is created, the account plan template can automatically populate on the account using Process and Flow Builder. With account plans and other key documents maintained in Salesforce, your CRM becomes a single source of truth.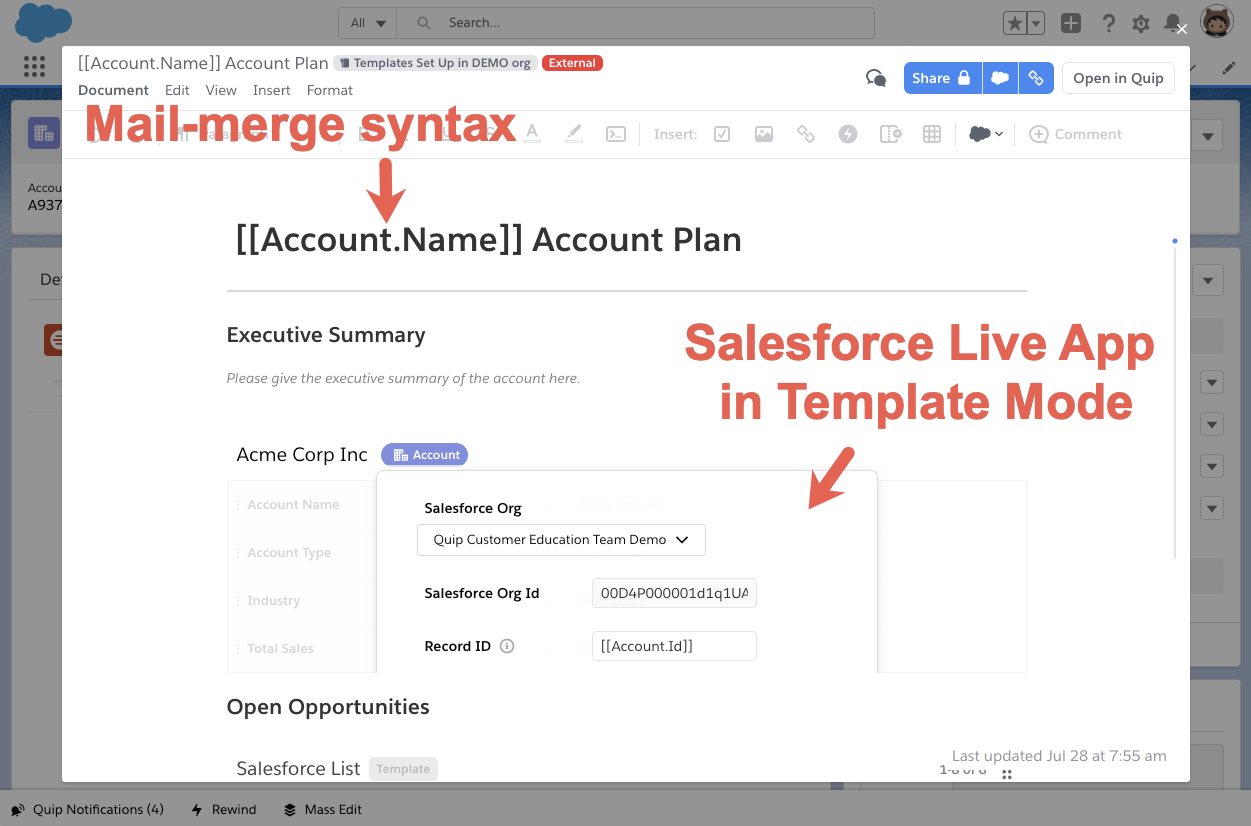 Problem 3: Sales rep processes aren't standardized
Sales teams do what they can to close deals and make their numbers. At times it might be tempting to cut corners to buy back time in their day, but what if automation gave them that much needed time back instead? By automating processes every rep will be doing the same important steps in Salesforce, without the manual admin tasks.
Solution: Automatically populating the template at a stage change, adding to a folder, and sending a notification.
In this automation, Process and Flow Builder work in combination with Quip Templates to take manual work off your team's plate:
When a stage changes to Proposal/Quote
A Quip Opportunity Close Plan template is automatically created on the Opportunity
That document is then added to a folder
A notification is send to all the relevant people letting them know they need to take action
Follow these steps in Process and Flow Builder to create this automation. Keep in mind the record type, stage, and template are totally customizable, so get creative with how this automation can be impactful for your team.

Start automating
Now that you have some ideas on how Templates, Process Builder, and Flow Builder can help your Sales Team find success, start automating! For more information on Quip for Customer 360 check out the Quip for Admin Learning Path or sign up for Quip Academy, an in-depth learning session designed for Salesforce Admins.
Not sure where to start with automation? Check out the Quip Setup Starter for an easy managed package experience.