Search redesigned: Find what you need even faster
Search engines have fundamentally changed the way we look for information. Browsing through websites is just not as efficient as typing a query into Google. A quick scan of the results page, and voilà, you've found what you're looking for. They've truly spoiled us.
That's why it's so frustrating to waste time looking for files at work. Search functionality in most enterprise software just doesn't hit the mark. In fact, IDC data shows that employees spend "about 2.5 hours per day searching for information." Talk about a time sink.
When search fails us, we often pull in our peers for help — firing off emails, group chats, and 1:1 messages, hoping they can direct us to what we need. Finding a simple document can become an all-out manhunt, negatively impacting productivity.
Talking with customers has confirmed for us how important search is to your Quip experience. You want to find what you're looking for, and fast. You told us you don't want to navigate through folders and you don't want to filter search results unless you have to. That's why we've completely redesigned the experience in Quip.
3 big improvements to search in Quip
We've improved search across all platforms — web, desktop, and mobile — so all it takes is a couple of keywords or names, and you should find what you're looking for the first time.
1. Keyword highlights in document titles and body content
Searching in Quip begins by clicking the magnifying glass in the top left of the sidebar (or typing Command + j on your keyboard). From the Search dialog, you can immediately start typing to find a document, person, folder, or chat.
As you type, Quip will highlight keyword matches in light green in both the title of a document, and in previews where a match has been found in the body of the document.
This way you can quickly scan and find the document you're looking for. So, even if you don't remember or recognize the document title, you can read the preview text from the body of the document to give you a better clue.
2. Quickly filter search by typing a teammate's name
It's often the case that we can't remember what a document is called, but we do remember the person who shared it with us. Now in Quip, this is one of the most important clues in tracking down what you need.
If you type Garrett digital campaign, Quip will filter for all documents that your colleague Garrett has created or modified with the words digital campaign, which will be highlighted accordingly. In the metadata below each search result, Quip will even specify whether Garrett has created or modified the document.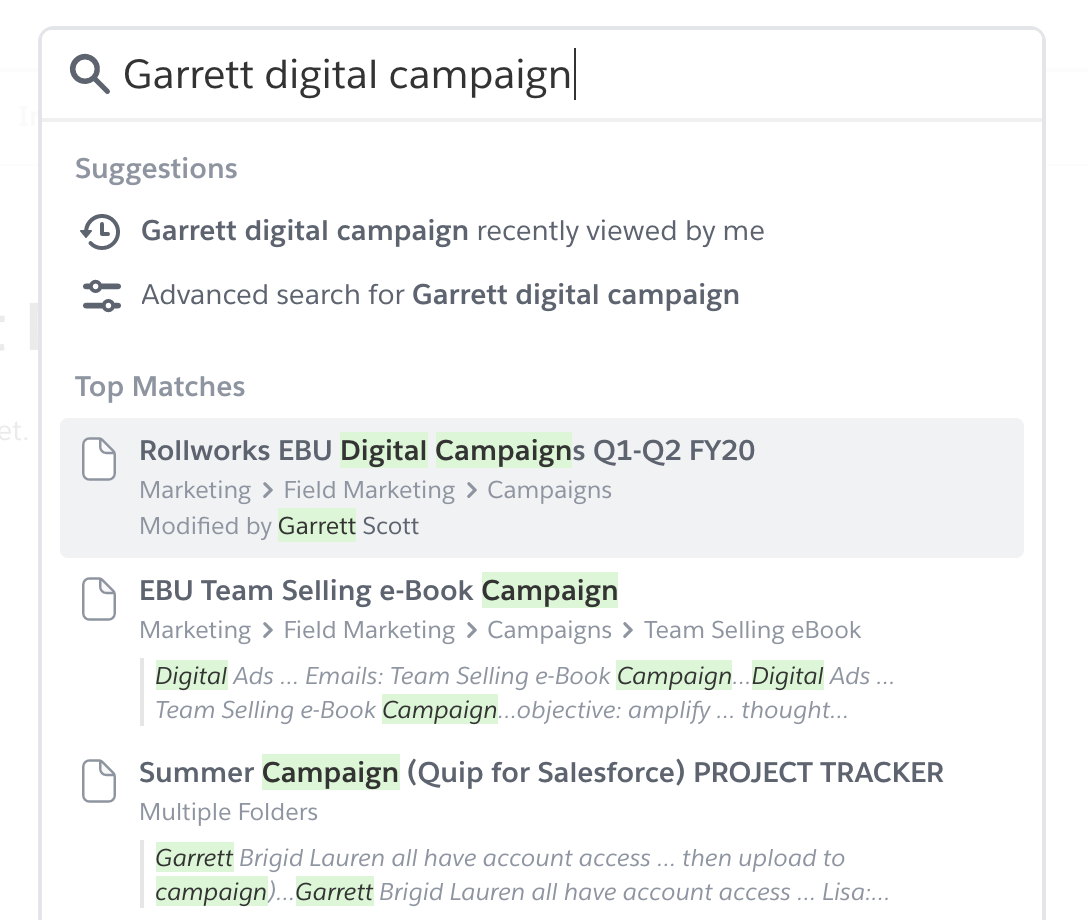 We've taken this further by giving advanced search results in the search dialog. You can now search for all documents that a teammate has created or modified just by typing their name. Quip automatically prioritizes the results by whether you've viewed them previously and how recently they've been worked on by your colleague. This is helpful when you know which teammate sent you the document, but can't remember what it's titled.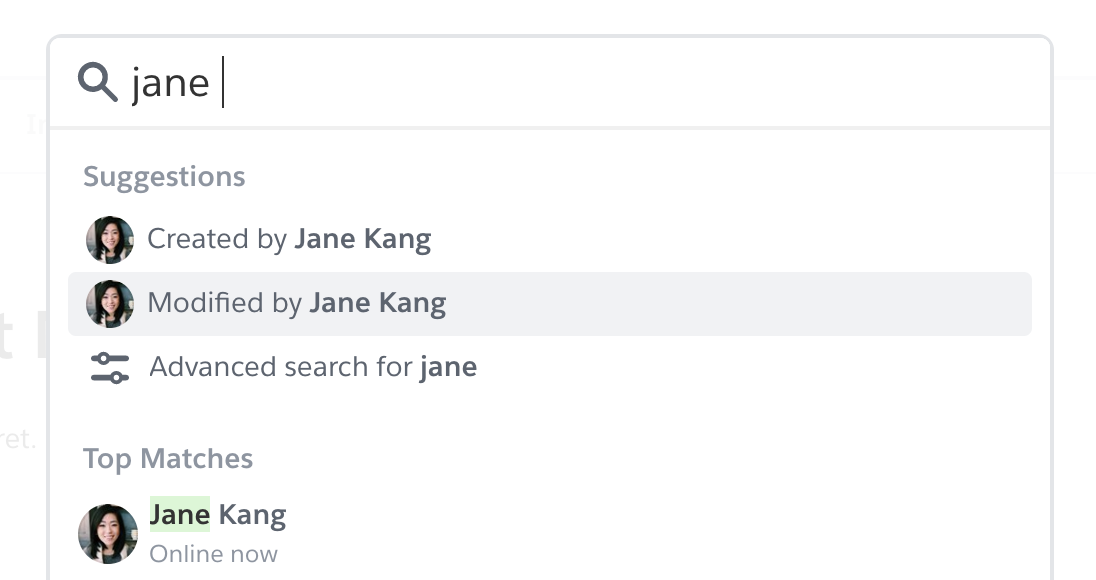 3. Major overhaul of mobile search
The last search improvement we've made is on our mobile app. When you're on the go, you just need search to work. You're probably looking for something to assist a client, or help a teammate in a pinch, so there's no time for an in-depth file hunt.
That's why we've majorly improved search on your phone. We've improved the ranking and relevancy algorithms in the mobile app to match the experience on the web and desktop apps, and we've included the green highlighting to help you better scan results for keywords.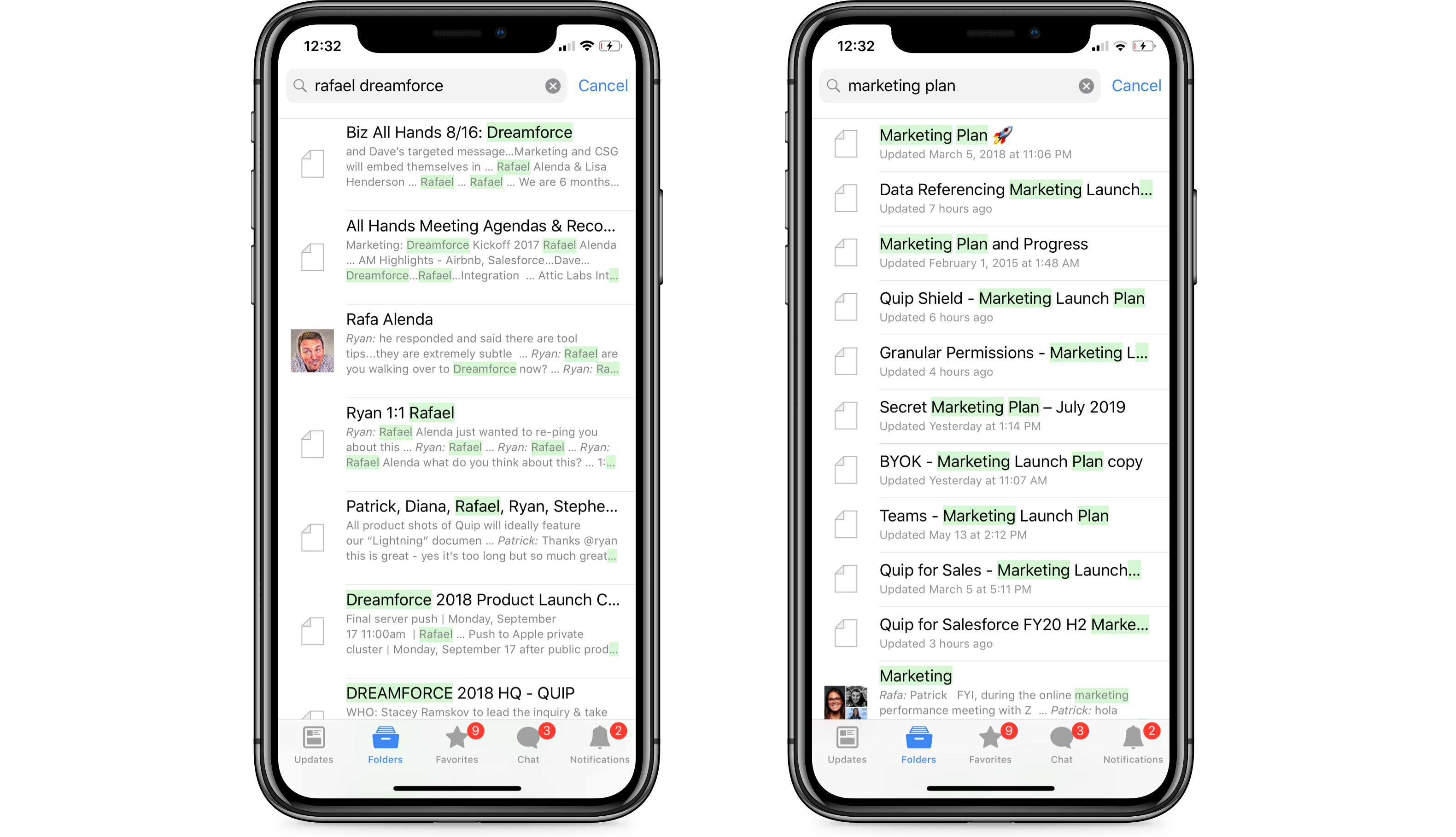 Go find your next document right now
We hope these improvements help you find what you're looking for in Quip faster. It's important to us that you spend less time searching and more time getting stuff done. Go to Quip now >>

If you're not using Quip yet, start a free trial today.