3 Ways Salesforce Anywhere Helps Sales Ops Make Their Stakeholders Successful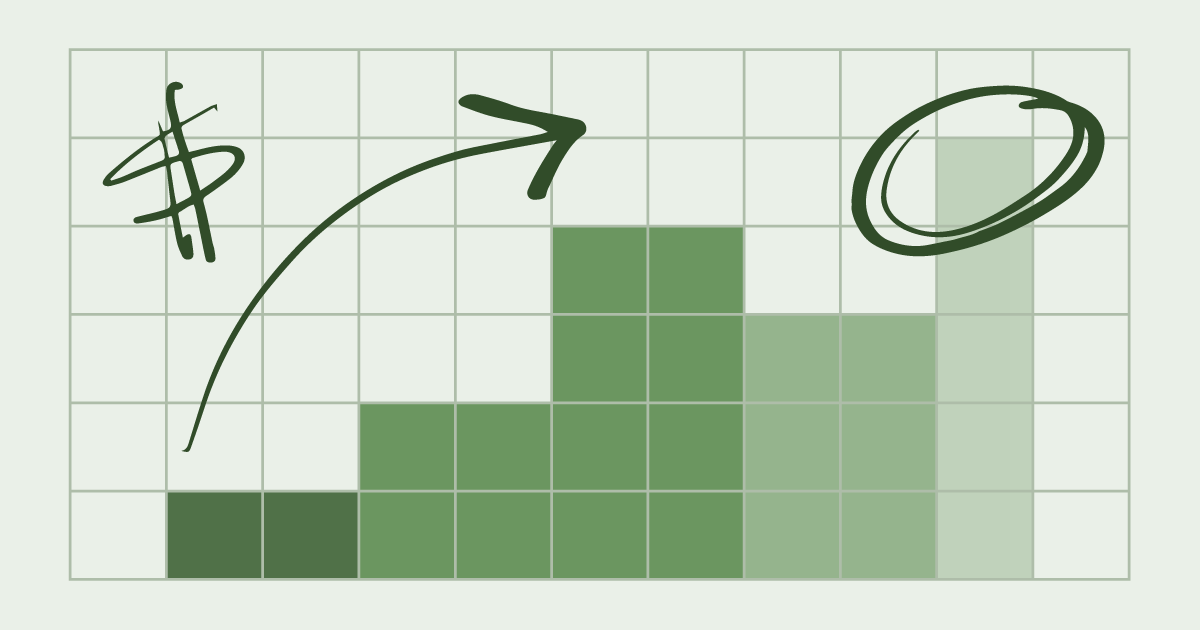 As the selling landscape shifts, sales ops is stepping into the spotlight. Teams are working quickly to adapt their people and processes to new challenges and opportunities, elevating the strategic importance of sales operations. Eighty-five percent of sales professionals agree that sales ops is becoming increasingly strategic.
The operations role has been the unsung hero of sales for some time, but colleagues are now acknowledging the seat at the table it has deserved all along. Many companies looking to sales ops to help define strategy, not just execute against it. Companies are placing special importance on sales teams' operational efficiency, data-driven decision-making, and collaboration. The general sentiment is that this is not just a temporary, opportune shift.
Salesforce Anywhere – a real- time interface that extends the power of Salesforce – is here to give sales leaders more visibility into what's going on inside Salesforce, help sales managers stay connected to their team's deals, and sales reps stay on task within each deal. At the end of the day, it's about improving your sales team's continuity throughout each critical stage of the sales cycle so no customers fall through the cracks:
Here are 3 ways Sales Ops can leverage Salesforce Anywhere to help their teams be more successful.
1. Streamline sales by automating business processes
Salesforce is the #1 CRM for a reason – it helps your marketing, sales, commerce, service and IT teams work as one from anywhere — so you can keep your customers happy everywhere. It's really good at automating complex business processes. But what about really complex processes like – account planning, close plans, and account transitions. These processes aren't black and white – and that's why Salesforce Anywhere was created: To help you and your team navigate these gray areas defined by their unstructured collaboration that make them nearly impossible to standardize. Until Salesforce Anywhere became available, that is.
Salesforce Anywhere brings documents, spreadsheets, and chat directly into the Lightning Platform and enables admins and developers to automatically associate the right document with the right Salesforce record at the right time. This means that any stage in your sales cycle can now be supercharged with Salesforce Anywhere by automatically delivering a space for teams to work together inside Salesforce. Sales Ops can define which document templates are used to populate which records – so you can ensure your sales managers and sales reps are following a best practice Account Plan on every record, or that inside reps and field reps are virtually huddled over the up-to-date Qualification Notes. You've got all the control to automate business processes so sales teams can focus, and be instantly more productive inside every deal.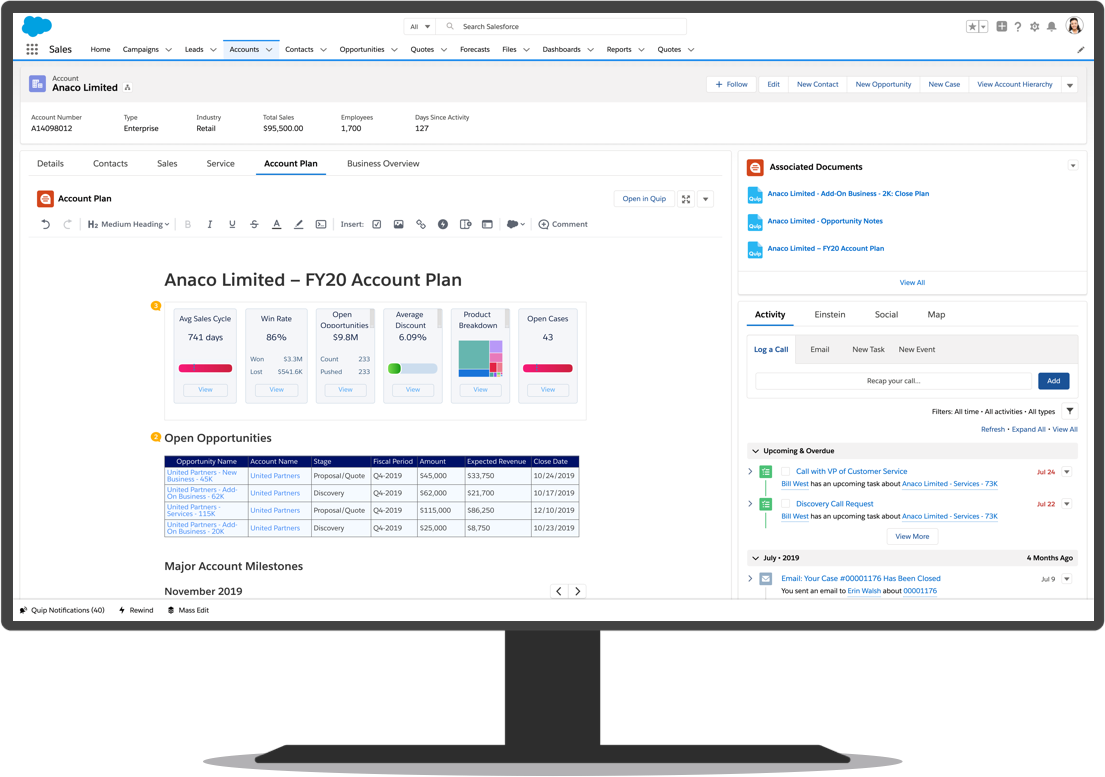 We've even built a library of customizable best practice template documents that you can take and connect to any point or stage in your sales cycle. Plug these into Salesforce now so your sales teams can launch and execute on:
Account plans
Win plans
Account transitions
Customer meeting notes
Territory plans
Mutual success plans
Customer project plans
2. Give sales leaders and managers a real-time lens on Salesforce
Sales leaders want their fingers on the pulse of your business and that typically requires weekly meetings. Information is laddered up through the ranks – reports are pulled, presentations created, and analysis delivered – all in the name of transparency and visibility. Some of these processes won't stop, and shouldn't. But what if you could give your sales leader, who's constantly emailing you about the latest numbers, a tool that alerts them proactively?
Salesforce Anywhere is that tool. It's a real-time lens of what's happening inside Salesforce so leaders and managers can stay up to date as things change across your CRM. In fact, everyone on your sales team can personalize real-time alerts for any Salesforce record. So as key deals evolve, Salesforce Anywhere sends desktop and mobile push notifications to alert key stakeholders where they can jump into chats to make decisions and discuss next actions.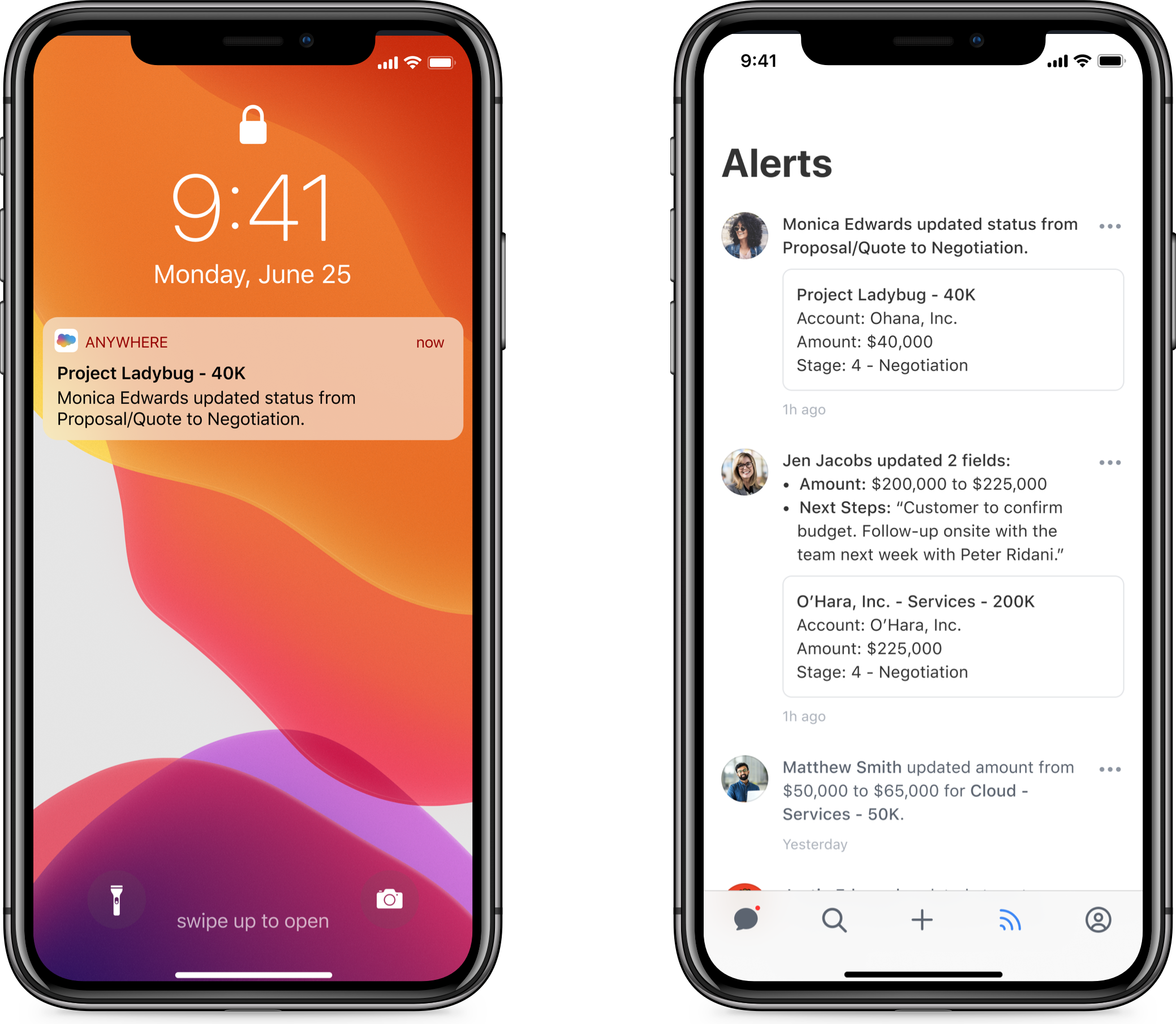 This is how modern sales teams maintain visibility – real-time alerts, instant and contextual chat, and living Salesforce spreadsheets built off real-time report data. You don't have to be the conductor of truth for the data in your CRM, Salesforce Anywhere can be – and it can update everyone in the process instantly.
3. Empower sales reps with real-time collaboration
The way that sales teams work together is in desperate need of an update. And that's because when sales teams work together they always leave Salesforce. Whether that's email, external files, or chat apps, it means going to other places outside of Salesforce to discuss next steps, make decisions, and take action. Why is this a problem?
Aside from it being slower to navigate through different apps – leaving Salesforce keeps important data about your customers and deals outside of Salesforce. That means Salesforce is only a single source of truth in a structured capacity. The planning, the conversations, and the decisions make up important data that you can't report on or easily share with new stakeholders when it lives outside of Salesforce. The most successful sales teams will be the ones who leverage their unstructured data to help them win with their customers.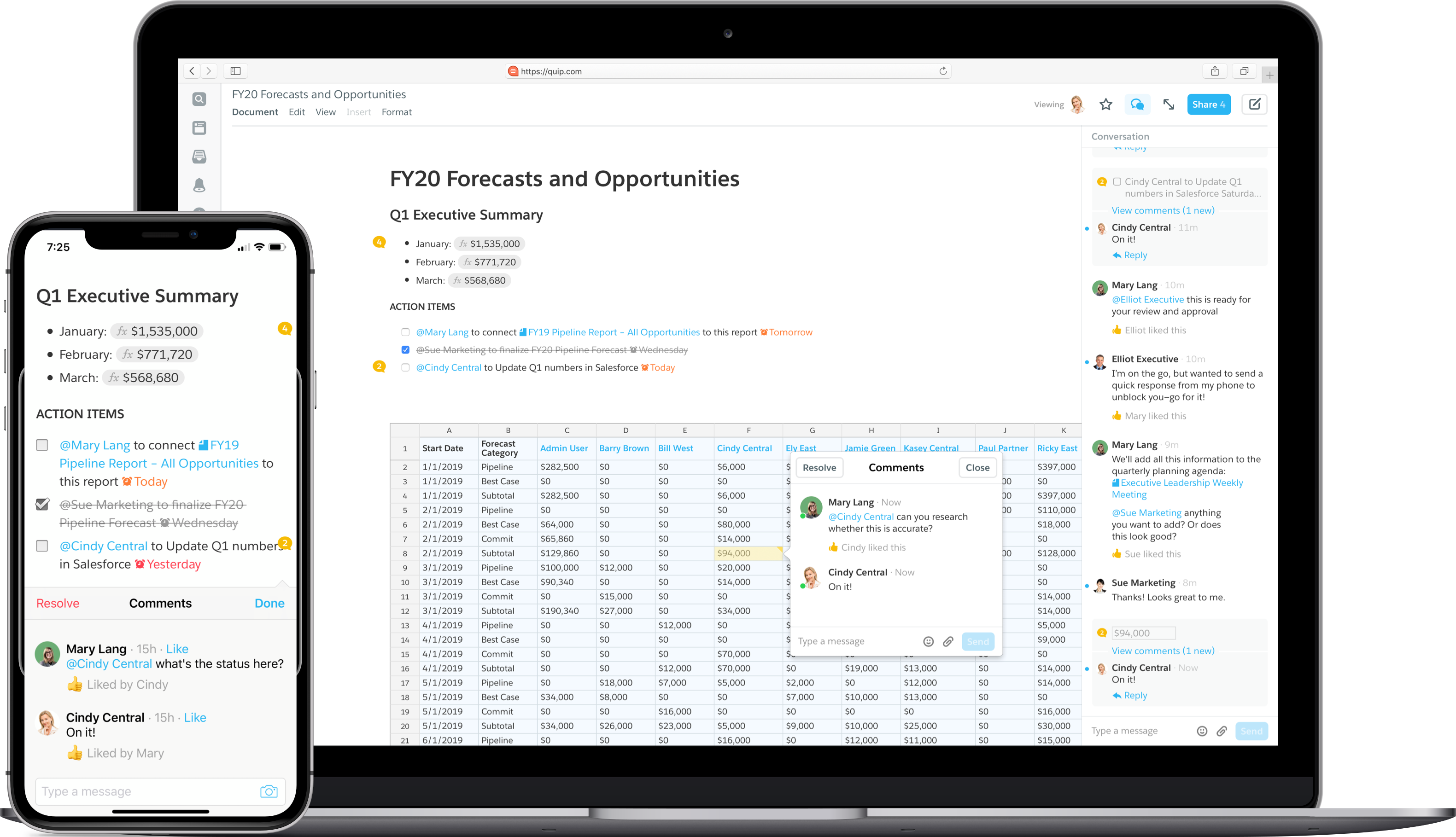 Salesforce Anywhere turns this paradigm on its head. It proposes: What if you could give your sales teams the tools they need to stay in Salesforce all day? That's where documents, spreadsheets, and real-time chat play a critical role in making Salesforce a place sales teams can live everyday. You know when teammates are with you in a document or chat. When they edit the document you can see the changes in real-time, and when they are writing a message to you, you can see the typing bubbles. All of this is made more valuable because it's within the context of Salesforce, which means it's within the context of your customers.
It's not just about going faster for the sake of speed, it's about going faster so you can make better decisions and build stronger relationships with your teammates and your customers.
Try Salesforce Anywhere today!
With Salesforce Anywhere you've got three new strategies to make your stakeholders more successful and bring more continuity to your sales cycle.
If you're interested in learning more, try one of our interactive guided tours for sales and service teams. Of course you can always contact one of our Salesforce Anywhere experts here.