4 perfect days at Dreamforce with Quip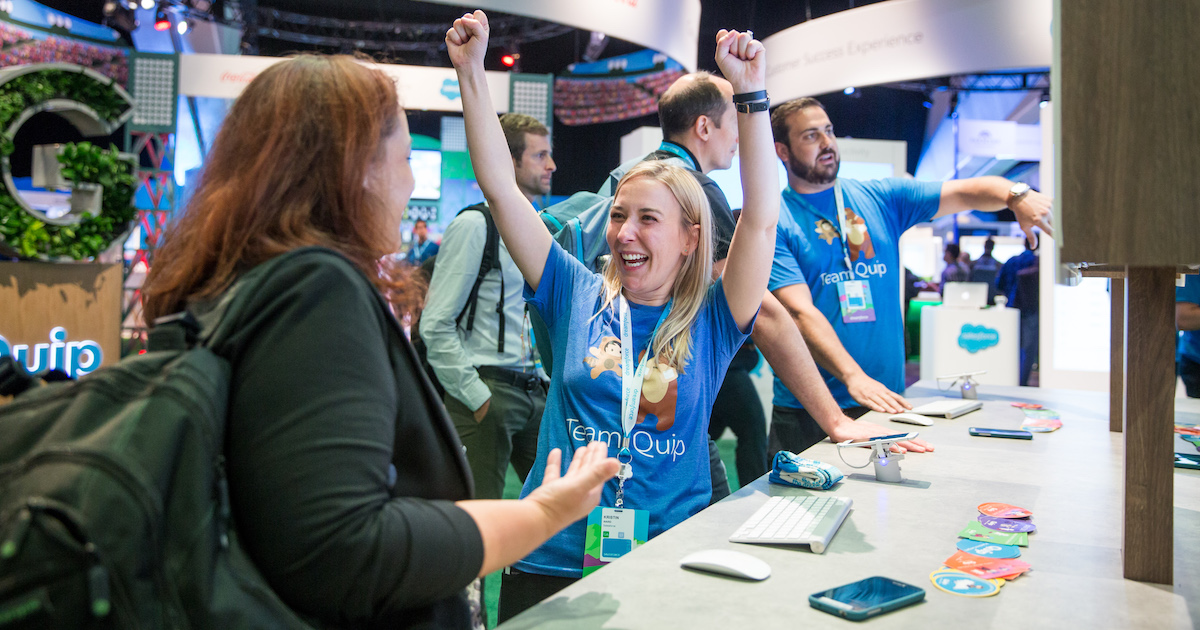 Dreamforce '18 is almost here, and once again, Quip will be a big part of the action. We have over 30 product education sessions, tailored for everyone from sales reps, to marketing managers, to CIOs. Our goal is to show you how Quip can help you go back to work and make things happen with a mobile-first collaboration platform built for modern workers. But we also know there's a lot more to Dreamforce than Quip. So here are four perfect days with the best Quip content sprinkled in, so you can get the most out of Dreamforce.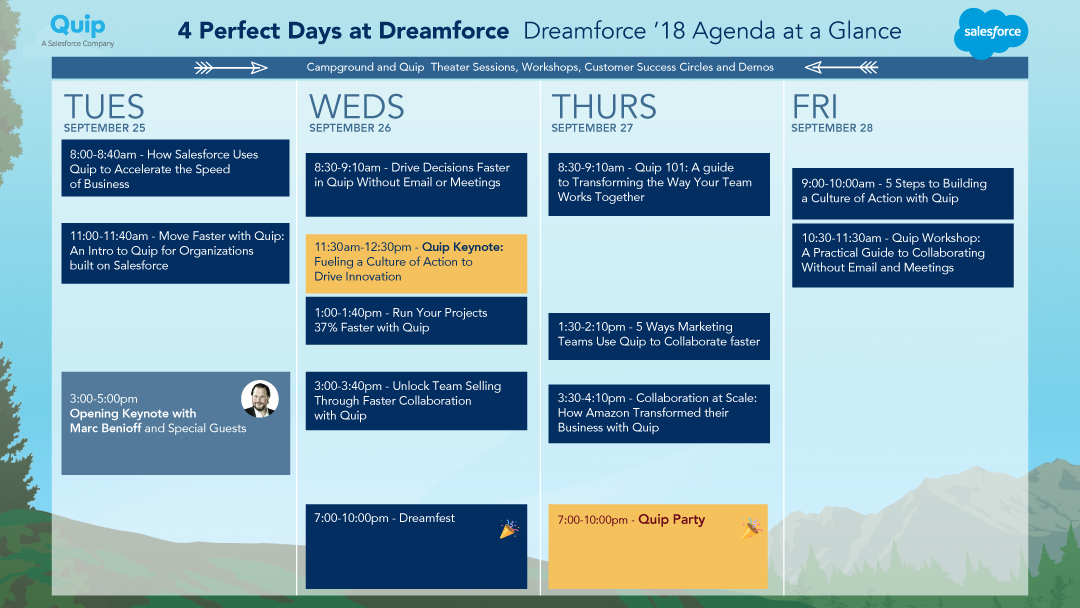 To add these sessions to your Dreamforce agenda, log into the Agenda Builder site with the same Salesforce account you used to register for Dreamforce.
To add any of these sessions, click a session link then log into Agenda Builder site with the same Salesforce account you used to register for Dreamforce.
Tuesday – It begins
It's Dreamforce—you have no choice but to jump right in. Here's the top Quip content for Tuesday, plus a reminder about a little talk with a gentleman named Marc.
8 am – How Salesforce Uses Quip to Accelerate the Speed of Business
Get an inside look at how nearly 30,000 Salesforce employees use Quip every single week. See how your company can get work done faster and improve communication—all while cutting back on emails and meetings. Add to Agenda Builder!
11 am – Move Faster with Quip: An Intro to Quip for Organizations Built on Salesforce
Nigel Bell, Senior Manager, Digital and Operational Excellence at Hess, will tell the story of how Hess is using Quip and Salesforce together to unlock efficiencies organization wide, and partner with 44,000 global suppliers. Add to Agenda Builder!
3 pm – Opening Keynote with Marc Benioff and Special Guests
Need we say more? Be there or be square. Add to Agenda Builder!
Wednesday – Quip Keynote day
Wednesday is when it starts to get real. Here's your guide.
8:30 am – Drive Decisions Faster in Quip without Email or Meetings
Email and meetings abound in today's business world—but are they just slowing your team down? Learn how Quip helps teams at Marriott make decisions faster without a single meeting, email, or file version. Add to Agenda builder!
11:30 am –  🎉 Quip Keynote 🎉
The Quip Keynote starts at 11:30 am, and you don't want to miss it. You'll see exciting on-stage guests from Quip customers Amazon, Amgen, and Citigroup. And Quip CEO Kevin Gibbs will be sharing huge product news that you'll want to report back to your team ASAP. Add to Agenda builder!
1 pm – Run Your Projects 37% Faster with Quip
See how the Quip marketing team runs cross-functional projects without email or status meetings. You'll walk away with the knowledge and skills to drive projects with greater transparency, more accountability, and faster decision making. Add to Agenda Builder!
3 PM – Unlock Team Selling Through Faster Collaboration with Quip
Learn how Quip helps teams eliminate endless email chains, overstuffed calendars, and communication silos that slow deals down. You'll hear from sales and operations leaders from Gainsight, DigitalGlobe, and Micro Focus on how Quip accelerates their deal cycles with team selling. Add to Agenda Builder!
Thursday – You up for more?
Just keep swimming. 😉
8:30AM – Quip 101: A Guide to Transforming the Way Your Team Works Together
Pauline Mulvey from Mitchell learned about Quip at DF17. In less than a year, she ramped her organization up on Quip, and—as a seasoned Dreamforce speaker and Salesforce user since 2005— is ready to share her best practices with you. Add to Agenda Builder!
1:30 PM – 5 Ways Marketing Teams Use Quip to Collaborate Faster
Hear from Quip's VP of Product Marketing, and the Sr. Director of Digital Marketing at House of Blues, on Quip use cases and best practices for marketing teams. Learn how Quip's mobile cloud documents transform the way teams plan, execute, and analyze go-to-market strategies. Add to Agenda Builder!
3:30 PM – Collaboration at Scale: How Amazon Transformed Their Business with Quip
Amazon is blazing trails on their journey toward digital transformation with a focus on innovation, collaboration, and global reach. Learn how Quip enables over 55,000 Amazon employees to work better together and get more done every day. Add to Agenda Builder!
Friday – You made it!
Today is the perfect day to gather up some practical learning, and take it back to your team.
9:00AM – Circles of Success: 5 Steps to Building a Culture of Action with Quip*
Ready to reduce your team's reliance on email and meetings? This interactive roundtable discussion is your organization's ticket to a new way of working. Join Quip Specialists as we go on a deep dive into the future of work, team collaboration, action-oriented working culture, and Quip best practices. Add to Agenda Builder!
10:30AM – Quip Workshop: A Practical Guide to Collaborating Without Email and Meetings*
This hands-on, highly interactive Quip workshop will give you a full hour of practical Quip experience. Learn how to improve team communication and speed up projects—while decreasing meetings and emails. Bring a laptop and mobile device, and be ready to dive into Quip's mobile cloud doucuments with Salesforce integrations. Add to Agenda Builder!
Quip has over 30 sessions total—check them all out here.  And don't forget to add the Quip Keynote to your Dreamforce agenda.
*This session repeats at other times throughout Dreamforce.