Where's My Doc? 4 Tips for Staying Organized in Quip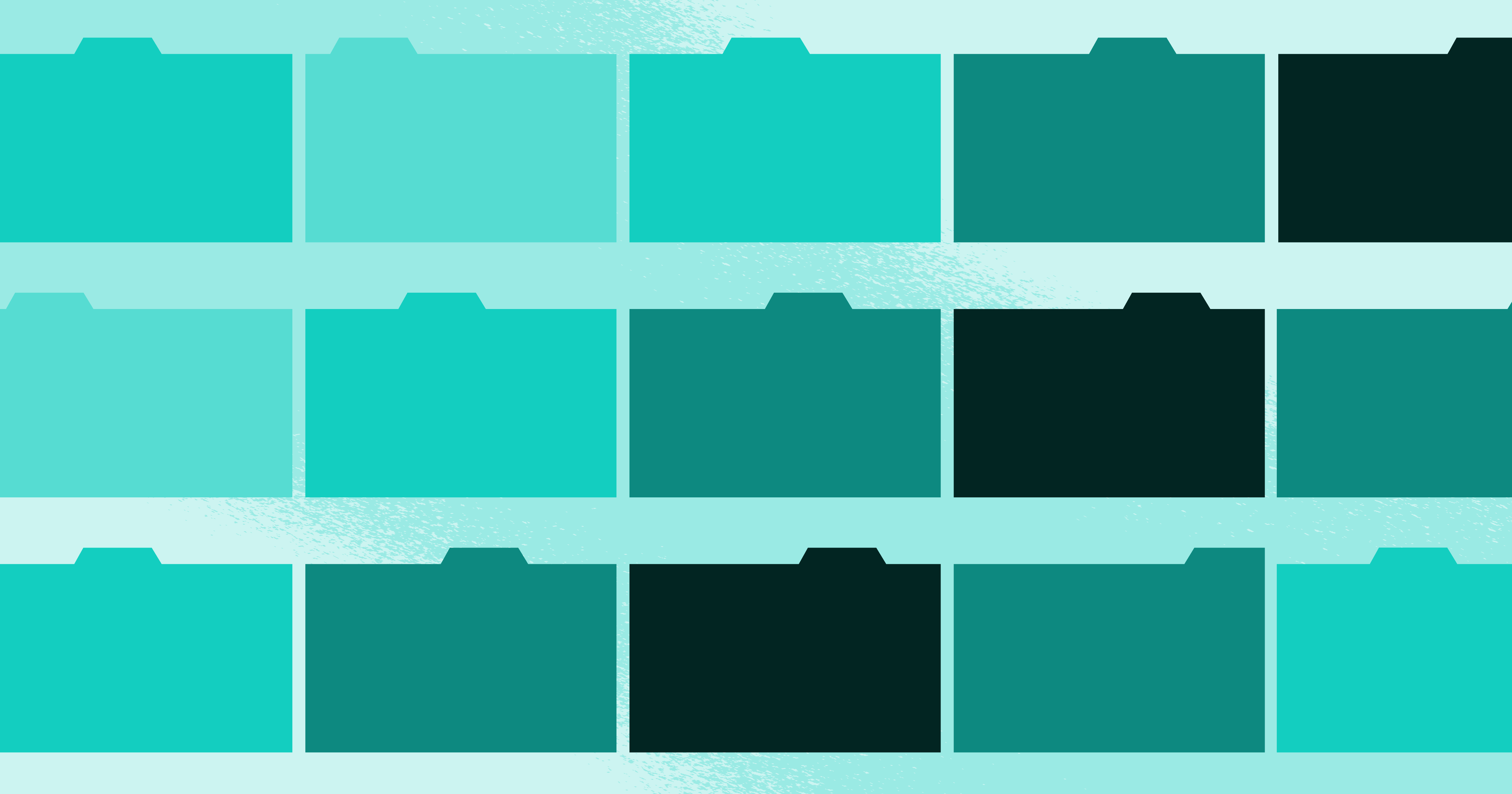 Jackson Nordling is a Product Trainer on Quip's Customer Education Team.
Let's be honest. At one point or another while working in Quip, most of us have asked ourselves, "Where on earth is that document?" You're not alone! Staying organized with work can be a challenge in any tool, and Quip is no different. Not at first.
That being said, there is hope! Quip is set up to help you both work and organize your work in an effective and efficient way.
To help you keep your hair and sleep better at night, we have four tips to help you stay organized in Quip, keep your work in the right places, and minimize time spent searching for those delinquent documents.
1. Structure your teams' folders
The key piece of advice we'd give in terms of folder structures? Have one. That may sound like a no-brainer, but giving careful thought to how your folders are structured is an important first step. Create a culture of organization by adding the right documents and teammates to the right folders every time you begin a new project.
Let's break down some ways to think about folders in Quip:
First, Group folders. Group folders are a way to organize teams in Quip and are typically based off of department or other company-wide use cases. Admins are the only ones who can create, manage, and delete Group folders. However, these folders are typically accessible by anyone at the company, since there may be some general documents that everyone finds useful.
Shared folders can be created by anyone in Quip. These are where you can get more specific with how to best organize your teams and their work. For example, creating a Shared folder for your specific team will give your team a location to keep work that's relevant to them. Additionally, try creating Shared folders for certain initiatives or projects. That way, any and all documents related to a project are kept in one location, instead of free floating in your team's folder.

Quick Tip: If you want to specify exactly who on a team or overall department has access to a folder, you can restrict folders. Inside the folder itself, click Share > Advanced Options > Restrict Folder, then choose the individuals you'd like to give access to.

Private folders are exactly that — private! Your Private folder is where you can keep your working documents, and drafts before you decide to share them.

Quick Tip: Rather than having your private folder contain a bunch of incomplete, orphaned documents, try creating a personal prioritization system to help you stay organized and accountable. For example, you could have folders based on priority level, so you know which documents belong where in terms of importance.

Folders are the front line of defense against the proliferation of homeless documents in Quip. Think about a structure of organization that could work best for your team, and build folders to accommodate it.
Need some inspiration? Check out our article on The Optimal Folder Setup.
2. Garden regularly, and use bulk organization
Remember when you could only move documents into folders one at a time? We do, too. Well, gone are those days!
If you work like many do, you may have a bunch of documents you've been working on in your Private folder, that will eventually need to get into the right folder.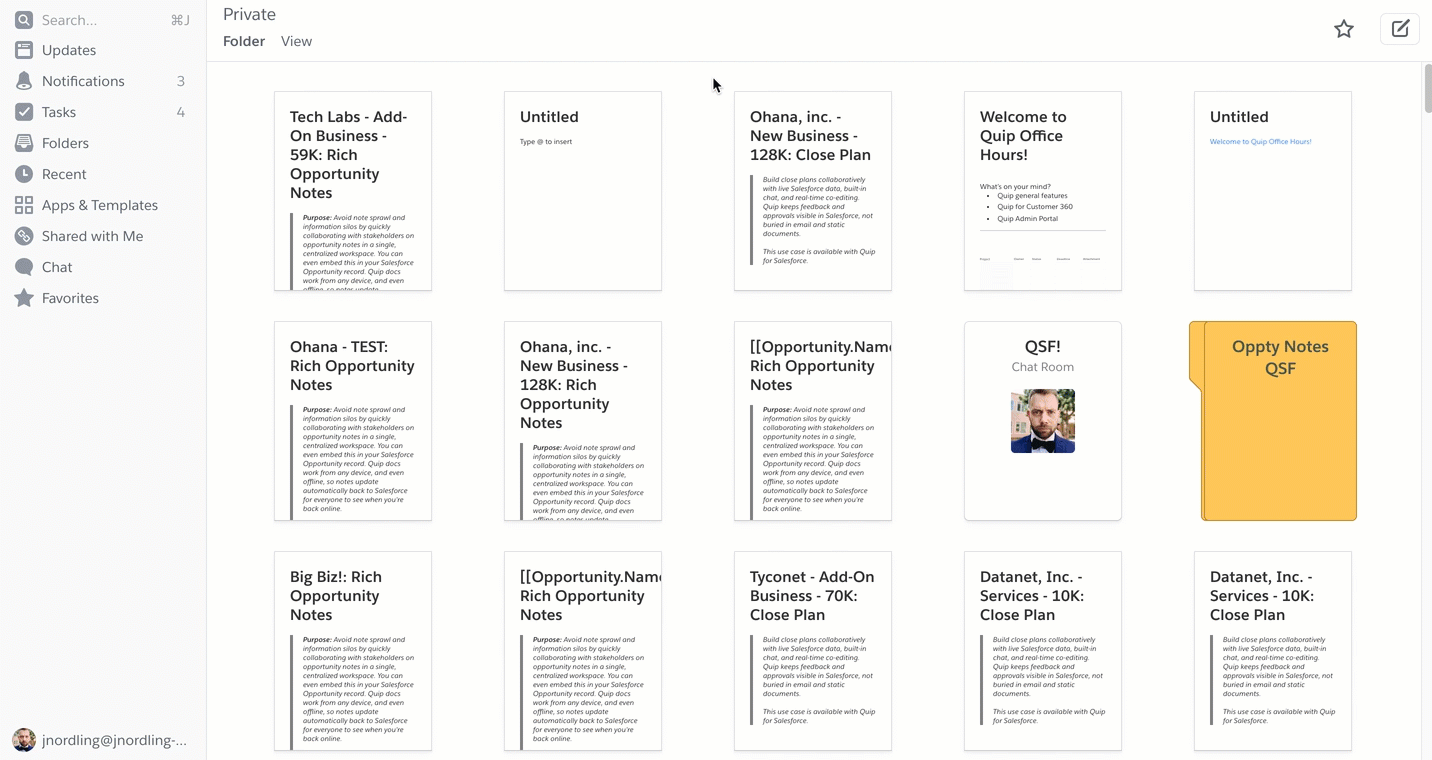 To move multiple documents to a folder:
Click into your private folder (or whichever folder contains the multiple documents).
Change your folder's View to List View.
Holding down option (on a Mac) or alt (on a PC), select the documents you want to move.
Click Item and choose the destination for the documents.
3. Coach teammates to name docs smartly
What happens if a document you need to find isn't in a folder, or hasn't been added to a Collection? Well, it might be lost forever. Just kidding — we've all been there!
Quip's search functionality is robust, and has a lot of ways to filter down your search results to find the right document as quickly as possible. However, one simple way to make that process even easier, is to use a naming convention for your document titles.
For example, if I have a document entitled 'Project Plan: Software Implementation', that may be exactly what the document is, but if you're looking through your entire Quip document rolodex, there very well could be other documents with the same title. So, add something specific to make it easier to find in your search.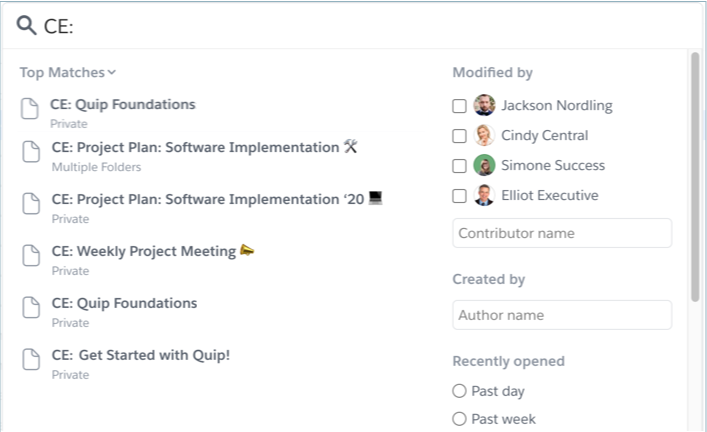 The Quip Customer Education team adds a 'CE:' before their titles on internal documents. That way, when they need to search for a particular document, they can at begin by typing 'CE:' and have an already-filtered list of results.
4. Encourage the use of Favorites & Collections
When it comes to organizing individual work — aside from documents in folders — everyone has their own method. At least we hope so! Whether you do or you don't, Quip can help you organize and keep track of the documents that matter most to you. First, let's define what Favorites and Collections are, and what they do.
Favorites
Just like it sounds, Favorites are the documents that are kept in a drawer for quick access. When you add a document to your Favorites drawer by clicking the star, you're adding to an organized list of your most used or most important documents, or just the ones you're currently working on.
Collections
When you click the star to add a Favorite, you can choose to add it to a Collection. Collections allow you to organize your Favorite documents. Collections and Favorites go hand-in-hand, and can help you add another level of organization to your work. Think of them as "personal folders" for specific types of documents you're working on or need to be aware of. You may want a Collection for all documents related to a team or a project, for example.
To be most effective, Favorites and Collections are meant to be used together. They give your work an extra layer of organization, so you can access the documents you need to, quickly.
Check out how to add a Favorited document into a Collection below: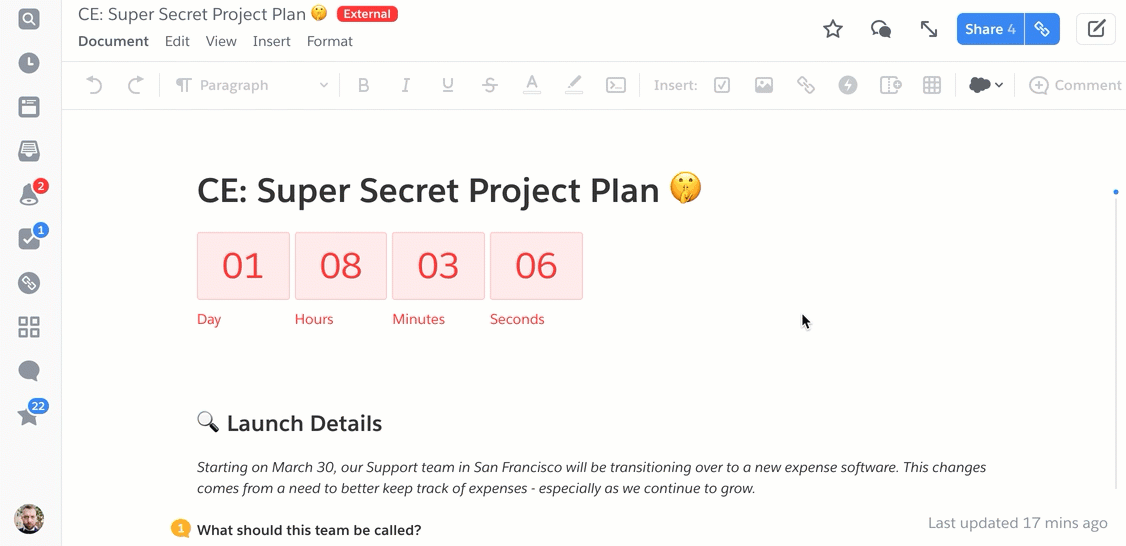 For more information on Favorites & Collections, check out our support article Stay Organized with Favorites & Collections (https://www.quipsupport.com/hc/en-us/articles/360042111792).
Own your organization
Organizing work can be tricky. But with the right processes and habits in place, it doesn't need to be. In the end, it's about what works best for you and your team, and how you keep track of the work you need to. The four tips outlined here are meant to give you some ideas which may just be the solutions you're looking for.
So, go forth and organize!
---
Keep Learning
Want to learn more? We've got you covered.
Virtual Training
Pro-Tips to Ease your Quip Pains: Own your Organization

Learn how to save yourself time and frustration by gaining strategies to organize your content and quickly locate the document you need - when you need it. Own your organization with features such as favorites, shared folders, and more.

Ask a Quip Expert: Office Hours

Ever wanted to chat directly with a Quip product expert? You're in luck. Come pick our brains in Quip Office Hours! This session is dedicated to answering questions, sharing best practices, and offering additional resources.
Further Reading