4 Easy Tips To Make WFH More Fun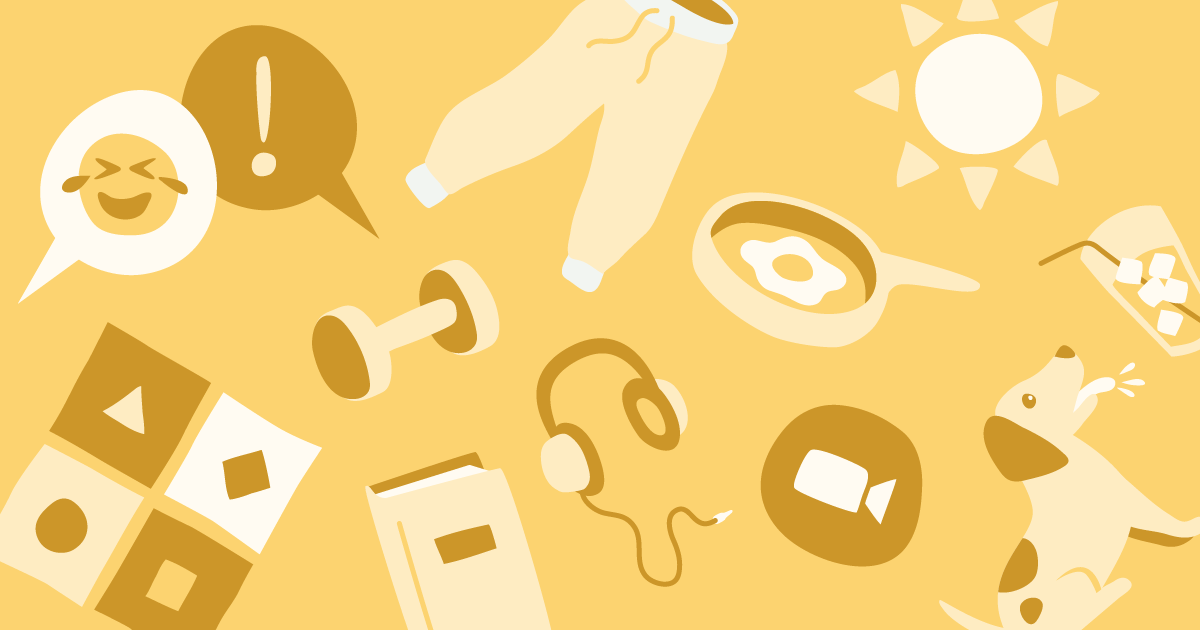 When your company told its employees to start working from home, your first thought might have been, "I'm going to miss my team." For most of us, it's been a month now that we've had to "shelter in place," and it's safe to say we're all still figuring out how to make it work in terms of processes, connection, and collaboration. However, one of the most important things to focus on is maintaining the culture and the fun that make your team feel like a second family.
1. Virtually happy
Weekly virtual happy hours are one simple way to bring the team together. They can be great outlets to let loose and catch up on fun stuff outside of work. You can liven up your next happy hour by taking each other on personal home tours. We often don't get to see the personal side of our coworkers' lives, so it can be a bonding experience to get a sneak peek into their homes, see where they're working most days, view their decor aesthetic, and maybe get a glimpse of significant others. These happy hours are an excellent way to give the entire team something to look forward to and reconnect. If you have team members in different time zones, try to find a time that works for the majority of your team to ensure they can join.
And if happy hours don't work, consider setting up morning coffee breaks or afternoon tea. The one thing I would avoid is lunch. As great as it sounds, it's really not the best watching your teammates eating up close, and no one wants to talk with their mouth full.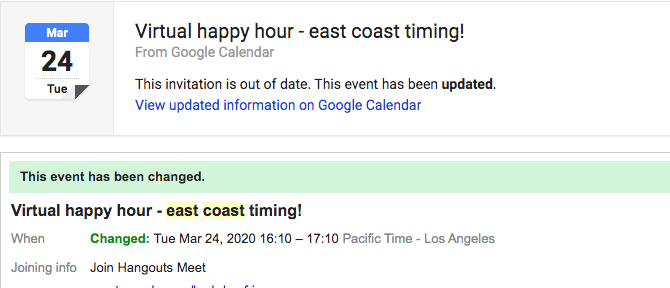 2. Host an online trivia night
Now, don't let your team hog all the fun. Extend invites to the wider company for fun activities like trivia night. Events like these are a great way to engage with other teams that you might not work with on a daily basis or see if you aren't in the office. Using a multiple-choice quiz game called Kahoot (https://kahoot.com/), people can log in remotely, test out their trivia chops, and compete for prizes. Trivia nights can be a welcome replacement for other company events that might be currently on hold like monthly game nights or team off-sites. Prizes and bragging rights never go out of style.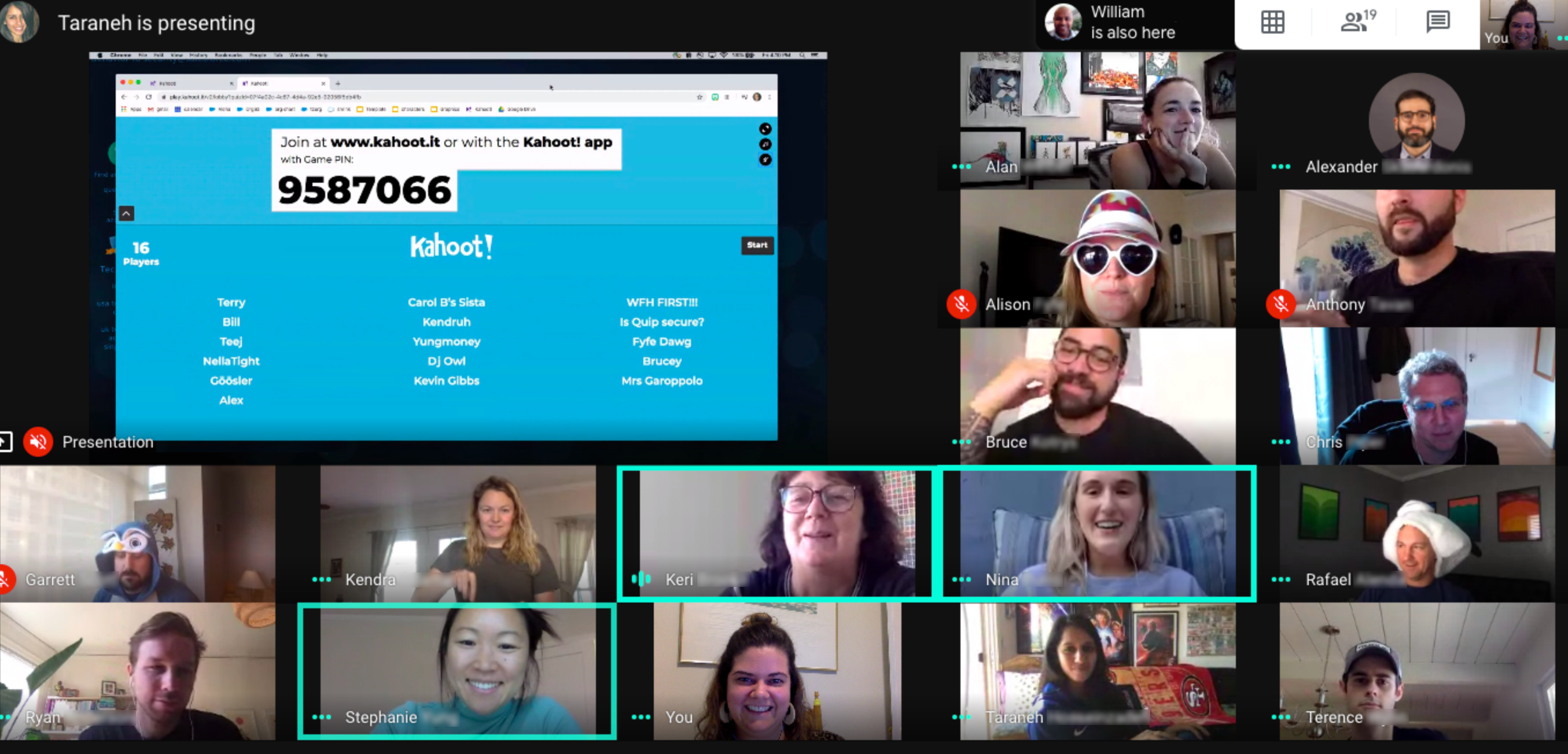 3. Group chats
Before we started to work remotely, many teams already had chat rooms established to quickly provide updates to the team. Living in this new normal, chat rooms have now become a lifeline many rely on to stay connected to their team as a whole. This can be especially true for larger teams where you might not have regular calls with everyone, so it's a convenient way to stay in touch.
In addition to the standard work updates, chat rooms are also where you can learn about school closures turning your coworkers into part-time teachers, where you could post or view videos like one town's nightly howling tradition (https://www.sfchronicle.com/bayarea/article/On-the-bright-side-Mill-Valley-howls-in-unison-15160198.php) in support of healthcare workers fighting COVID-19, or where people can ponder what clothes will be acceptable to wear once we're back in the office. (Sweatpants Wednesdays will be a thing!) The chat room is one of the things your team can look forward to checking each day when they see a new notification pop up. Having a fun and safe place to vent and engage with the team can be a much needed outlet while reinforcing what an amazing support group we can be for one another.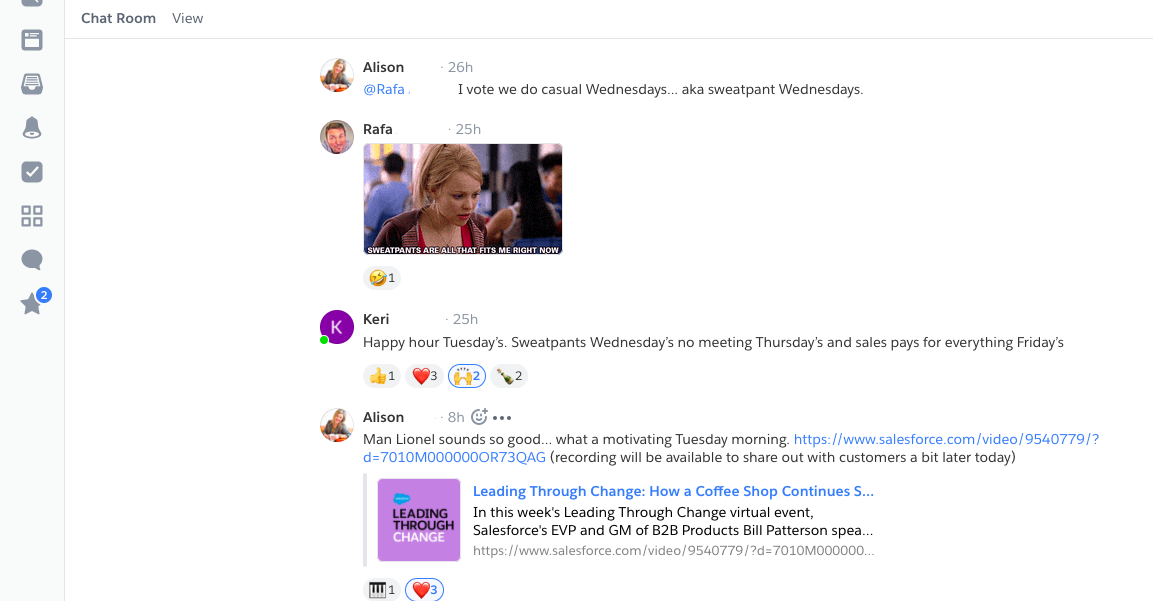 4. Designate a place to come together
Try creating a shared doc where everyone can contribute ways to stay healthy mentally and physically while stuck at home. I don't think any of us could have been fully prepared for the impact the shelter-in-place orders would have on our overall well being. Discovering new workout apps, recommended TV shows and movies, and other unique ways to disconnect from work can be a fun activity in its own. The doc can also create a sense of community as people realize they listen to the same podcasts or like the same genre of books. You'll be surprised by how creative people are and how many resources are available to help us get through this together. I'd recommend using a doc instead of a chat room to ensure all the info stays formatted in one place rather than a running string of messages, making it easier to scroll through and see all the updates.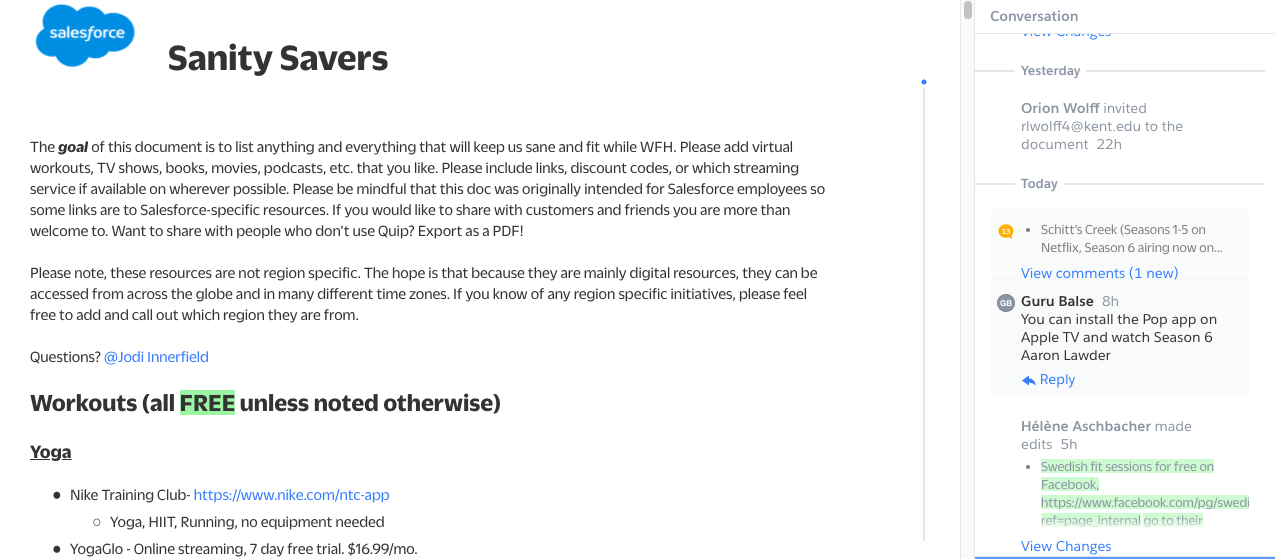 It can be difficult to stay positive during these uncertain times, but it can really bring out the best in teams too. Both in the office and in the community, you've likely been impressed by how much we can come together to support each other and offer help. Take this as an opportunity to enjoy learning more about the people you spend so much time with at work. Hopefully, the silver lining is that this brings you closer to your team and confident you'll find a way to have fun no matter what challenges are thrown at you.
Learn how your team can collaborate from anywhere with Quip. Take an interactive guided tour.