Developing the Future of News: How Circa Uses Quip
We recently sat down with Matt Galligan, CEO of Circa, to learn how one of the most interesting startups in the media space operates day-to-day. Matt explains how he and his team use Quip to create a living wiki of company knowledge and protocol, brainstorm product features, and use a lean toolkit of mostly Quip and Slack for communication and productivity flow.

Circa is a unique hybrid of a news media organization and a startup. The team is 20 full-time employees including editorial, product management, business, and engineering, and a number of freelance writers. They are focused on creating a new way for news to be discovered and consumed on mobile devices by enabling users to "follow" news stories, and delivering succinct and distraction-free articles in a format that evolves as the story does. Download Circa News on the App Store or the Play Store to see for yourself.
Circa's Go-to Toolbox
To Matt, the optimal productivity and communication toolkit boils down to two main players: Quip and Slack. Circa employs Quip as their information hub, project collaboration platform, and documentation system and Slack as their immediate communication method. Matt elaborates, "We still use Slack for day-to-day individual communication to do all of our group chats and individual chats, and then we use Quip for basically everything else."
Which tool Circa uses depends largely on the nature and scope of the project. Short communication in place of instant messaging and email largely happen on Slack, while larger scale projects will happen on a collaborative Quip document.
Quip as a Living Company Guidebook
Circa is a news organization that produces a large volume of content on a daily basis. To achieve this, they have several in-house journalists along with freelance writers. As you can imagine, it can be a challenge to onboard new writers and ensure that everyone is on the same page regarding editorial policy, organizational values, and style. Matt and team have been leveraging a shared folder in Quip to build a living hub of information that evolves as the organization does. Matt explains, "You can literally come in as a new employee and understand the whole history. For us, this is huge."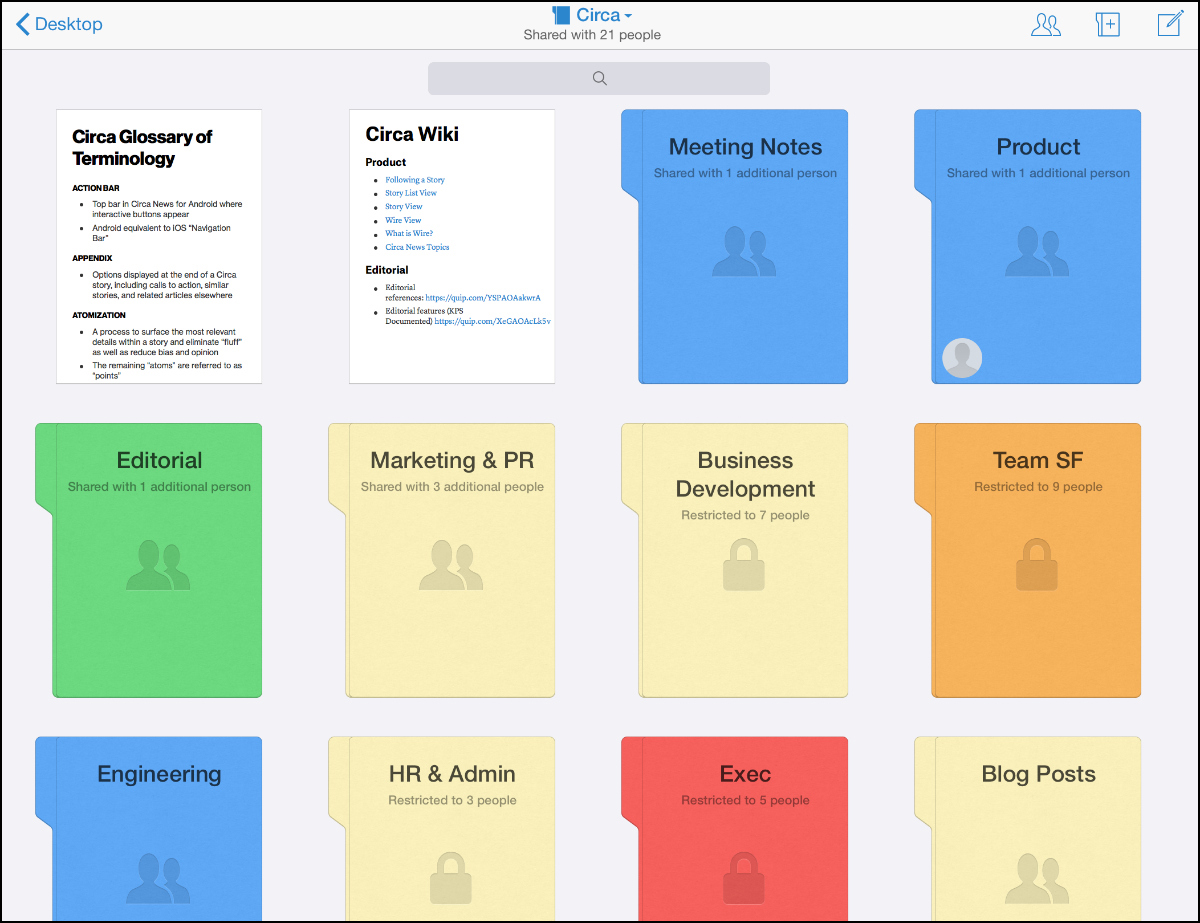 "this is what we provide to every writer. This is what we stand by."
An illustration of how Circa uses Quip as an active company wiki is their "Editorial Standards and Ethics Policy". Every writer who is on-boarded can refer to this document to see where the company stands. The magic of this document is the ability for anyone to view the changes in the document thread on the left. It not only reveals who was involved in the creation of the policy, but also how those standards have evolved over time. Matt considers the document such a core part of Circa's philosophy that he chose to make it available to the public as a read-only Quip doc so that anyone can find on the web with a simple search. You can check it out here.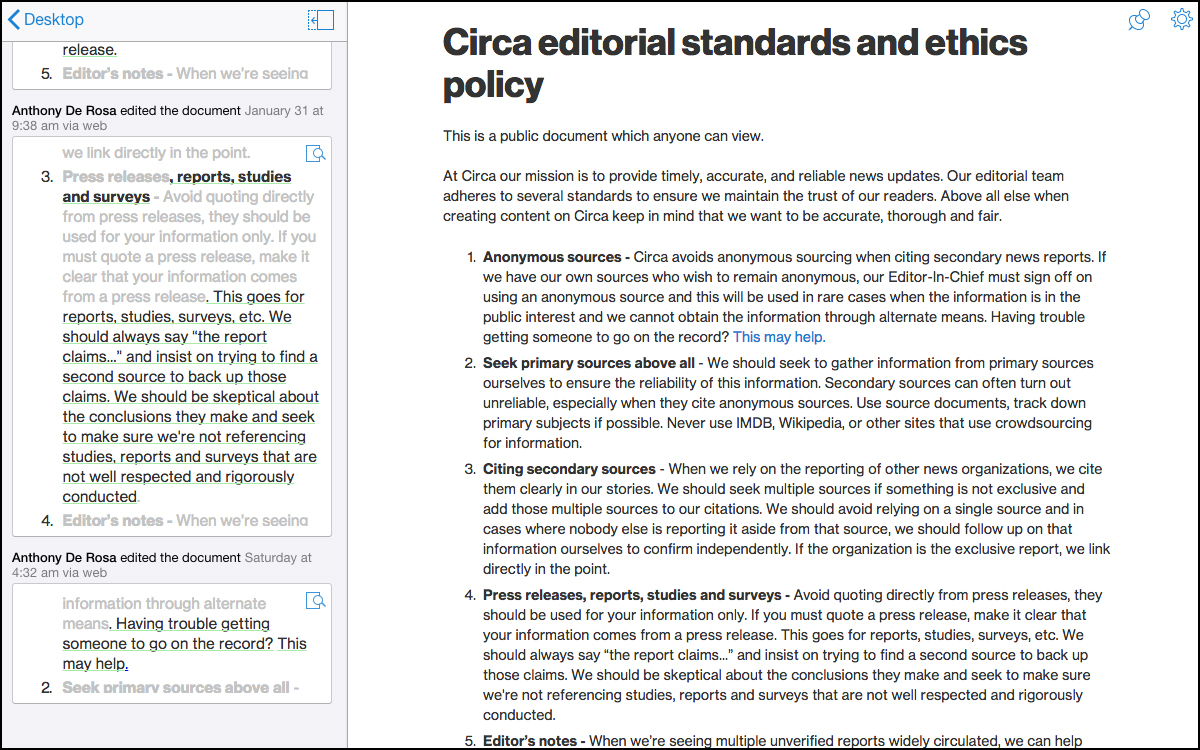 "For editorial its invaluable. It's really really really useful."
Just as other forms of media have their style guidelines, Matt and his team created their own style guide, which they added to their team wiki on Quip. Matt explains, "we say 'undocumented immigrant' as opposed to 'illegal immigrant', and that's an example of something that would go inside a style guide." Using Quip for the style guide helps because anyone can quickly reference the most recent standard for a given word or phrase, and they never have to worry about whether it's the latest version of the style guide. If something is missing, it can be easily be added to the guide, and everyone can see the change in the document thread. Like the Ethics Policy, it too is available to the public here (talk about transparency!).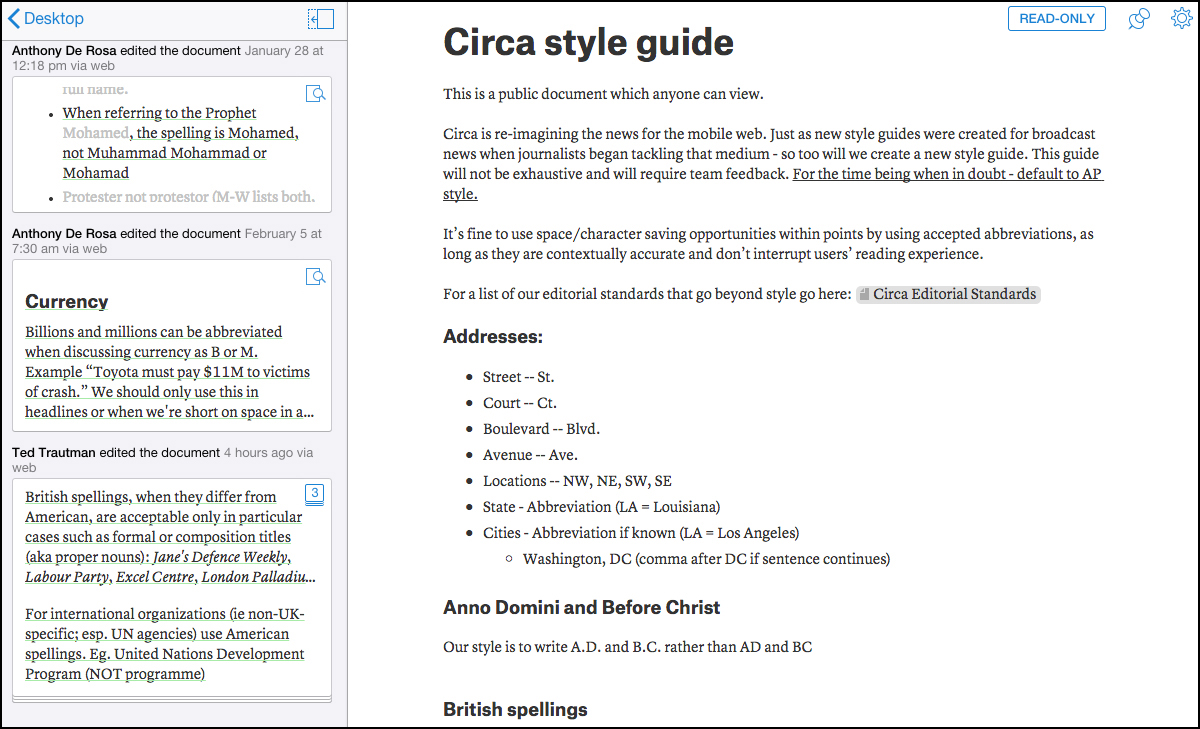 "All of our documentation happens in Quip"
In addition to using Quip as a wiki of company canon and culture, Circa's team of engineers use it for documentation for their entire tech stack including the design for their custom content management system. Doing all of the engineering planning and documentation in this way creates transparency and the ability for any employee to see how the pieces fit together. "It's cool because I can dip in every once in awhile and try to understand how everything works," Matt explained.
They also have a folder in the Product group called "Ideas" that is shared with the entire company. They maintain an active conversation about new features with everyone in the company. Matt describes this process, "The ideas folder is shared by everyone and everyone... [can] come in and comment, and they can pick apart the idea".
The Conversation Continues...
The light but powerful toolkit Circa employs is very common among the startups we've worked with at Quip. Circa is an example of a company using Quip to create a culture of collaboration and transparency. If you want to learn more about how Circa organizes itself, you can follow Matt on Twitter. And if you have any questions about running your business on Quip, drop us a line.