Introducing Granular Permissions for Quip Docs
Sharing docs in Quip was designed to be lightweight, easy, and secure. That's why we were surprised to find that the most common way our customers were sharing docs with each other was link sharing. While link sharing can be useful, it's hardly an everyday best practice when it comes to sharing with your teammates. Link sharing via email and chat often leads to information silos, context switching, and wasted time — problems that we're trying to eliminate with Quip in the first place. After digging into this we learned:
We could make sharing in Quip easier
We could give users more control over how they shared docs with their teammates.
Today, we're excited to announce a new and improved way to share docs in Quip, featuring our most powerful sharing controls to date. Now you can bring the right set of people into your work at the right level of access.
A streamlined sharing experience in Quip
When you click "Share," we've updated the dialog so you can share the current doc with both individuals and shared folders. Easily search people and folders by their name or email address, and view a list of all the shared individuals, folders, and permissions associated with each.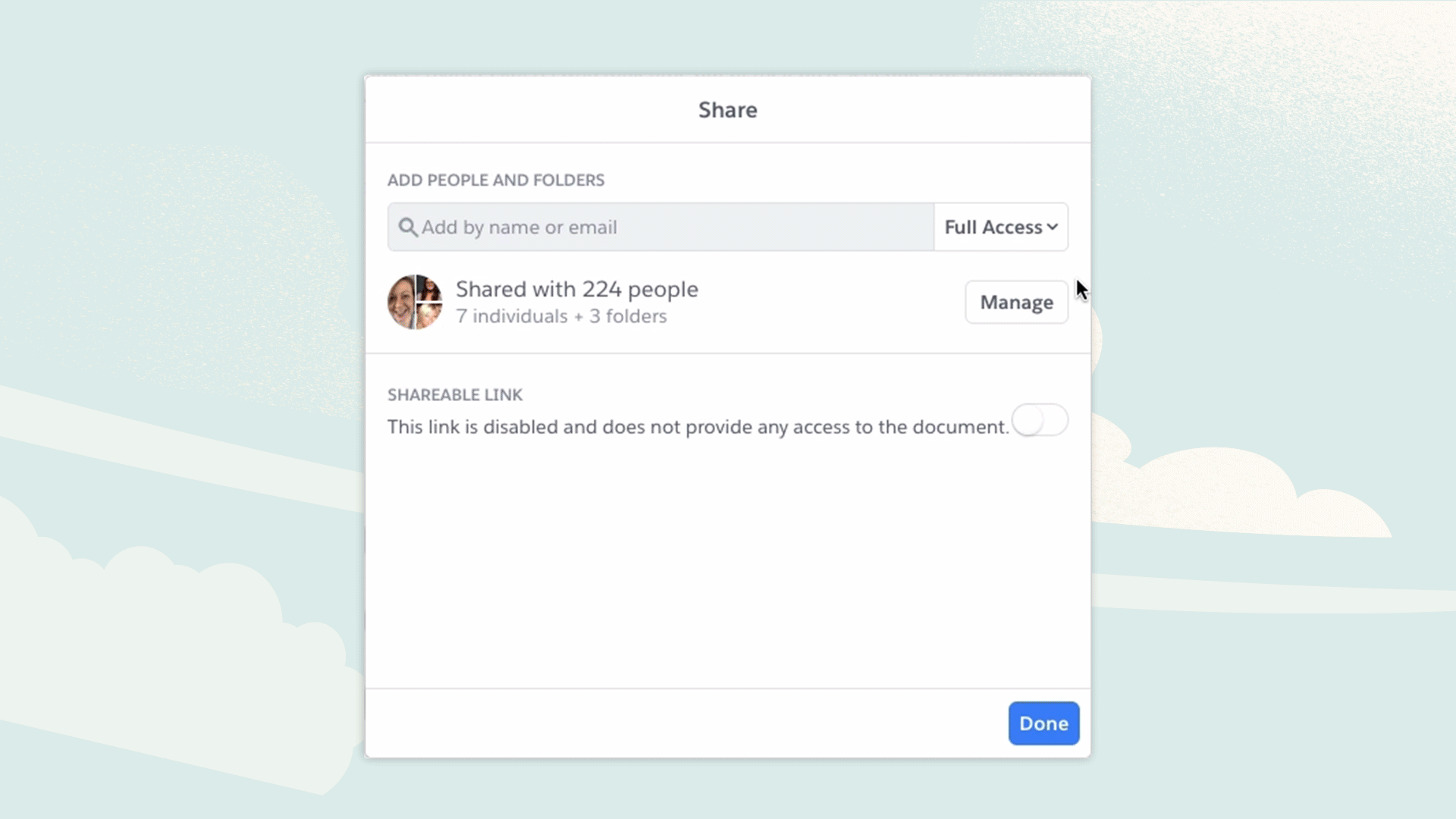 Instead of having to navigate to every individual shared folder in order to manage access, you can now track and modify all shared permissions from one centralized view.
Granular permissions give you complete control
Until now, sharing a document with a teammate provided them with full administrative power of the document. They could share it with others, delete it, edit, and comment. With this update, that's not longer the case, putting you in complete control of your documents.
There are 4 new ways to define permissions at the individual user and folder level:
Full Access: Can share and edit.
Can Edit: Can edit, but not share. 
Can Comment: Can only view and comment.
Can View:  Cannot share, edit, or comment.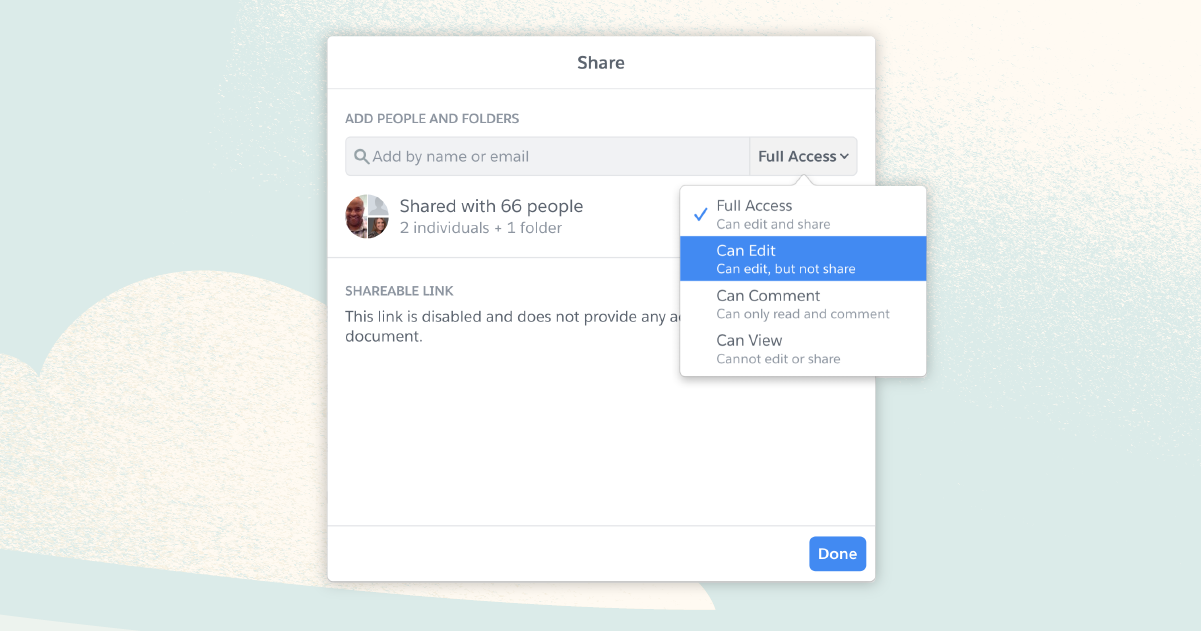 Full Access: can edit and share
This permission level grants full editing and administrative control of a Quip doc. It's the only level of access that includes the ability to share a document, modify permissions, or remove access altogether within the share dialog.
This is a good option when you want multiple owners of a document, so you don't ever become a bottleneck or blocker when additional teammates need access.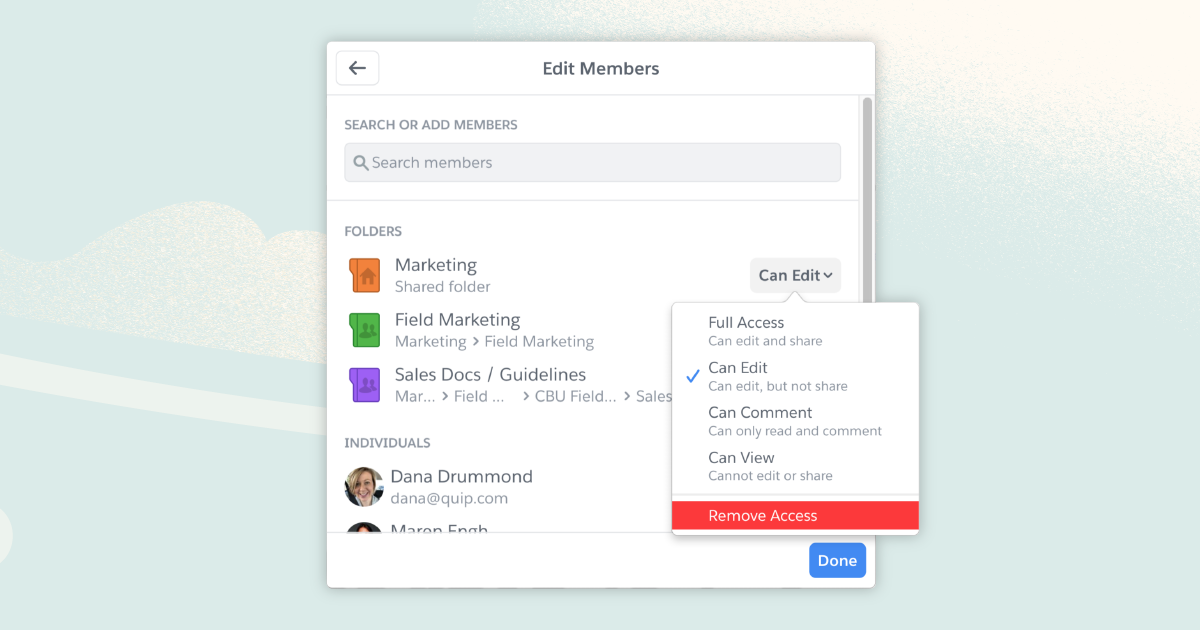 Can Edit: can edit, but not share
This permission level grants full editing capability but no administrative control of a Quip doc. Users can access the document history and view shared collaborators within the share dialog, but are restricted from sharing the document or managing permissions.
This is helpful when you want to allow people to edit and contribute freely to the work at hand, but still keep control of who it gets shared with. For example, if you have an outside contractor on your project team, you can grant them edit access but not the option to share. That way, you maintain the security of the document.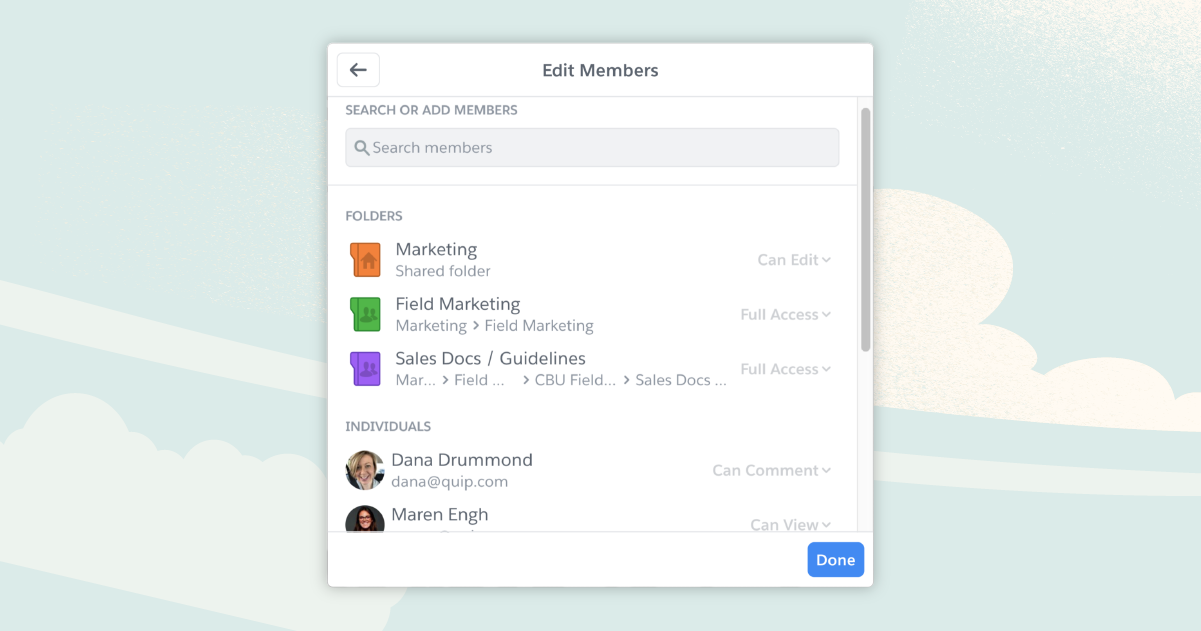 Can Comment: can only read and comment
This permission grants no editing or administrative control of a Quip doc, but does allow for collaboration via inline comments and messages in the conversation pane.
You would expose a doc at this level when you want people to be able to weigh in with feedback, but don't want them making any direct edits. Not only does this streamline internal reviews and approvals, but it can streamline collaboration with external parties as well. Now that you can share a contract with your client for review without fear of exposing your team's internal document history, it's easy to consolidate docs and eliminate copy-and-paste workflows.
Can View: cannot edit, share, or comment
This permission grants view-only access to a Quip doc, which implies no collaborative or administrative control at all. This permission can be particularly useful for final distribution of content or for announcing things like corporate policies and procedures.
Get started today
With granular permissions in Quip, it's easier than ever to get fast, high-value work done with your team. Learn more and get started!
Don't have a Quip site yet? That's easy to fix — start a free trial today.