How I Work From Home: Product Marketer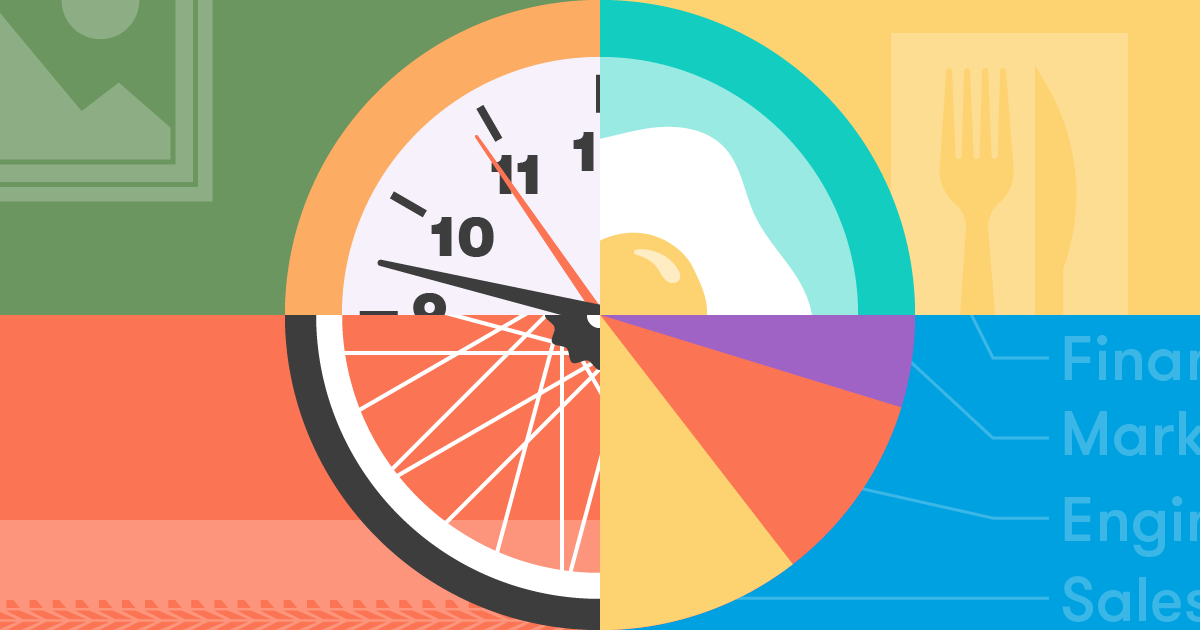 Location: San Francisco, CA
Company: Salesforce
Role: Director of Product Marketing
Experience WFH: 18 months WFH at Atlassian; occasional Friday
One word that best describes how you WFH: Redemption
Critical Home Office Gadget: Noise-cancelling Headphones
Tell us about your background and your role.
I moved to San Francisco in 2010 to start Golden Gate BrewTours (which has since closed). I learned I love marketing a product and was fortunate to start on the Product Marketing team focusing on Confluence the same year. I left Atlassian in the beginning of 2016 to be the first Product Marketer at Quip. Later in the year, the company was acquired by Salesforce and I've remained on the Quip PMM team ever since. I now count my Salesforce career in the number of Dreamforces I've been a part of: Four.
What's your experience working from home?
I worked in Atlassian's San Francisco HQ for four years and then moved to New York City to work remotely from my apartment for 18 months. This is when I got my first taste of the WFH life. Frankly, it was not a smooth transition. I was naive about the intention and structure that working from home requires. The "confluence" of WFH, my first New York winter, and the adoption of a needy new kitten got the best of me. I rarely left the apartment and my productivity suffered greatly. One of my concerned coworkers sent me a new sweatshirt so I could change things up every once and while. It was pretty grim. It took me about 6 months to figure out a setup and system that worked for me.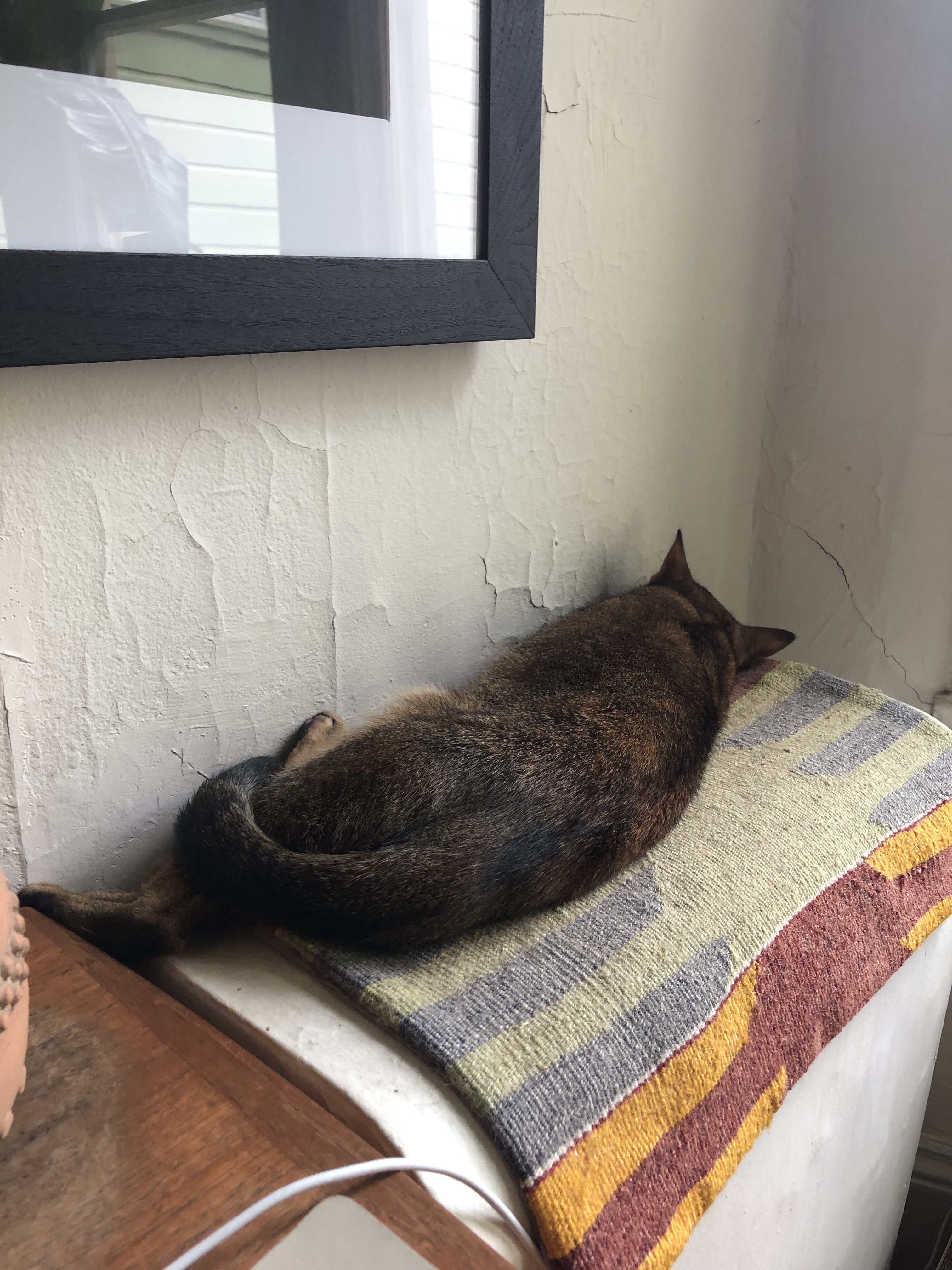 Since I've been at Salesforce, I rarely work from home, except for the very occasional Friday. After my WFH experience at Atlassian, I characterized myself as an "office person"; someone who's energized by my bicycle commute, coworkers to chat with, and the general hustle and bustle of Salesforce Tower.
During the last few weeks, I've been able to transition to WFH easier because of what I learned while I was remote from New York over four years ago.
Take us through a recent work from home day.
A great day is when I get up and go for a bike ride first thing. Usually I'll loop the city or go up to Hawk Hill in the Marin Headlands. This energizes me and structures my morning.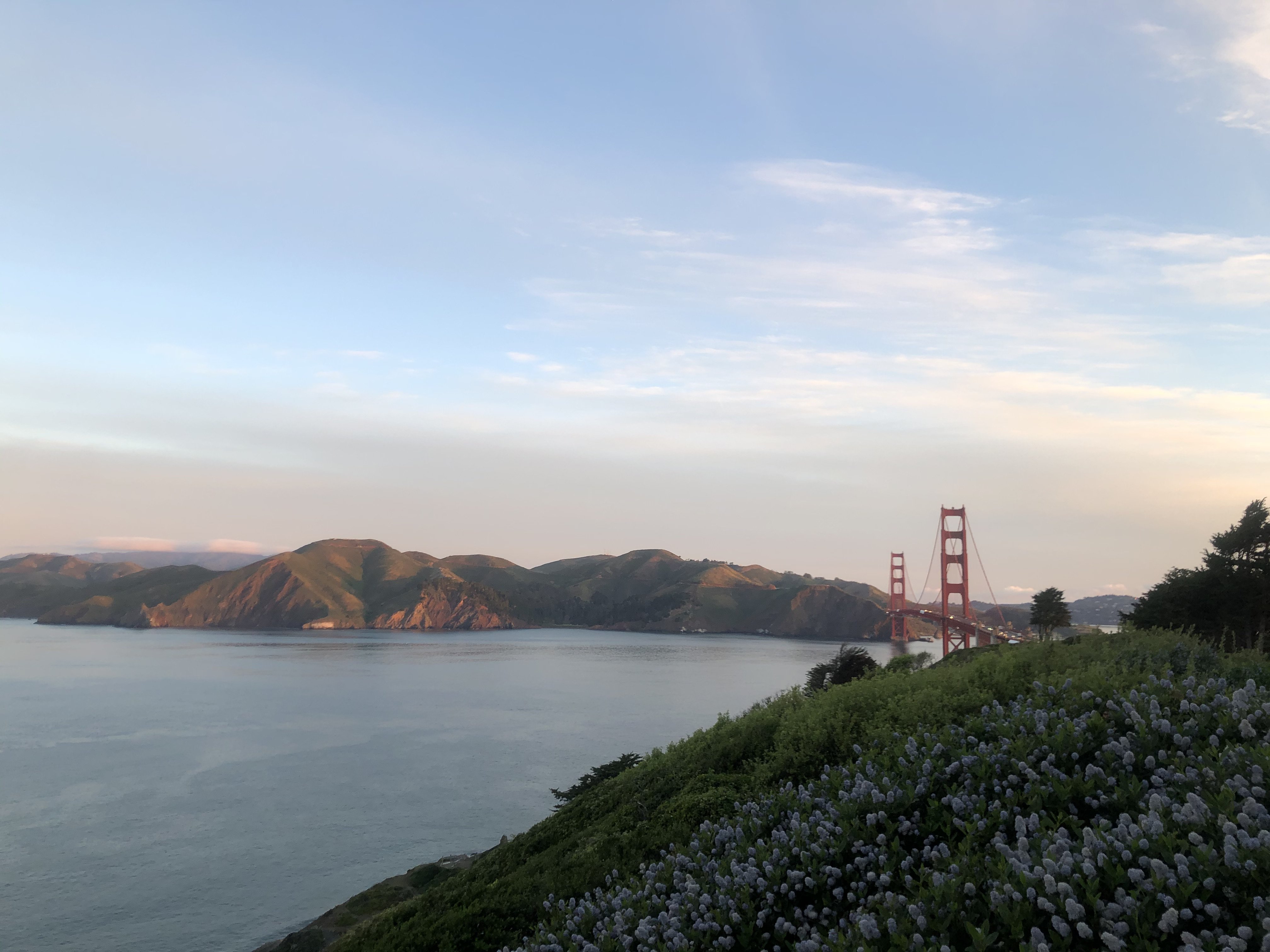 A less active day means that I just get up. I make sure to shower, brush my teeth, and put on casual but different clothes on (I'm wearing a Pliny the Elder t-shirt and shorts right now). I generally try to hold off on any screen time until it's work time.
After breakfast, I'll settle into work at 9:00 a.m. at my desk. I try to start work at the same exact time everyday. It's easy to let work seep into the openings of my day and then all of a sudden I've half-worked all the way between when I wake up and when I go to bed.
I work until about noon, taking calls and spending focused time on deliverables (like writing this blog post). At noon, my lovely wife, who is also WFH, or I will cook lunch to take a break. At this time, I don't look at my computer. I take a proper break for 30-45 mins. This is MY TIME.
When I finish, I go back to working or take my next meeting. Around 2:30 p.m. I will take a walk for 15 minutes outside. I'm lucky enough to live next to Alamo Square Park which has a nice loop for me to get some fresh air, see some dogs, and check out the view. I will usually use this time to call a family member or a friend and chat briefly. The last few weeks have helped me reconnect with a lot of my friends and family.
When I get back from my walk, I'll get back to work or my next call. I finish the workday at the same time every day, just like how I start working at the same time every day: 5:00 p.m. I'm very protective of this schedule because it keeps me extra-productive during the day when I'm regulated. I actually put my computer AWAY.
To end my workday, I do an online yoga class from anywhere between 15 minutes to one hour. I love the online yoga classes that SkyTing and The Studio offer. This is my body and mind's signal that the workday is officially over. I'm done with work and now I'm transitioning my apartment from "work mode" into "home mode". I need the delineation. I might answer something work related in the evening, usually through Quip's mobile app, but I am done focusing. My team has also committed to not schedule meetings past 5:00 p.m.
Working late takes energy away from my ability to do something productive for myself after work, and takes energy from my commitment to work the next day. Especially over the course of days and weeks. I need to put strict guard rails in place otherwise I lose energy, focus, and will power.
What's been the most important adjustment you've made to WFH productively?
I've got four tips that I learned the hard way when I was working remotely in New York. I hope these will help everyone build structure into their day so the day is really about YOUR schedule and not work's schedule.
Tip #1: Shower, groom yourself, and get out of the same old sweats that are too easy to wear everyday. It can still be casual. But at least different-casual.
Tip #2: Protect your time. Start your work day at the same time everyday. Take a proper lunch break without your laptop. And end your work day at the same time every day. Work will take up as much space as you allow it. This might be fine for a few days, but in the long run it will consume you. Intense, right?
Tip #3: Get outside at least once, but hopefully twice during the workday. No one will know you're gone. It's always, always worth it. There are no prizes for staying glued to your computer all day.
Tip #4: Commit to an end-of-work transition activity. Do whatever you need to do to transition your workspace back into home: close your laptop, go for another walk, exercise, play an instrument, whatever. I don't care. The most important step is to actively put your laptop away.
What's your home workspace setup like (take a picture!)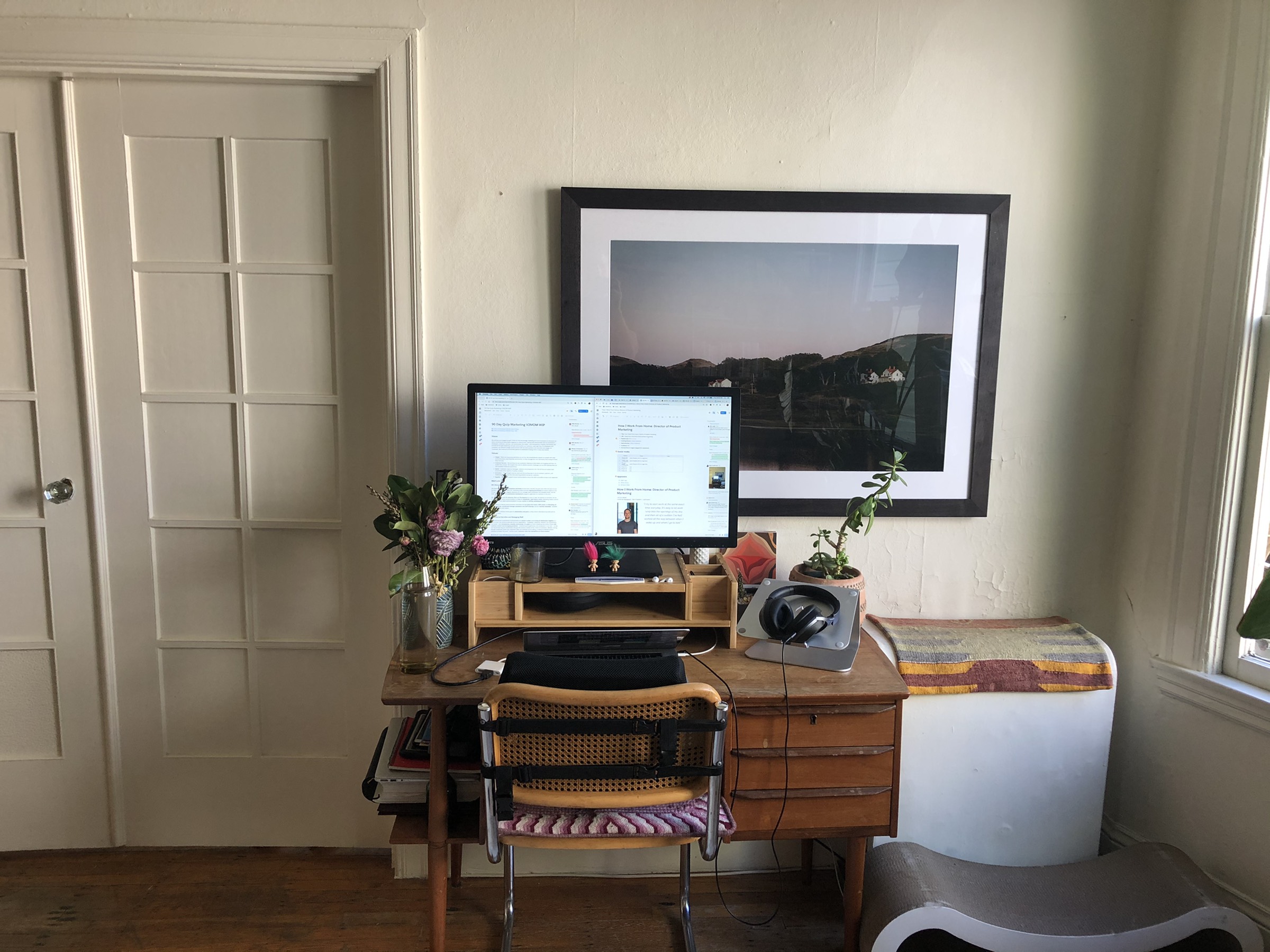 If you can get a proper monitor to plug your laptop into it will save your neck. Other than that, the only thing I swear by is the lumbar pillow that's turned my kitchen table chair into an ergonomic "desk chair". It's been one week since I got it and I can't believe I went two without it.
What's a Quip document you check every single day?
My life revolves around many Quip documents. We use it for everything every single day. I'm currently preparing a presentation for a webinar on April 16th where I'll cover how Quip is helping Salesforce employees transition and adapt to working from home. This document was created from a template that the Salesforce webinar team shares so we can fill in all of the relevant information – title, abstract, promotional details, audience information, email copy, etc.
I've been in this document a lot because it's the hub for all the work related to our webinar. It gives me, our technical product marketer, our demand marketer, our webinar team contact, and my boss a shared workspace to collaborate on every phase of our webinar. As I make updates to the presentation content, I'll share the link to the presentation in the Quip doc as well.
Shameless plug! If you're interested in attending this webinar, register here.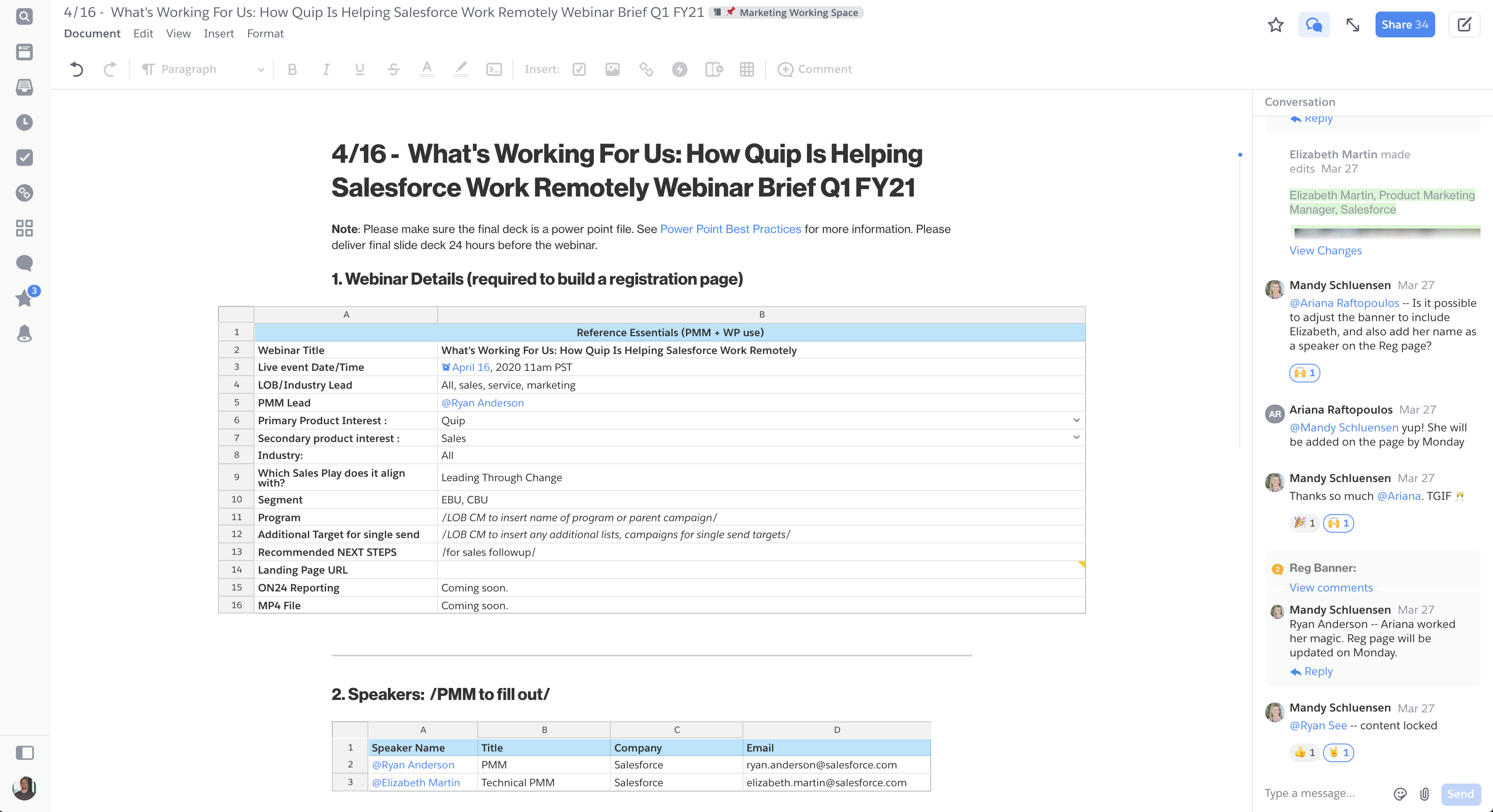 How has Quip helped your team maintain connection online?
Quip has been fundamental to our team maintaining connection and alignment. V2MOM strategic planning documents are a Salesforce best practice for personal, team, and corporate planning. It's a document that details your Vision, Values, Methods, Obstacles, and Measures that will make for a successful year. You can learn to write one on Trailhead here. Everyone and every team creates one of these strategic planning documents. It's where you define, execute against, and track your most important, strategic initiatives. This kind of document is critical to our ability to maintain alignment generally, but especially right now.
Quip chat rooms are a way for us to stay together under the umbrella of Quip. The entire marketing team lives in Keri's Team chat – where we broadcast news across the team, ask questions, give each other kudos, and even share a TikTok or two. The new emoji reactions really become their own form of discussion.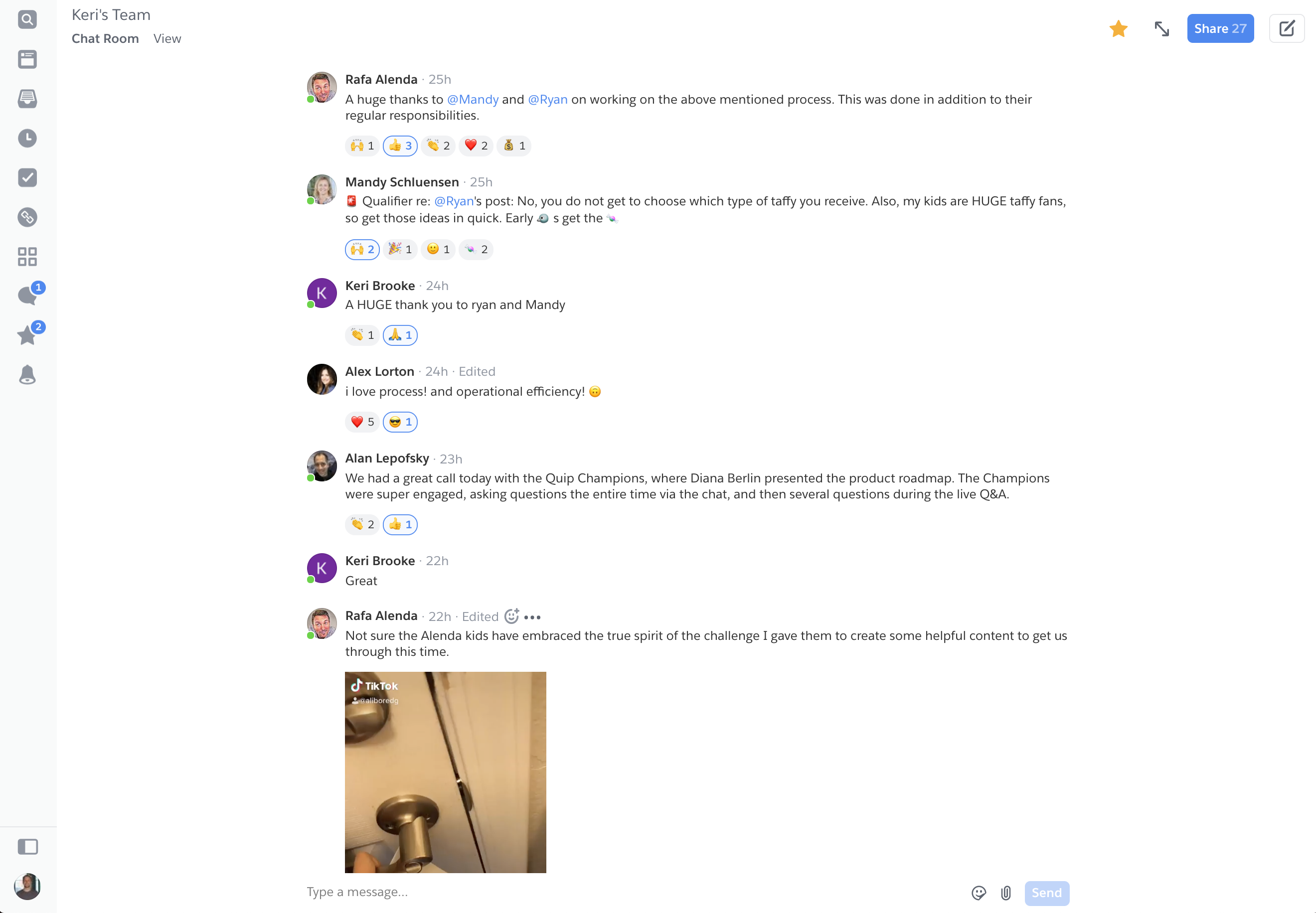 What TV series are you currently binging?
Marone! The Sopranos. I just finished season 1. It's excellent. Can't wait to start season 2 tonight.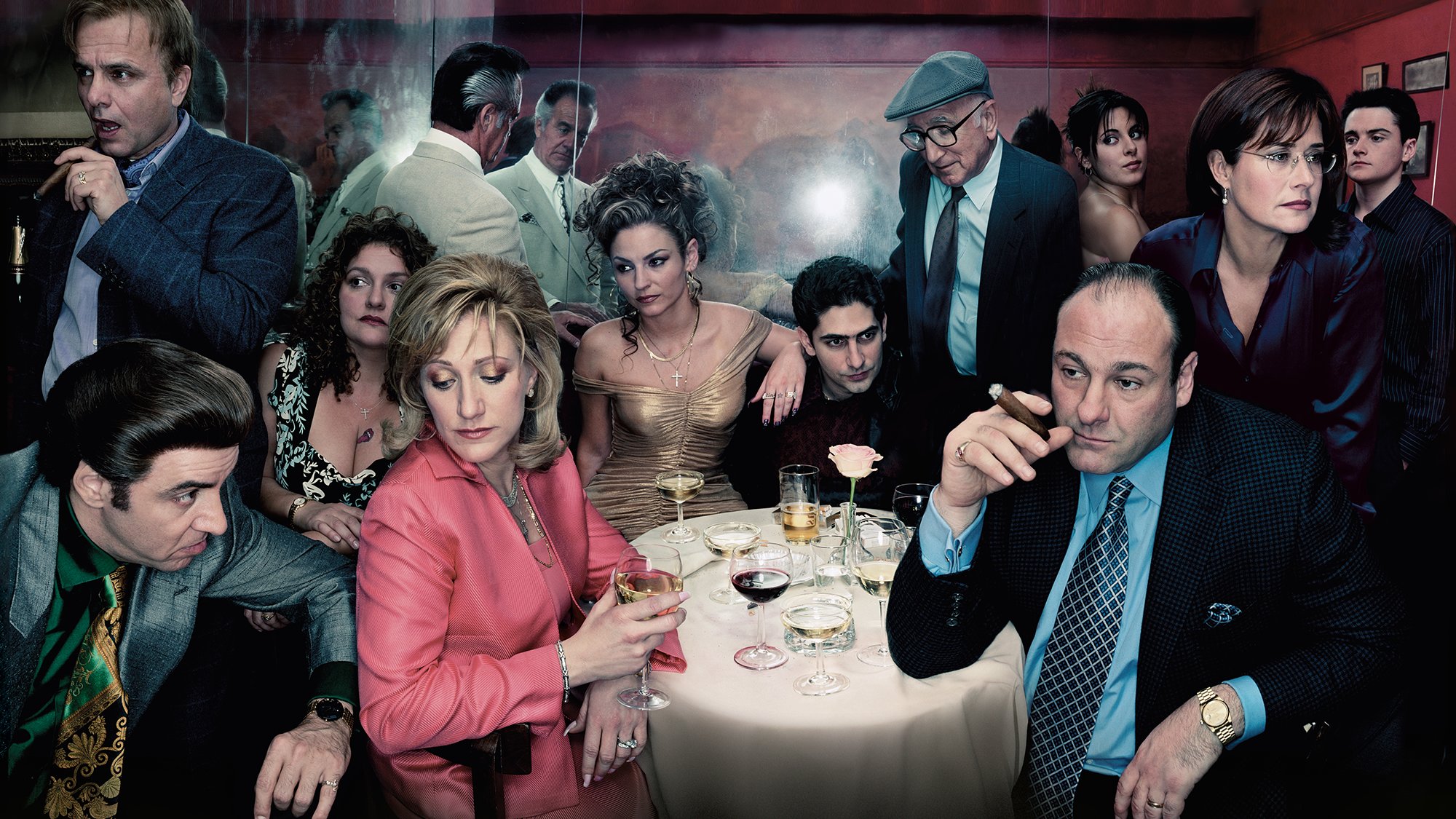 Is there any other WFH advice you want to share?
No, this post is long enough! I've detailed my experience here, but I also recognize that I'm incredibly privileged that the hardest part of the last few weeks is how I adapt to working from home. I'm not a parent, so I haven't had to juggle work and child care or homeschooling like my coworker Melissa detailed in her work from home blog (https://quip.com/blog/balancing-wfh-with-teaching-an-elementary-school-student). My heart and prayers go out to everyone impacted by the global pandemic. I hope this post was helpful in some small way.
If you need additional information on Quip basics, check out our helpful learning content.
Learn how your team can collaborate from anywhere with Quip. Take an interactive guided tour.