How Systech Transformed Account Planning with Quip
Stale data made their account plans dead on arrival. Here's how Systech brought them back to life.
Fred Tchang is a business analyst and Salesforce administrator at Systech International.
Like many companies with a long sales cycle, Systech International uses account planning to think through and share each salesperson's approach to selling into a prospective customer. Before, these annual account plans were created in Powerpoint, with Excel spreadsheets to match.
But there was a problem: As soon as the document was completed, it was dead. The data in CRM continued to change, but the account plan was a non-changing, static document of the past.
To overcome this and make our account plans more effective and actionable, we started to look for a solution that wasn't just another tool, but a whole new way of doing account planning. To begin the search, we put together some criteria:
First and foremost, it had to have close integration with Salesforce, because that's where our sales team lives.
It needed to be flexible, so that our teams could modify the planning document to suit their needs.
It had to have a visual way of representing relationships between contacts.
It needed to have all the conveniences you'd expect from a modern app, including being intuitive and easy to learn, and having regular product updates. Ideally it would be available on mobile.
When our Salesforce account executive told us about Quip for Customer 360, we were curious. We had heard of Quip, but weren't sure how it would be used for our purposes. A trial and some investigation into related apps helped us understand Quip's capabilities.
We came to learn that Quip is a flexible tool that can have many applications. In fact, Quip changed the way we think about documents altogether, transforming them into workspaces where people can collaboratively build what they need to get work done more efficiently.
So what's the key to building our account plans in Quip? It's that Quip's collaborative documents work inside Salesforce. That means the data is always up to date, and reps do more of their work in CRM, instead of switching apps and having important info in multiple places. With data and key info always up-to-date, our account plans went from static to dynamic. Quip calls them Living Account Plans.
Here are our three favorite things about living account plans in Quip:
1. Salesforce Integration: A Single Source of Truth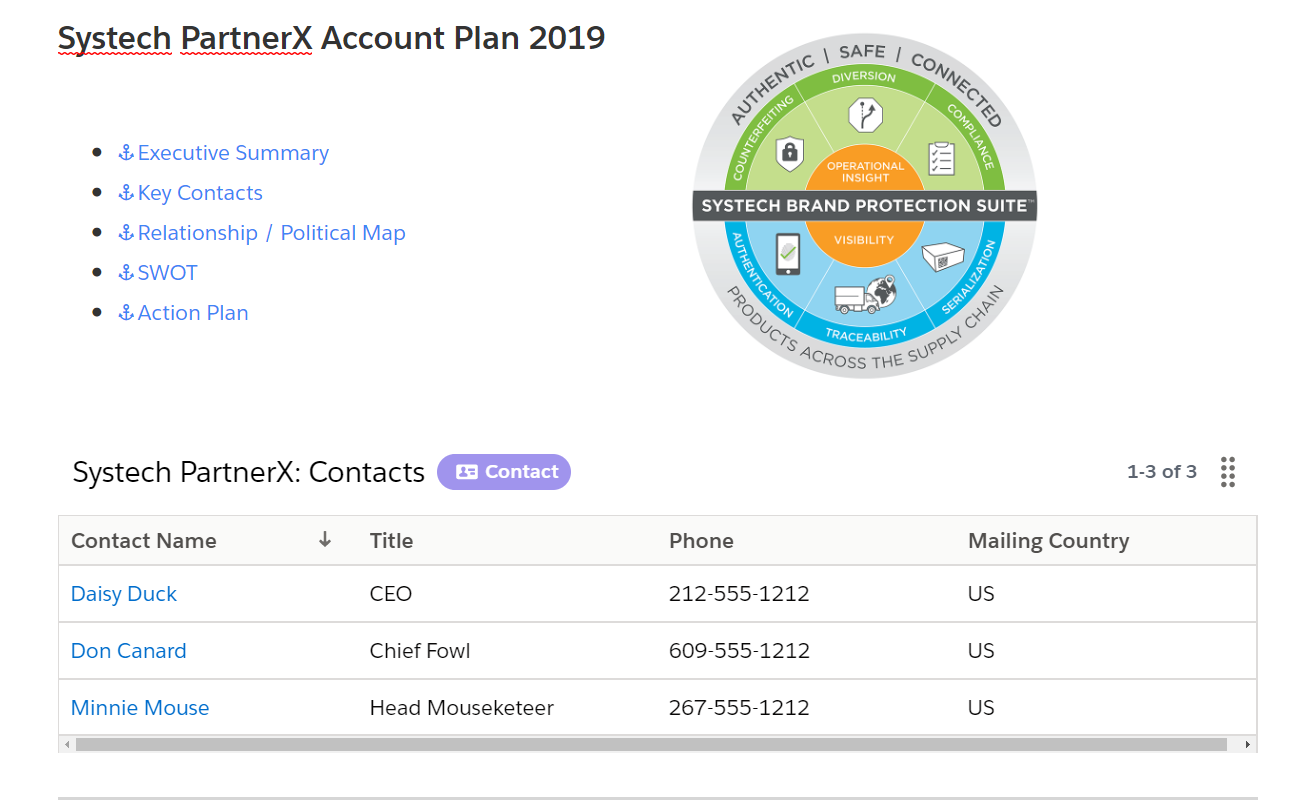 Don't you hate having to type in information that's already entered somewhere else? Our contacts, our history with a customer, and all our important information is already in Salesforce. Quip brings that data into our account plans in multiple ways through bidirectional data sync with Salesforce. That includes:
Account Details: You can bring in specific fields from the account that are important to the rep. When that data is updated in Quip it's also reflected in the Salesforce record.
Salesforce Reports: The history of our opportunities with the customer gives us the big picture to include in our account plans, such as what we have proposed in the past.
2. Live Apps: Expand What's Possible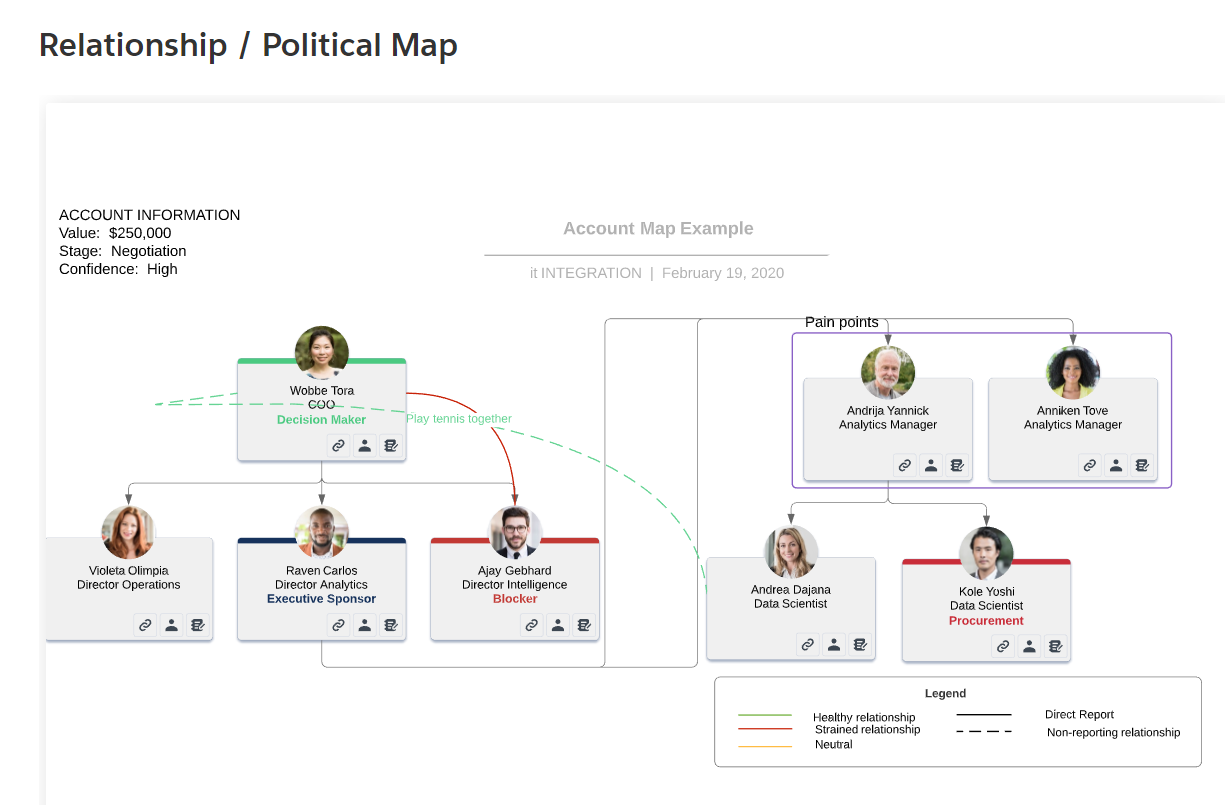 Live Apps are interactive, live-updating apps you can add directly to your Quip documents. They extend the possibilities of what you can do in Quip, and third-party Live Apps let you use some of your favorite tools, right in Quip. Since having a visual way of representing contacts is essential to us, these two Live Apps are key to our account planning process:
Lucidchart: Our sales team is very visual, so being able to bring Lucidchart right into the account plan is a huge plus. This plug-in even allows you to edit the Lucidchart directly in Quip, with the option to also open it up in Lucidchart, which we often do just to have a larger area to work in.
LinkedIn Sales Navigator: Both Salesforce and Lucidchart have ways of connecting to LinkedIn Sales Navigator, which means anyone looking at the account plan is one step closer to being able to see details about account contacts through LinkedIn. Making a process easier — in this case, researching account contacts on LinkedIn — makes it more likely that it will be done.
3. Working Collaboratively — in the Doc
The way Quip documents work has fostered a culture of collaboration at Systech. Instead of having multiple file versions, each doc is instead shared with relevant team members or the extended team, all while maintaining a history of changes and in-context conversations about the work. These are fundamental aspects of Quip, and they have ignited teamwork among Systech Sales teams.
Now with Quip for Customer 360, our account plans are much more than just a place to jot down thoughts and notes. They've transformed; they're now more of a "command center" for the account. Account plans are the documents we use to get an overview, key details, and links to everything that's important to know when planning our approach. And as "living" documents incorporating up-to-date CRM data, our new account plans don't go stale. They stay relevant throughout the year. Best of all, with Quip, key data and notes are no longer kept in multiple apps and emails. It all stays in Salesforce, enabling our teams do their best work.
Want to learn more? Check out the on-demand webinar How Salesforce Drives Pipeline and Revenue with Living Account Plans.