Quip for iOS 8
Everyone at Quip was really excited when Apple announced the new functionality in iOS 8. In addition to supporting the amazing screens on the new iPhone 6, iOS 8 supports a number of new features that make Quip for iPhone and iPad much closer to our vision of the ideal mobile productivity suite.
With Quip for iOS 8, when you're typing a Quip document on your desktop, you can now walk away from your desk and pick up right where you left off with a swipe on your iPhone's lock screen. You can save a Word document to iCloud and open it directly from Quip to start collaborating on your iPad.
It's been magical to use internally, and we're so happy everyone else can start using it today. You can download the new version of Quip for iPhone and iPad immediately in the App Store.
Handoff
Quip supports Handoff, which enables you to seamlessly switch between your devices. It works automatically — if you're editing a Quip document on your iPad and pick up your iPhone, you'll see a Quip icon on the lock screen you can swipe to continue editing without skipping a beat.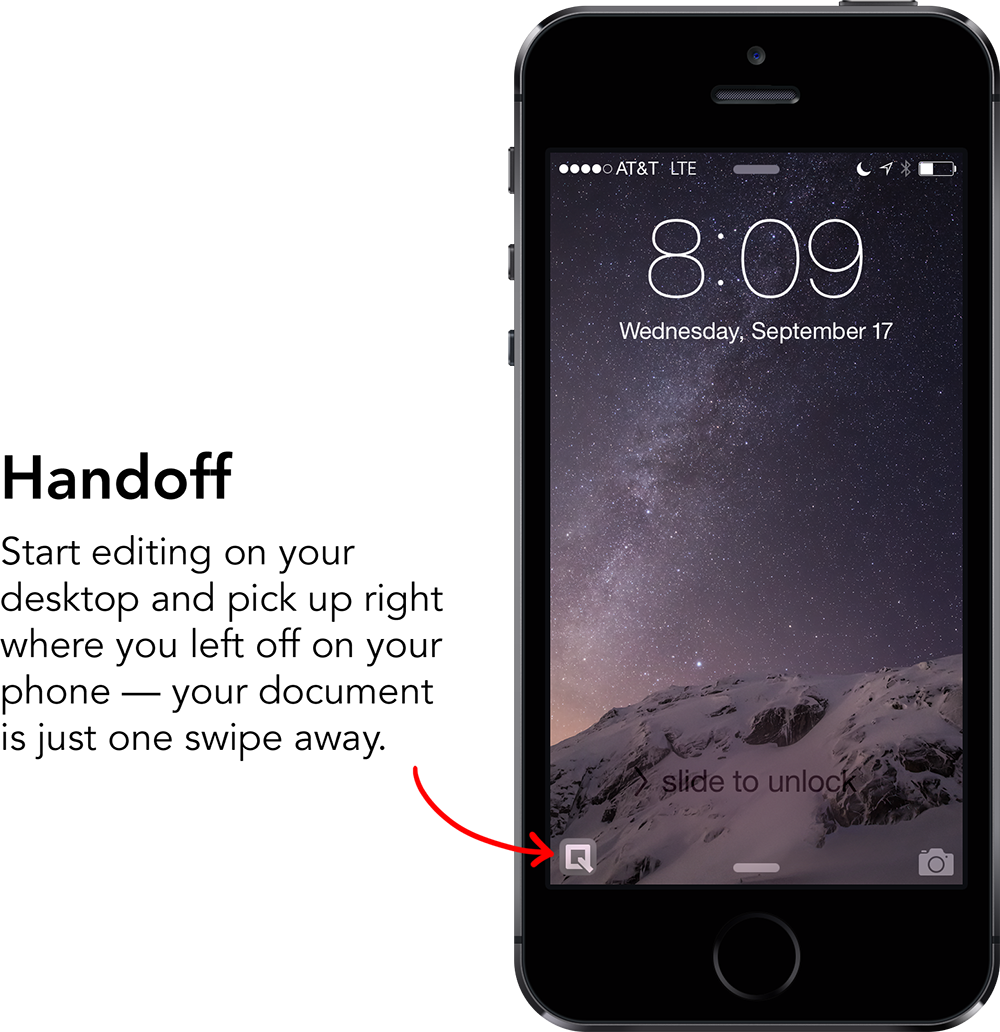 Quip also supports Handoff between desktop and your mobile devices. To see it in action, you'll need to be using Safari on Apple's upcoming version of Mac OS, Yosemite. When Yosemite is fully released, be sure to check it out — being able to walk away from your desk and have your work waiting for you on your phone feels like you're living in the future.
Import and Export
With iOS 8, the apps on your phone can finally all talk to each other. That means you no longer need to jump through hoops to get documents in and out of Quip.
To try it, select "Import" when you're creating a new document. You'll see a list of all the apps on your iPhone and iPad that support file export, and you can choose a file to import without leaving the app. It works out of the box with iCloud, so many of the documents on your laptop will be available to import immediately.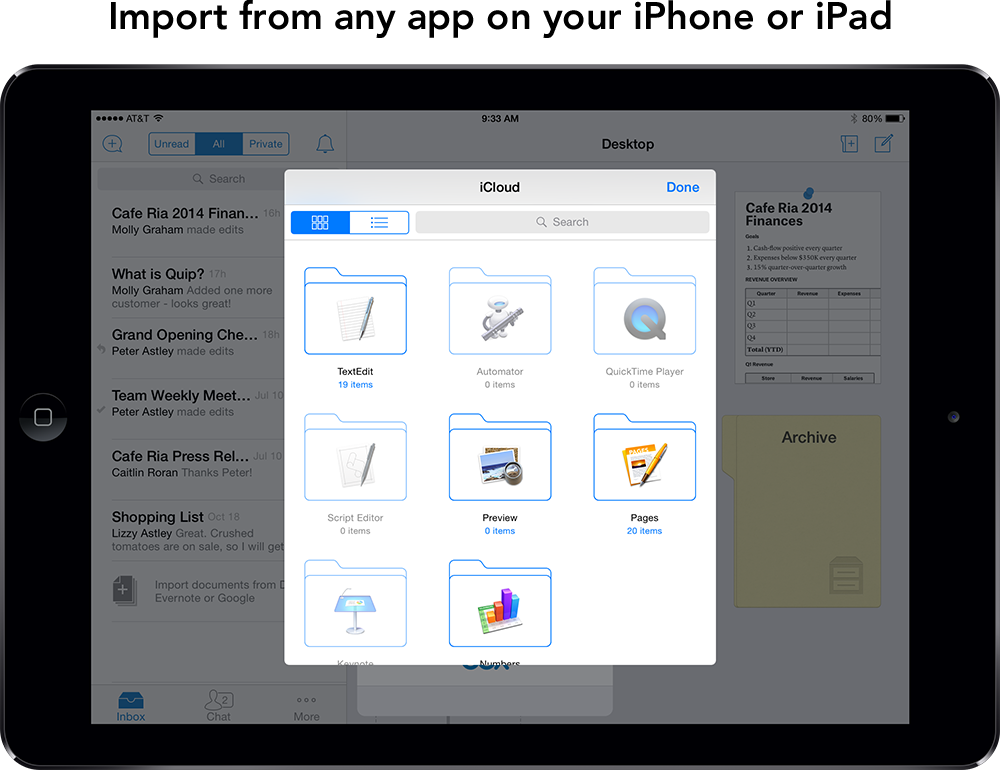 It also works the other way around — all your Quip documents are available as PDF to import to any app on your device, so you can attach them to emails or upload them to your company's shared folder.
Social QuickType
iOS 8 introduces QuickType, a wonderful new approach to typing on touchscreens. Quip integrates its social features into the Quick Type interface. You won't just see spelling suggestions above your keyboard, but also document and people suggestions, which makes typing @-mentions fun. Just press the "@" button or start typing the name of a person or document to see the suggestions show up.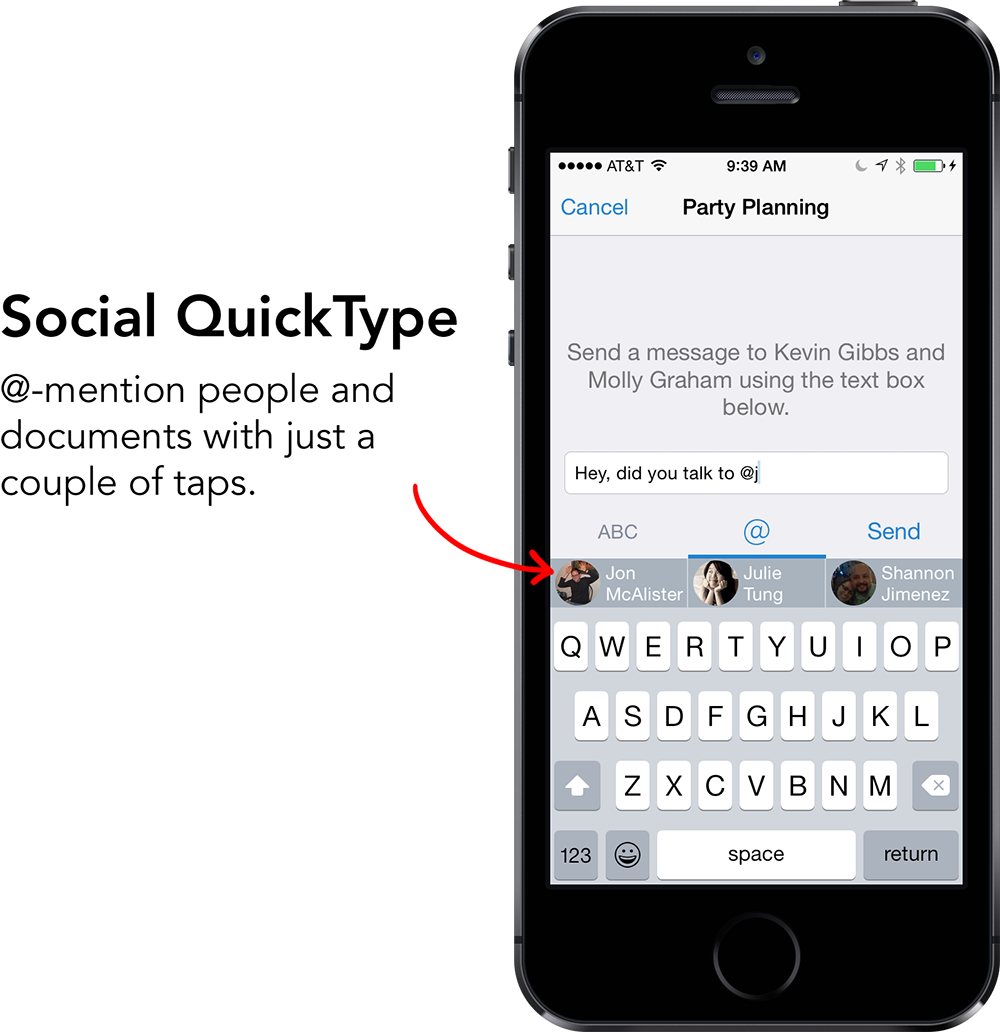 ---
Thanks for using Quip, and keep the feedback coming — you can email support@quip.com or reach out to @quip on Twitter.
We love hearing from you.