Using Quip for Marketing Communications
Andrew Dodd is the Worldwide Marketing Communications Manager for Hewlett-Packard Storage Media, a division of HP Storage that sells supplies and accessories for backup and archiving devices used in data protection. He is based in Barcelona and manages a diverse roster of design, marketing and translation agencies located in several different regions. His team began using Quip at the end of 2013. 
I discovered Quip via a favourable review in one of my RSS feeds. I work in a very varied agency environment and I'm constantly looking out for new services and apps that enable my team and I to work more efficiently. My primary responsibility is managing the creation of sales and marketing tools for our global channel of distributor and reseller partners who sell HP Storage Media. I manage a number of external agencies and freelancers in the US and Europe to produce these materials and we have adopted Quip as a standard platform for creating and sharing copywriting content.
When I started using Quip myself, I was immediately impressed by how easy it was to work on documents on all my devices: desktop, laptop, tablet, smart phone. The nice thing about Quip is that it's the same application regardless of the platform you're using. Often with mobile apps, you might have to sacrifice some functionality or adjust the way you work to accommodate the smaller screen, but with Quip, it basically works the same way on everything. I don't have to change how I use the service because I'm using a different device.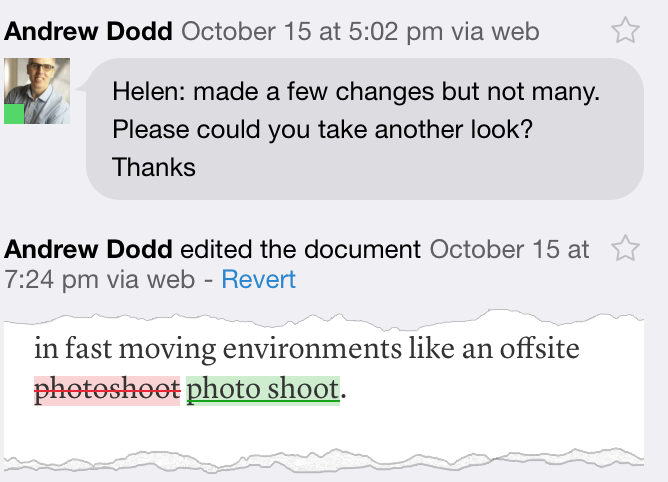 Transforming the editing process - a real life example from HP Storage Media
I realised Quip was also transforming my agency workflow whilst working on a new campaign for HP's RDX Removable Disk Storage at the end of 2013. The campaign was conceived quite late in the year and because of holiday schedules, we were under a lot of pressure to get the copywriting phase complete so we could meet deadlines for translation. I am based in Spain, my preferred copywriter, Helen Fisher of WriteStuff, was travelling in Ireland and the design agency creating the campaign, Nutley & Nutley, is based in the UK. And at a critical period, I had to go to Amsterdam for a partner business event!
The old school method would have seen Helen producing something in Word, with track changes on, which would then be sent via email around the team for us all to review and add our comments. These would then have been emailed back and consolidated by the author who would then have sent a new version round for the same process to be followed. Over and over again. On some projects, it is not uncommon to see 'Campaign Copy v7' doing the rounds, or for someone to say they never saw 'v3. In terms of efficiency and ease of use, it's better than using carrier pigeons but not by much.
Here's what happened using Quip.
Helen wrote a first draft before leaving for her trip to Ireland.




The following week, I went online and began making some changes and corrections in my home office.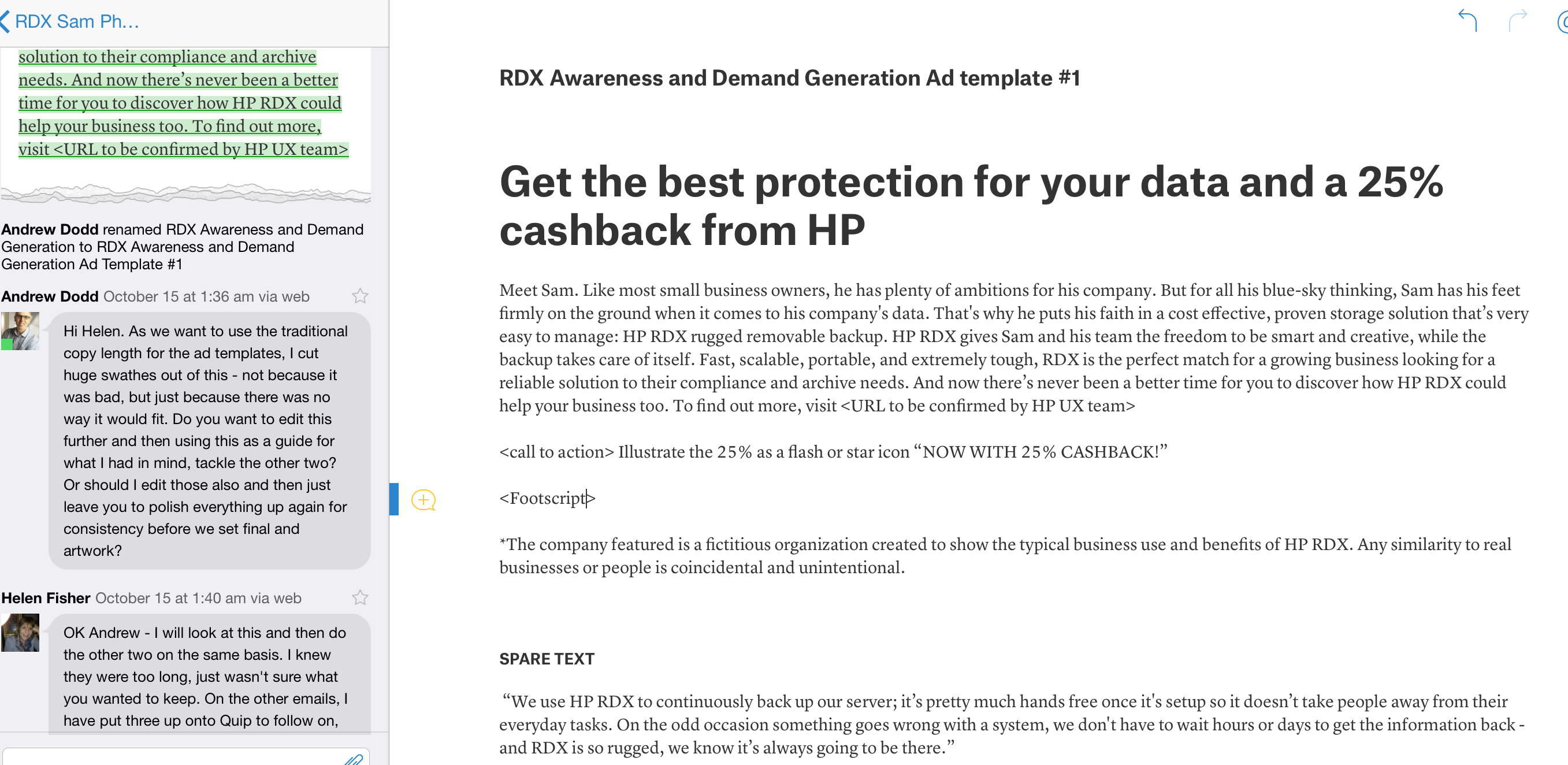 Part way through my review, however, I realised I had to leave for the airport. So I shut down my computer and continued working on the copy on my smartphone in the taxi.




At Barcelona airport, I saw a comment in Quip from Nutley & Nutley saying that they thought the copy would be overlong when it was laid out in the advertisement concept they had envisaged. So I left a message for Helen to ask her to make some additional changes and boarded my plane.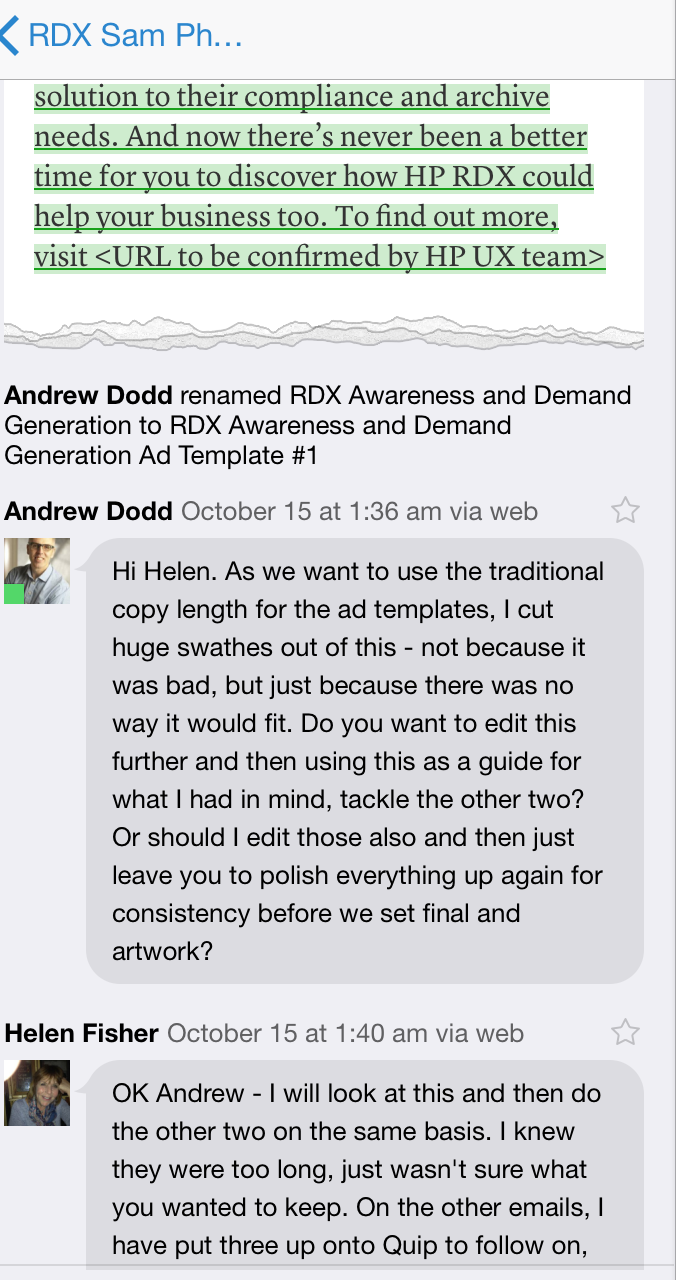 When I arrived in Amsterdam, Helen had made those changes and after reviewing the new version, I added a note to the timeline that the copy was now final.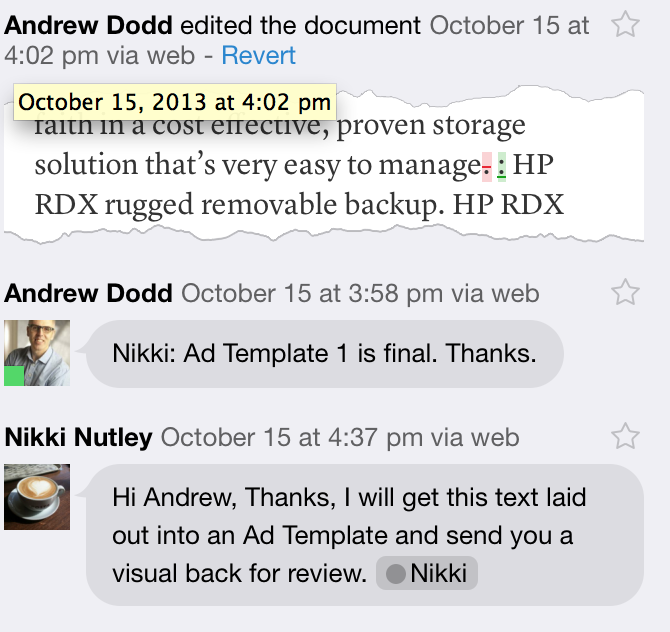 When I reached my hotel thirty minutes later, Nutley& Nutley had already taken the copy from Quip and inserted it into a PDF of the final ad' artwork for my approval. The new copy looked great in the design template and we were able to approve the English version and get the material across for translation with time to spare - a huge relief given the time pressure I was under to meet the launch deadline.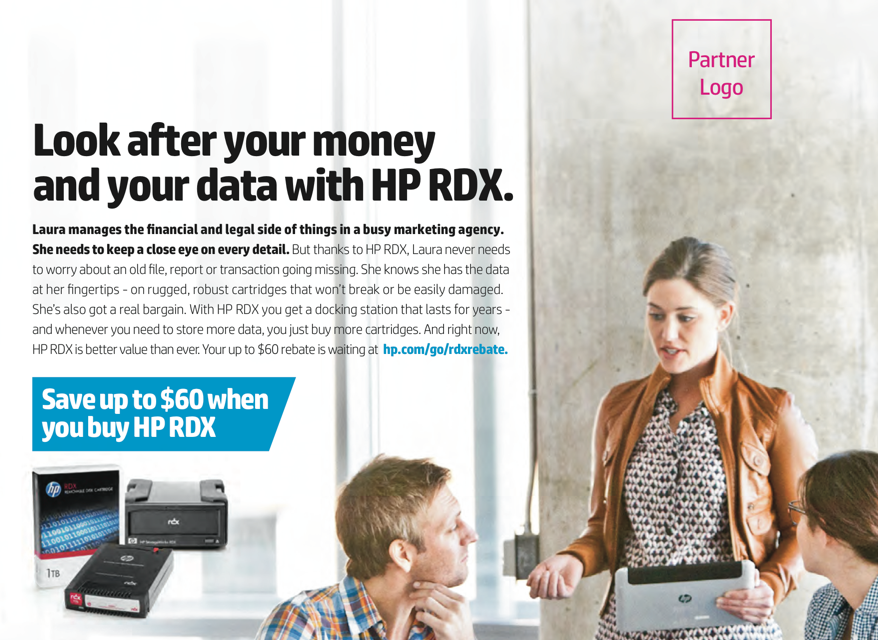 The actual process of copywriting, review and sign off that I've just described isn't in itself remarkable. You could do all of the above using a combination of traditional software, SMS, phone calls and email. But it would almost certainly take a lot longer and be far less integrated. To be able to accomplish that workflow as easily and fluidly as we did, in different countries, on whatever device was convenient, and have all the participants active and aware in real time of all the changes? That for me was nothing short of revolutionary.
For larger projects, with multiple internal and external stakeholders, I think Quip would be even more powerful at collapsing the time and software barriers that keep contributors separate from each other.
Simple yet powerful sharing
Even though it can help complex workflows operate more efficiently, one of the most appealing aspects of Quip is its innate simplicity. It has standard word-processing features that enable us to create most kind of kind of documents: paragraph formatting, lists, support for embedding tables and images (as well as links). What makes Quip quite exceptional in my opinion is the powerful way it allows contributors in different locations to edit this content, work collaboratively and share information from just about anywhere. In this regard, the simplicity belies an incredible powerful tool that is far more than 'just' a word processor.
A feature I really value is the timeline approach to reviewing and commenting on documents; it puts sharing and team working at the heart of the application. In a traditional word processing environment, this is something that has always felt like an afterthought, an optional extra; the fact you often have to set 'track changes' to 'on' highlights that collaboration was never intended as the default.
With Quip, the opposite is true. Sharing and collaborating is at the heart of how it works and what makes it so effective. You can add people to view and edit your document very easily, and any changes they make appear in a familiar timeline view, with colour co-ordinated comments highlighting those edits. Comments are shared instantly, making it easy to have a 'conversation' around each document so you can bounce suggestions off each other and try different things almost in real time if you want to. It's worth pointing out that Quip prevents multiple contributors from editing the same part of a document simultaneously. You can have many people working inside a document at the same time, just not on the same paragraph/section.
Not just different: different and better
The first review I read described Quip as a 'word processor'. Whilst that's true in part, I think it's also misleading. Quip has a lot in common with the many word processing applications you could choose but I don't know of a word processor that works quite like Quip. And like many other ideas that look simple on first glance, there is a lot more than meets the eye once you start actually using it. In a short space of time, Quip has become my team's default tool for writing, editing and reviewing copy for new marketing materials. In a corporate environment where processes are often resistant to change, that's a remarkable achievement for such a relatively new application.