Product management at Quip: It's our job to make sure good things ship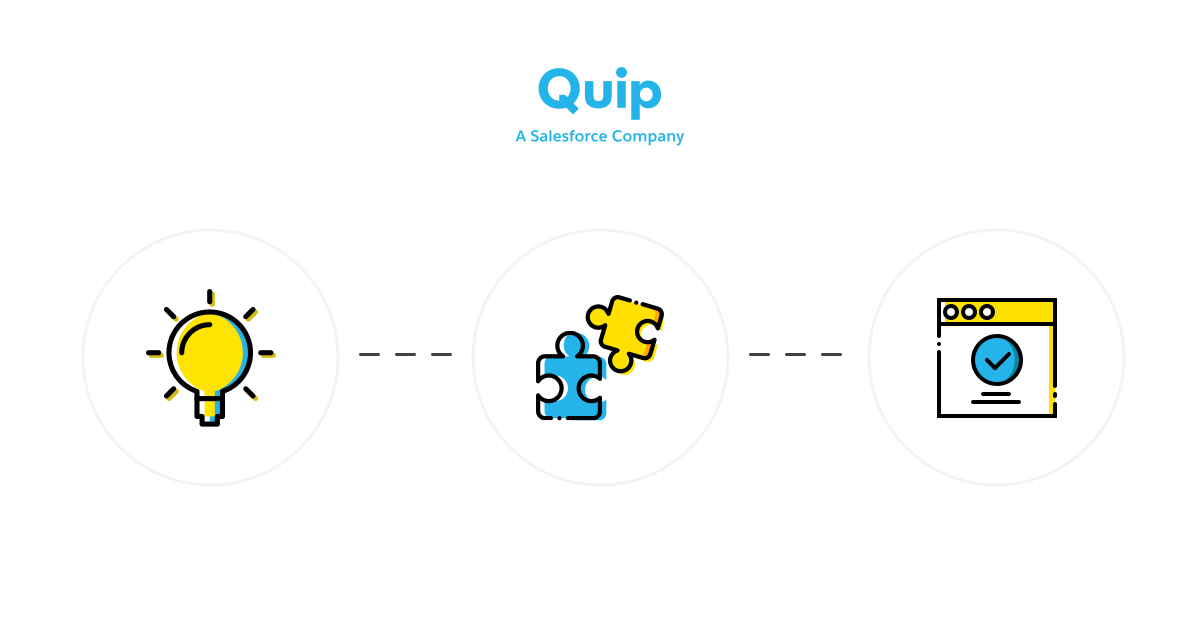 In January 2016, I joined Quip as our second product manager, alongside Nate Botwick. Back then, it was a small startup working to build the future of productivity. Sixteen months later, a lot has changed: We've joined Salesforce, our team has grown to 70 people, and we've moved from one Market Street office with exposed brick walls to another. But what's struck me in this time of change is how much has held steady—not the same, but steady. That steadiness flows from our values.
When our third product manager, Falk Gottlob, joined the team a few months ago, Nate and I got to share with him a Quip doc we'd written together the year before, capturing how we do product management at Quip. Collectively, the three of us have worked at SoundCloud, Kickstarter, Microsoft, Salesforce, and GREE—but as all PMs know, the role of a PM changes a lot depending on what a company needs. Quip has a unique engineering culture rooted in autonomy, and in general our culture is biased toward strong communication over hardened process. (We make a conversational productivity suite, after all.) Our approach to product management leans on the autonomy of the engineering team while doubling down on the PM's role as strategist, dot-connector, and pragmatic do-er.
We partner with the rest of the Quip team to make things great. To stick together, we work according to these values.
Start with why
At Quip, everything should happen for a reason. We're fans of Simon Sinek's TED talk, "Start With Why," and hold ourselves to that standard—we even introduced a new employee onboarding session called "The 'Why' of Quip." When considering changes to Quip, we identify opportunities worth building toward and help to keep the goal top of mind — from start to ship. Anyone can come to us with questions about why we're building what we're building — or why we're not building what we're not building — and we'll either have an answer at hand, or welcome the chance to work one out.
Progress over process
The journey and the destination matter more than the mode of transportation. We'll try new processes when we think they might help, but in general, we value a fluid approach paired with strong communication over predictability for predictability's sake.
Learn and adapt
Experimentation and growth are cornerstones of Quip's approach to product development. As product managers, we live those values as well. We're willing to be wrong, and we're motivated by the quest to get things right.
Up for anything
As product managers at Quip, making sure that good things ship comes down to three things: identifying gaps and opportunities; finding ways to bridge those; and jumping in the fray ourselves when we see an opportunity to move things forward.
Being adaptable means delivering results in a way that holds our values constant, and welcomes variability in nearly everything else. As PMs, we're willing and able to pitch in on anything and everything product-related beyond the code itself.
As Quip continues to grow from its tiny startup roots into a hundred-person company, the hats PMs wear remain varied. At the same time, we're hiring experts for hats we used to wear every month — as a result, our responsibilities shift to the next item on the list of things that need attention. Plus, we get to learn from those experts — bonus! That said, we have no plans to abandon our scrappy nature. Getting hands-on helps us stay focused on the details as well as the outcomes, develop deeply informed opinions, and learn by doing. And that helps us ask better questions, and become better PMs, partners, and humans.
Hardcore customer advocates
Our customers are everything to us. As PMs, we're responsible for gathering, integrating, and sometimes reconciling a wide range of customer, user, and prospective user perspectives. We collect those perspectives from our Customer Success colleagues, quantitative analyses of existing user patterns, customer interviews conducted by us as product managers, user testing through usertesting.com, ethnographic research, and surveys.
To integrate different perspectives, we dig deep to discover core needs while keeping Quip's overall product vision in view. We gobble up as many inputs as we can find, develop hunches about the core needs being expressed through the specific requests we're hearing, and then draft solutions to those core needs that we can reflect back to users and each other to see if they fit the bill.
Connective
We work to learn about different people's interests, goals, and communication styles, then tune our approach accordingly. We also participate in lots of meetings and conversations and absorb tons of seemingly-random info "just in case"—just in case we can be helpful, just in case anything actionable comes out of it, just in case there might be dots that turn into patterns only in retrospect. Our goal is to connect people, ideas, and actions without ever becoming information bottlenecks. We're hard to overload, so please share anything and everything with us that you think could be useful, or even just fun.
How about you?
We're hiring one more generalist PM this year—could it be you? To start a conversation, write to me at d@quip.com.