Quip 2.0 - Search, Publishing, and a New Design
We're excited to announce Quip 2.0, available for iPhone, iPad, Android phones and tablets, and desktop today.
Our goal at Quip is to reimagine the modern productivity suite around communication and mobile devices. Quip 2.0 is the culmination of nearly a year of product feedback and improvements. Since our launch last July, we've grown from a new product used by a handful of early adopters to a mature collaboration suite used by over 5,000 companies across the world.

Our customers range from Fortune 500 companies to small start-ups; from marketing teams to engineering teams; from headquarters staff to field reps. From each group, we've heard that Quip has transformed the way their team works:
"Quip has become an indispensable part of my work life and has become one of my favorite work collaboration tools I have ever used." — Dave Morin, CEO of Path

"The Zomato team is spread out across 12 countries. Using Quip makes it feel like we're all sitting in one room." — Deepinder Goyal, CEO of Zomato

"Quip is a game changer for collaborating with teams. Something magical, and unexpected, happens when you combine a messaging platform together with shared document editing. Focusing the communication history around relevant documents saves huge amounts of time and is making meetings far more efficient — and in some cases unnecessary." — Rick Smith, CEO of Taser

"Watching a team edit a document in Quip in realtime is kind of magical." — Adam Nash, CEO of Wealthfront

"Quip has made our business more efficient. We use Quip so that our field staff always knows where they're going and what they're installing when they get there without ever having to come by the office to pick up an updated calendar or spec sheet. It's all on their phone." — Casey Moore, CEO of Kent Moore Cabinets

With Quip 2.0, we've made it easier for your team to start using the product, and we've added features that make the product even more powerful as you migrate all your documents to Quip.
Publishing — You can now publish Quip documents with a link that anyone can read without installing the Quip app or creating an account. This feature makes it easy to share a private document with your team to collaborate on or even to publish a read-only version of a public document to Twitter.

Search — Quip 2.0 has a powerful full-text search system that works on all your devices. In addition to searching all the text in your documents and messages, you can quickly find documents with custom search operators and an innovative mobile interface that makes searching on your phone even easier than on your laptop.

Improved Design — We've revamped our design to make it easy to navigate between your documents and private chats. We've also made easier to find the documents you work on frequently.

Export— You can now export any Quip document to Microsoft Word so you can easily work with people who don't use the product (yet).

Publishing
To share a Quip document, you can now send your colleagues a private link, and they'll be able to read it immediately — without installing the app or creating an account.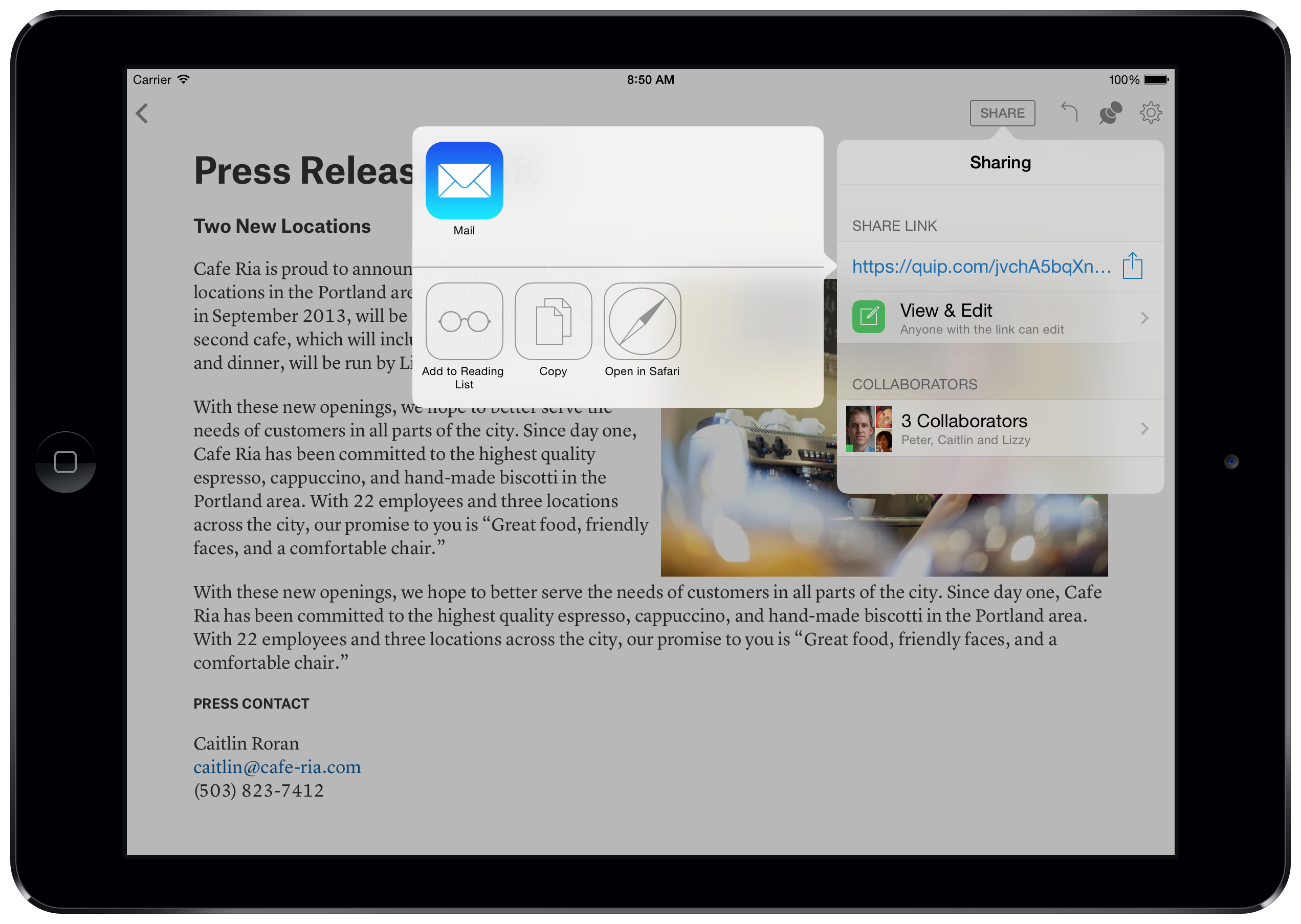 It's a great way to get your colleagues and friends to start using the product because they can read your document immediately on any device. They won't need to create an account until they want to edit.
Quip supports a wide range of options for the links you publish so that you're in complete control of who can access it and what they can do. You can share a private link that anyone can edit, or you can create a view-only link that completely hides the Quip app so that your document is the only thing your audience sees. Here's what a published Quip document looks like to someone who's never used the app before — nothing distracts from the content in your document: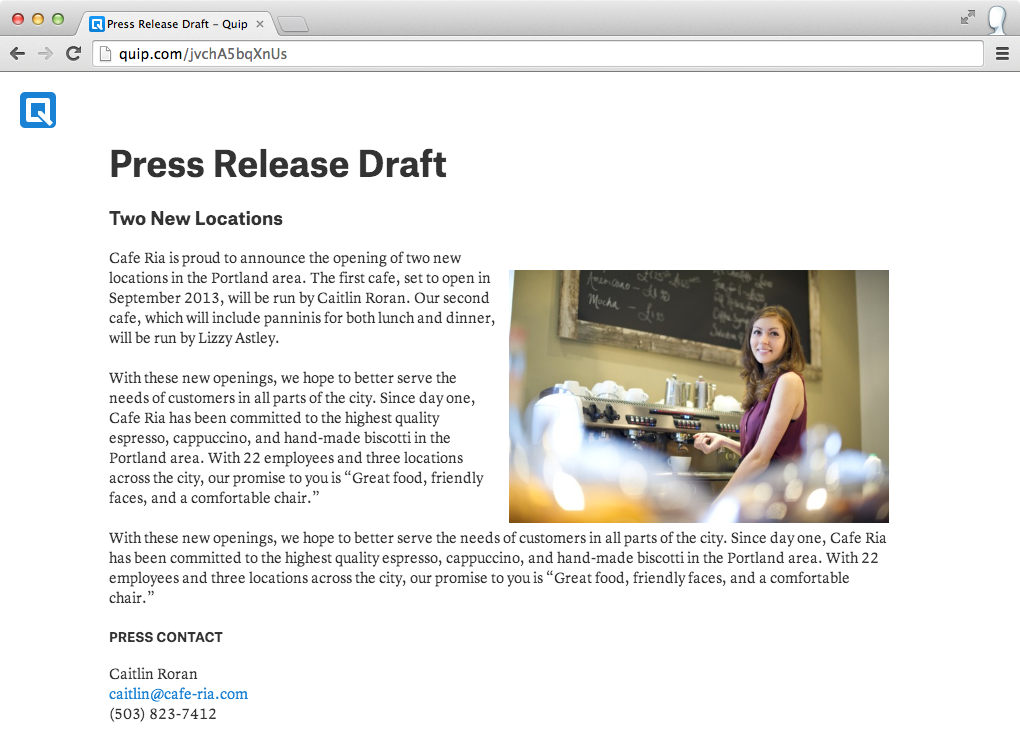 With link publishing, getting your team on Quip is as simple as sending out a private link to a mailing list. Or you can write some thoughts on your phone and publish it for the world to read without going back to your laptop (let alone setting up a web site). We think publishing opens a new world of possibilities for Quip, and we're excited to see how you use it.
Search
Quip 2.0 includes a full-text search engine for all of your documents and messages, so you can find anything in Quip, no matter how long ago you wrote it.
The coolest part of Quip's new search engine is the search operators. Operators let you pivot your search around people and folders to help you find stuff instantly:
When is my lunch meeting? I know it's at the top of the agenda Sue just sent. (agenda from:sue)

What dessert is Roger bringing to the neighborhood potluck? I know his name is next to the course in the menu. (potluck mention:roger)

Take me to the task list in the Marketing team folder. (tasks in:marketing)

In our experience, search stinks on phones in almost every app we use. It's too hard to type, and if you want to use search operators like "from:," you might as well give up entirely — the ":" character is on an entirely different keyboard, about eighty taps away.
We've tried to change that with Quip search. When you tap on the Quip search box on your phone, you'll see a bunch of new buttons at the top of your keyboard that make searching a snap — even with one finger. You can add search operators with the tap of a button: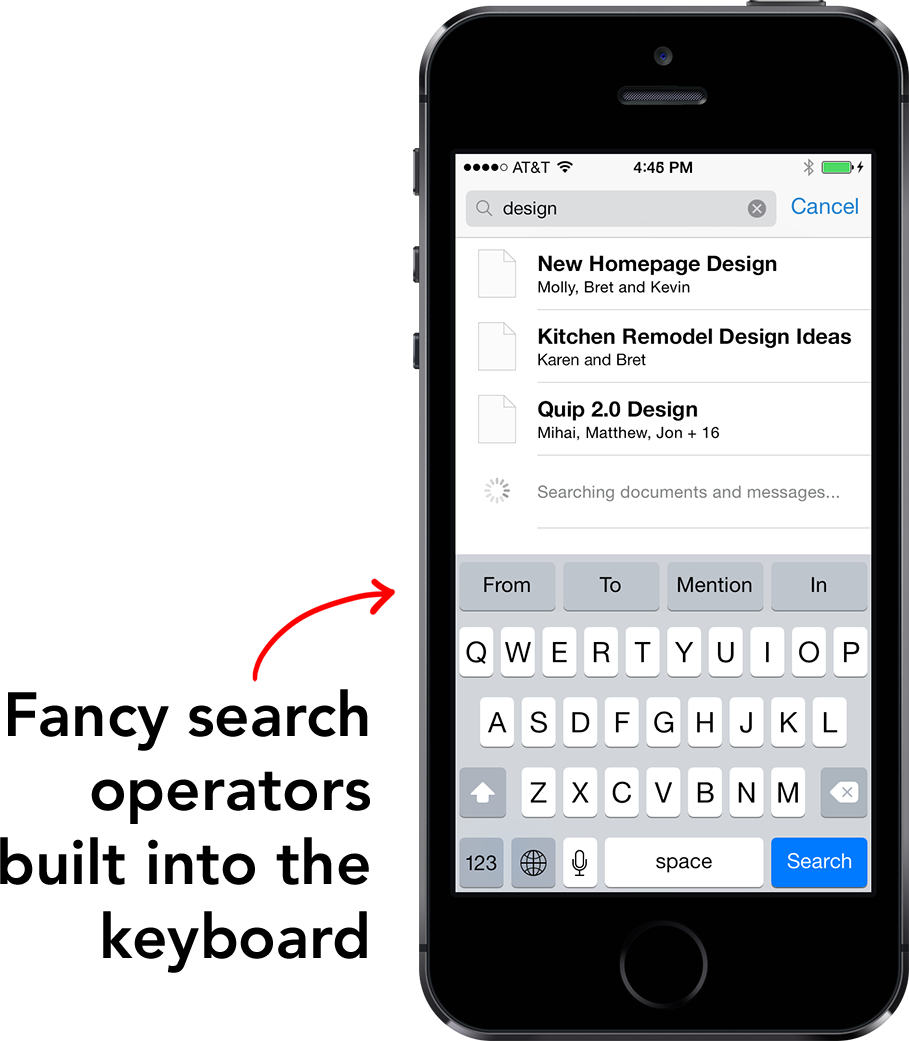 After any search operator, Quip autocompletes people, documents, and folders as you type.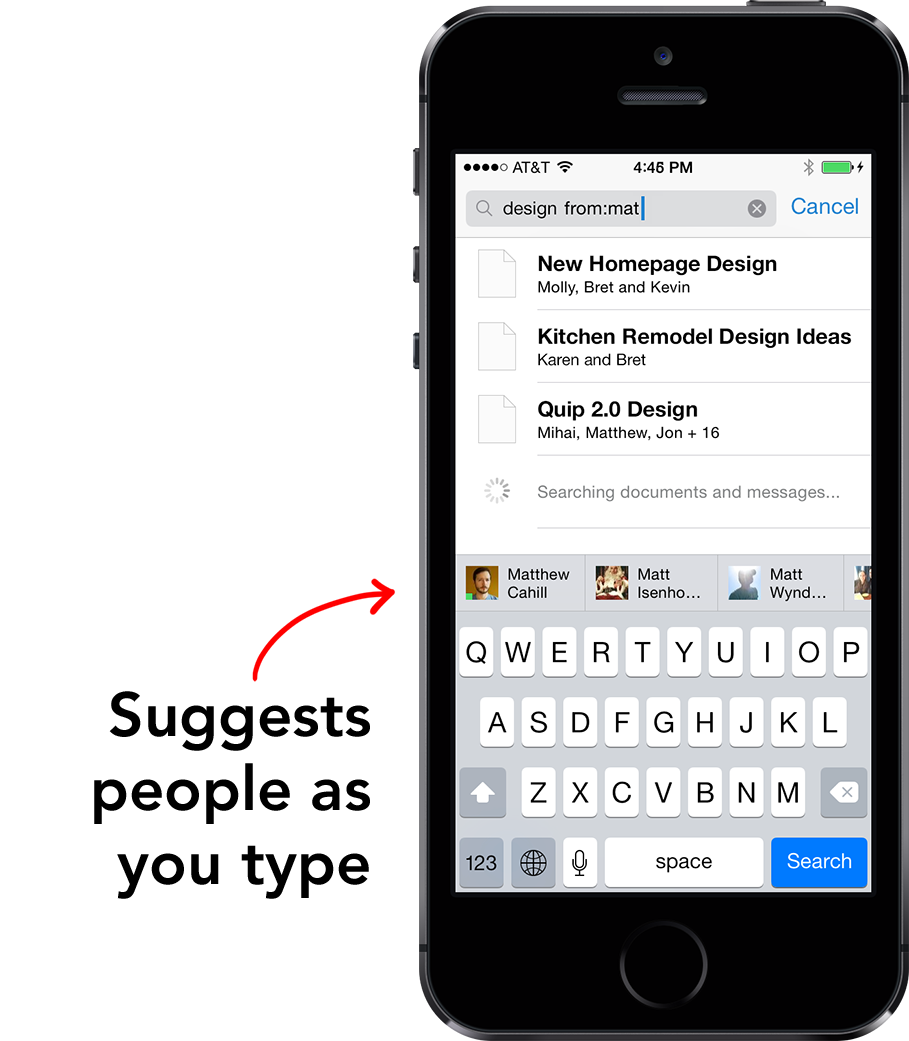 So it takes three taps (total!) to find all the documents our designer Matt has recently shared with me: one tap to type "from:," one tap to type the letter "m," and then just one more to tap on Matt's profile picture at the top of my keyboard and execute the search. Thanks to this magical keyboard, searching Quip on your phone is even easier than searching with your laptop's keyboard.
Fresh New Design
We've redesigned the navigation of Quip to make it easier to find your way around the product (especially on your phone). With a single tap, you can switch between your documents and your private chats, and chatting is a much better experience on all devices.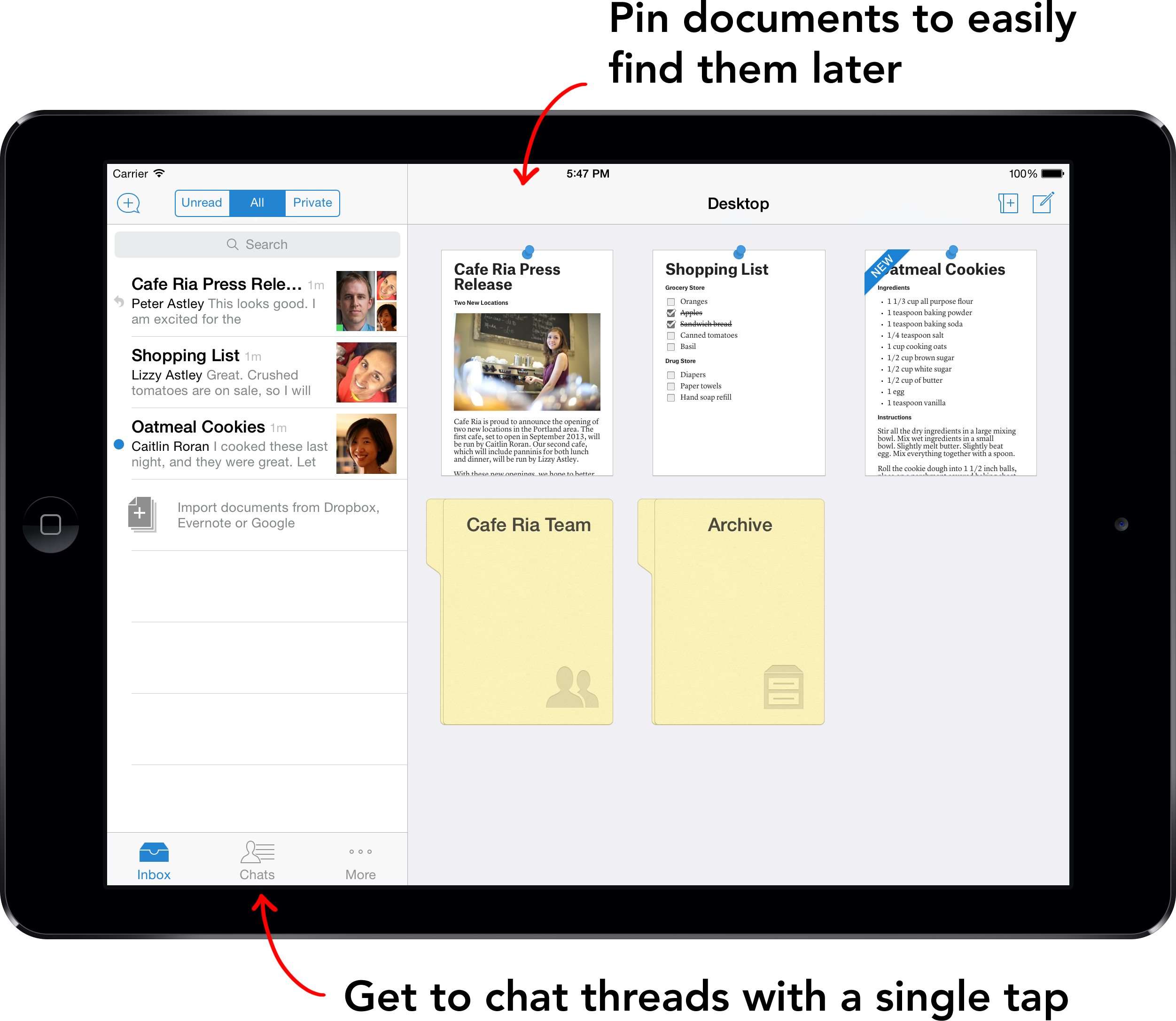 We've also introduced pinning. At the top of every document, you'll see a pin button, which adds the document your Quip desktop so it's easy to get back to later. It's a great way to add the two or three documents you care about to your Quip home screen so they don't get lost in your inbox, and it's just one tap away on any document.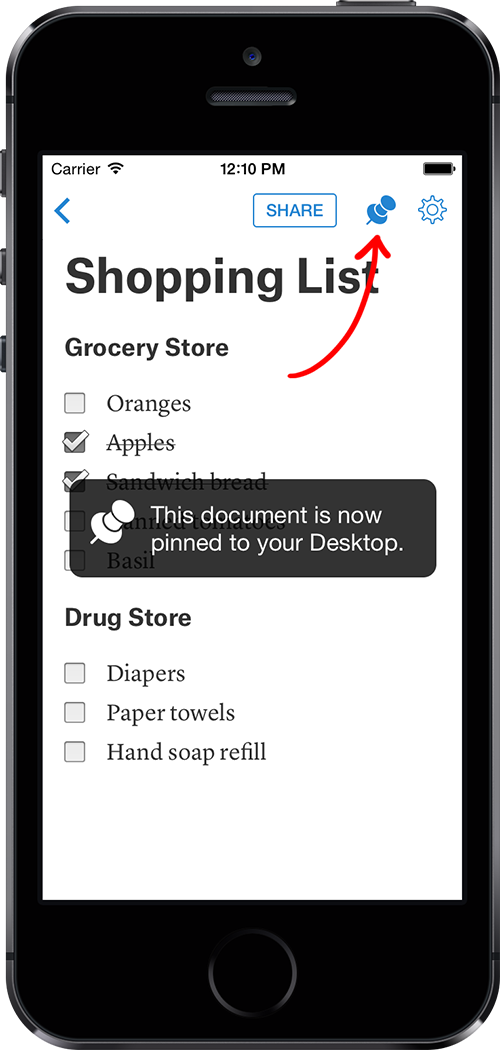 Export
In Quip 2.0, you can export any document to Microsoft Word .docx format, which makes Quip useful at work even if your colleagues aren't quite comfortable opening Quip links yet.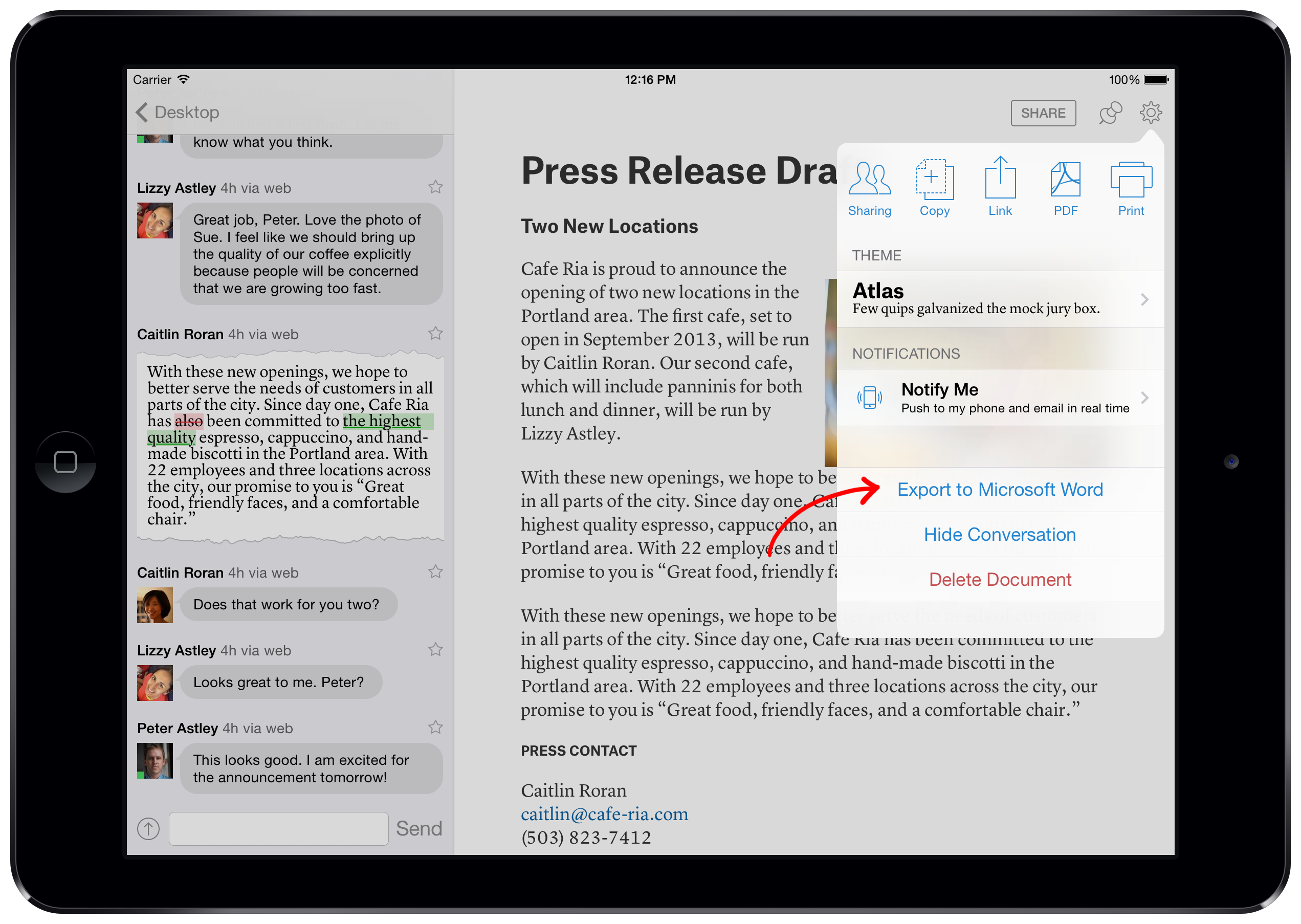 Thank you!
We built these features because of the feedback that we've gotten from the teams using Quip, so please keep it coming — you can email support@quip.com or reach out to @quip on Twitter.
We love hearing from you.