Quip is Back and Better Than Ever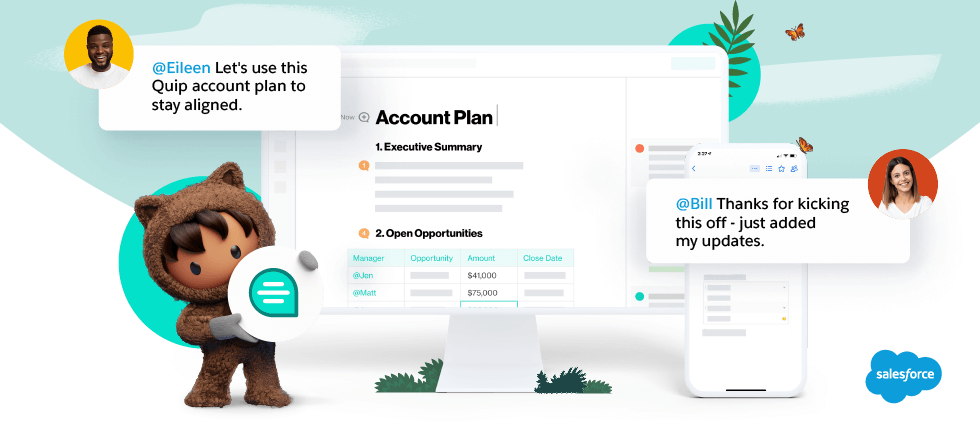 Last year, our team set out on a journey to make Salesforce available anywhere. We wanted to transform the way teams work together in the context of their customer data. Our mission was to help companies tap into their resilience, get back to growth, and collaborate seamlessly in a world where everyone's work situation was disrupted.
But suddenly, "work from anywhere" was... everywhere. Our product name, Salesforce Anywhere, understandably created confusion for our customers. We heard this feedback and realized there was a need for change. And that's why today, we are launching a new logo and bringing back our old name: Quip.
Our goal in rebranding back to Quip is to provide clarity and simplicity. Being easy to use and intuitive is in our product's DNA. We're going back to our roots because we want our name to reflect this key part of our ethos. In our minds, creating a Quip doc should be as fun and engaging for users as a well-placed quip in a stale meeting.
Now, if you're thinking this means we're wavering on our product vision, fear not. There are no changes to the Quip product you know and love. You will still be able to create and share supercharged documents synced with live Salesforce data. In fact, we're doubling down on Quip and could not be more excited about the future of the product.
During the pandemic, we've been inspired by how customers have used Quip to adapt and stay connected despite constant change. We've seen customers standardize sales processes like account planning, ramp reps faster with scalable best practices, and drive alignment with customers to ensure mutual success – all while working from anywhere. This customer-led innovation got our team dreaming big, and we're planning to launch even more out-of-the-box templates for sales processes like executive briefings. We're even looking at ways to enhance your Digital HQ with a seamless user experience across Quip, the Salesforce Customer 360, and Slack.
As you navigate this new normal of hybrid work, our team at Quip looks forward to supporting you every step of the way. Thank you for the continued partnership, and we can't wait for the next chapter.