Quip now connects with Slack to help teams kick more butt across the globe

We're excited to announce that we've built a powerful Slack integration that brings Quip's living documents into your favorite Slack channels. The combo leverages Slack's chat with Quip's modern approach to collaborative docs, spreadsheets, and checklists for teams. The result? Happier, more productive teams.
Two companies who share the same vision: Make teams more connected and productive
Both Quip and Slack are designed for humans. Just like your favorite teammate, Quip is friendly and easy to work with. Unlike restrictive legacy platforms, Quip is purposefully open, conversational and malleable. Our platform frees up teams to do their best work without any of the pain.
In the past, the categories of "productivity software" and "collaboration software" were filled with complex, heavy software built for a non-connected era. The reason our user base is growing so rapidly is because Quip is built in, and for, the modern era of teamwork – the same era as consumer apps like Facebook and Snapchat. The requirements are new and different as team work has evolved quickly in the mobile, always-connected era.
Today's modern teams are searching for products and workflows that complement each other. As Bill Morein, Head of Product at FiftyThree, states:
"We have lots of ideas pop up in Slack, but when we need to get them all the way over the finish line Quip is where it really happens. Quip is where we can expand on an idea, give it structure, and execute on it."
Connect Quip and Slack to add living documents, spreadsheets, and checklists to your #channels. Build structure and take action on your free-form Slack conversations with Quip:
Elevate Slack chats to Quip living docs. Spark ideas in Slack conversations and give them structure in Quip docs where you can organize, discuss, and evolve your team's most important work. Use the Slack slash-command to create a new Quip doc where things can really take off.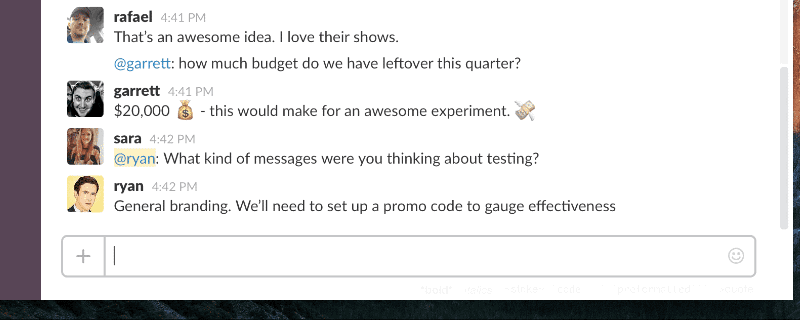 Preview Quip docs in Slack. Paste links to Quip docs into your Slack channels to securely share them with your team.
Stay in the Quip loop from Slack. You won't lose track of those groundbreaking, killer, disruptive ideas even if they're happening in both the Slack channel and a Quip document at the same time. Any @mentions, messages, and edits to your Quip docs will instantly post to Slack so you can easily follow along and jump in on the action.

Link up your accounts to make life easier. Login with your Slack credentials and you can map Quip to your team's Slack members. Sign in with Slack makes it easy to keep your Quip permissions in sync with Slack's.

You can now be less busy with Slack and work less dumb with Quip. (See, even our taglines work great together!)
Get started today at quip.com/slack and hook up your accounts today.