The Quip Trail to a Perfect Dreamforce '19
Dreamforce '19 is nearly here, and Quip will definitely be playing a big part in the world's largest technology conference. As Salesforce's productivity platform, Quip has more than 50 sessions dedicated to boosting team productivity, accelerating collaboration, and envisioning the future of work. There are educational and inspirational sessions tailored for sales and service leaders, executives, admins, and more, so get ready to feel empowered to make a difference at your organization.
Want to see Quip in action? Quip will also be a part of demos at the Sales, Service, and SMB Lodge at the Marriott Marquis, which is open all week. Admins who want a more technical look at Quip can head to the Trailhead Zone in Moscone West. We'll also be part of the demos at the Sales and Service Campgrounds in Moscone South. In addition, we have over 20 sessions where you can learn best practices and hear success stories from such innovative companies as Autodesk, Amgen, Cisco, Ticketmaster, HPE, Egencia, and more.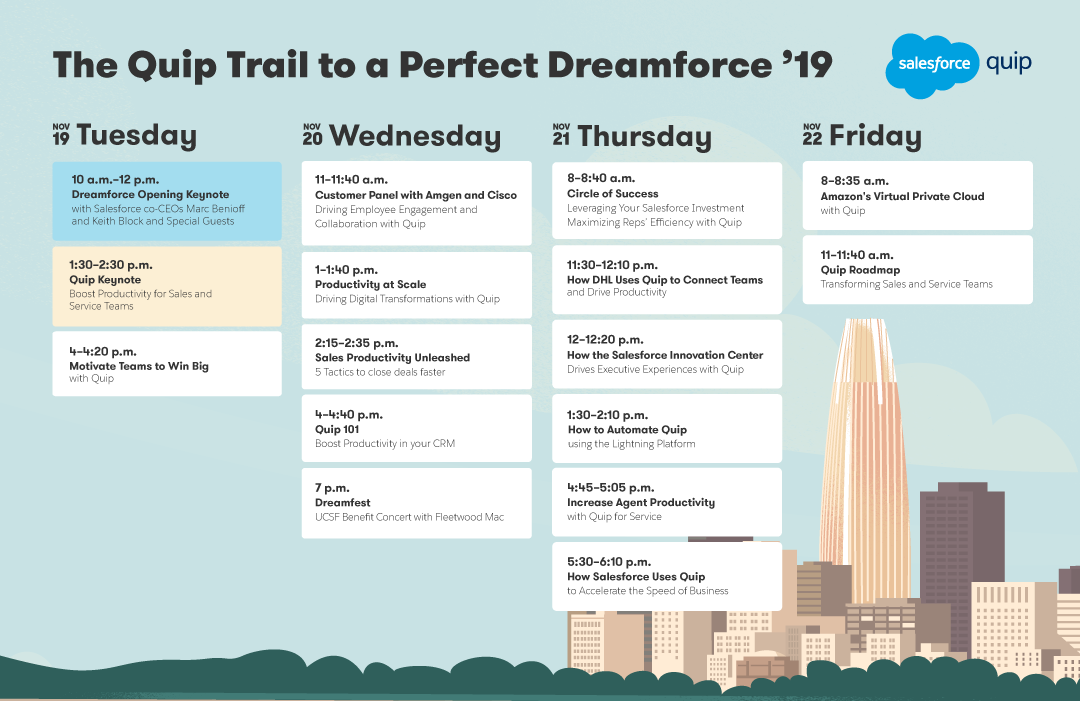 Here's a carefully curated Dreamforce schedule, including some of the best Quip sessions. (And here's a complete Quip schedule.) To add any of these sessions to your Dreamforce agenda, click a session link then log into Agenda Builder with the same Salesforce account you used to register for Dreamforce.
Tuesday
Dive into the first day of Dreamforce by joining Marc Benioff at the Opening Keynote. Then head over to the exciting Quip Keynote before hitting more sessions.
10:00 a.m. — Dreamforce Opening Keynote: The Empowered Trailblazer
You won't want to miss the Dreamforce Opening keynote with Salesforce co-CEOs Marc Benioff and Keith Block with special guests.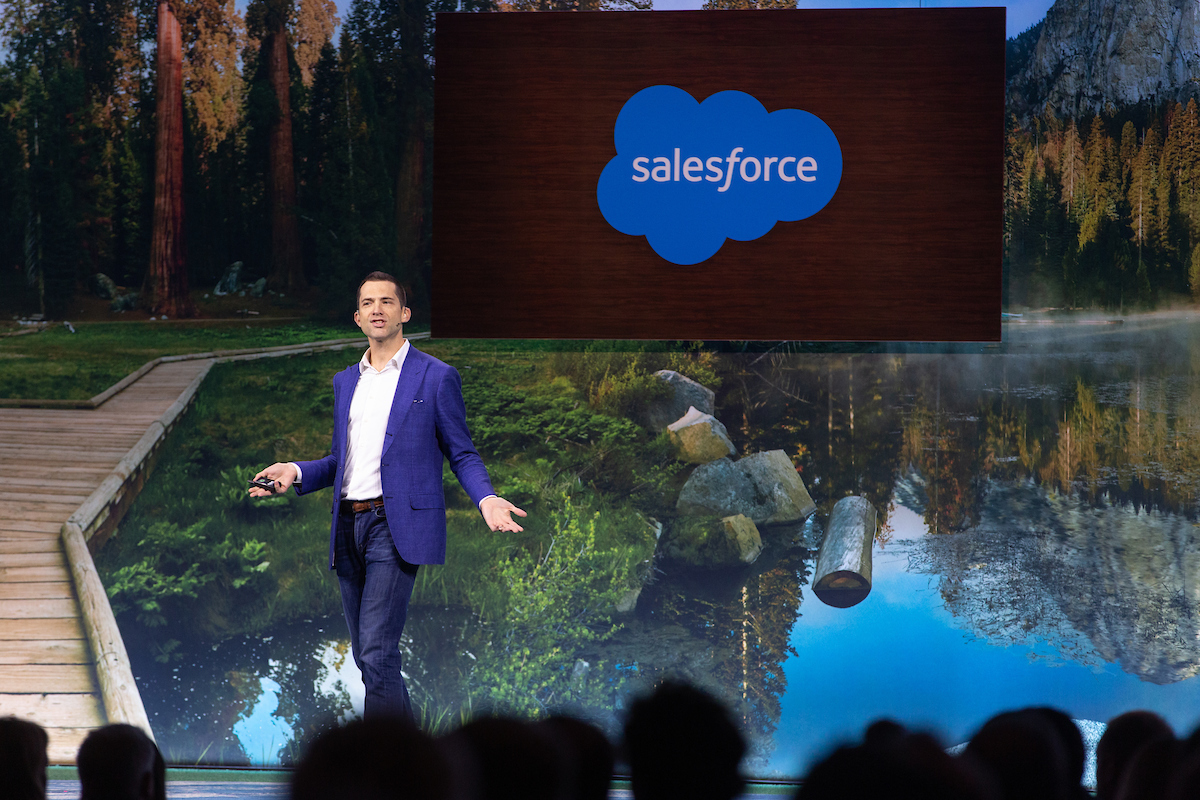 1:30 p.m. — Quip Keynote: Unleash Productivity for Sales and Service Teams
Discover a new way of working in Salesforce. Learn how Quip helps customer-facing teams win more deals and resolve cases faster by eliminating low value activities with collaborative workspaces embedded right inside Salesforce. Join Trailblazers from Autodesk and Egencia as they discuss how they've transformed their businesses with Quip, and get a first look at exciting product updates.
4:00 p.m. — Motivate Your Teams to Win Big with Quip
Does your sales team have visibility into which deals are closing, which ones push, and why? Motivate your team with Live Deal Feeds that highlight wins, show progress towards goals, and make it easy for teammates to share insights. Learn how Salesforce sales teams are using Live Deal Feeds to increase collaboration and get clarity on strategic opportunities.
Wednesday
Things really start bustling on Wednesday. Here's your guide to the best of the day.
11:00 a.m. — Customer Panel with Amgen and Cisco: Driving Employee Engagement and Collaboration with Quip
Leading enterprises are using Quip to blaze trails and grow their businesses. Hear stories on how Quip has helped large companies transform their culture and increase employee engagement. We'll also cover how these companies deployed and adopted Quip at scale.
1:00 p.m. — Productivity at Scale: Driving Digital Transformations with Quip
Leading enterprises are using Quip to blaze trails and transform their business. Hear stories on how Quip has helped large companies become more productive and collaborative, while increasing employee engagement. We'll cover how GE Biopharma, Ticketmaster, and Qantas Airways deployed and adopted Quip, solved business problems, and transformed their collaboration culture in under a year.
2:15 p.m. — Sales Productivity Unleashed: 5 Tactics to Close Deals Faster
Research shows that 57% of sales reps expect to miss quota this year, but two-thirds of their time is spent on admin tasks, emails, and other non-selling activities. That's where Quip comes in. Join Maxar Senior Sales Analyst Drew Kincaid to learn five simple but powerful ways to use Quip inside Salesforce to win and grow revenue by boosting team productivity and shortening deal cycles.
4:00 p.m. — Quip 101: Boost Productivity in your CRM
In this session with Egencia, we'll walk through how your teams can move faster by combining Quip's full collaboration and productivity capabilities right inside of your instance of Salesforce.
7:00 p.m. — Dreamfest and UCSF Benefit Concert featuring Fleetwood Mac
Get ready for an unforgettable night in San Francisco's Oracle Park as we rock out under the stars with Fleetwood Mac. Additional details, including schedule and shuttle information, will be posted in the mobile app as the big day gets closer. The 10th annual Concert for Kids directly benefits UCSF Benioff Children's Hospitals as they help to advance pediatric health in our community and worldwide.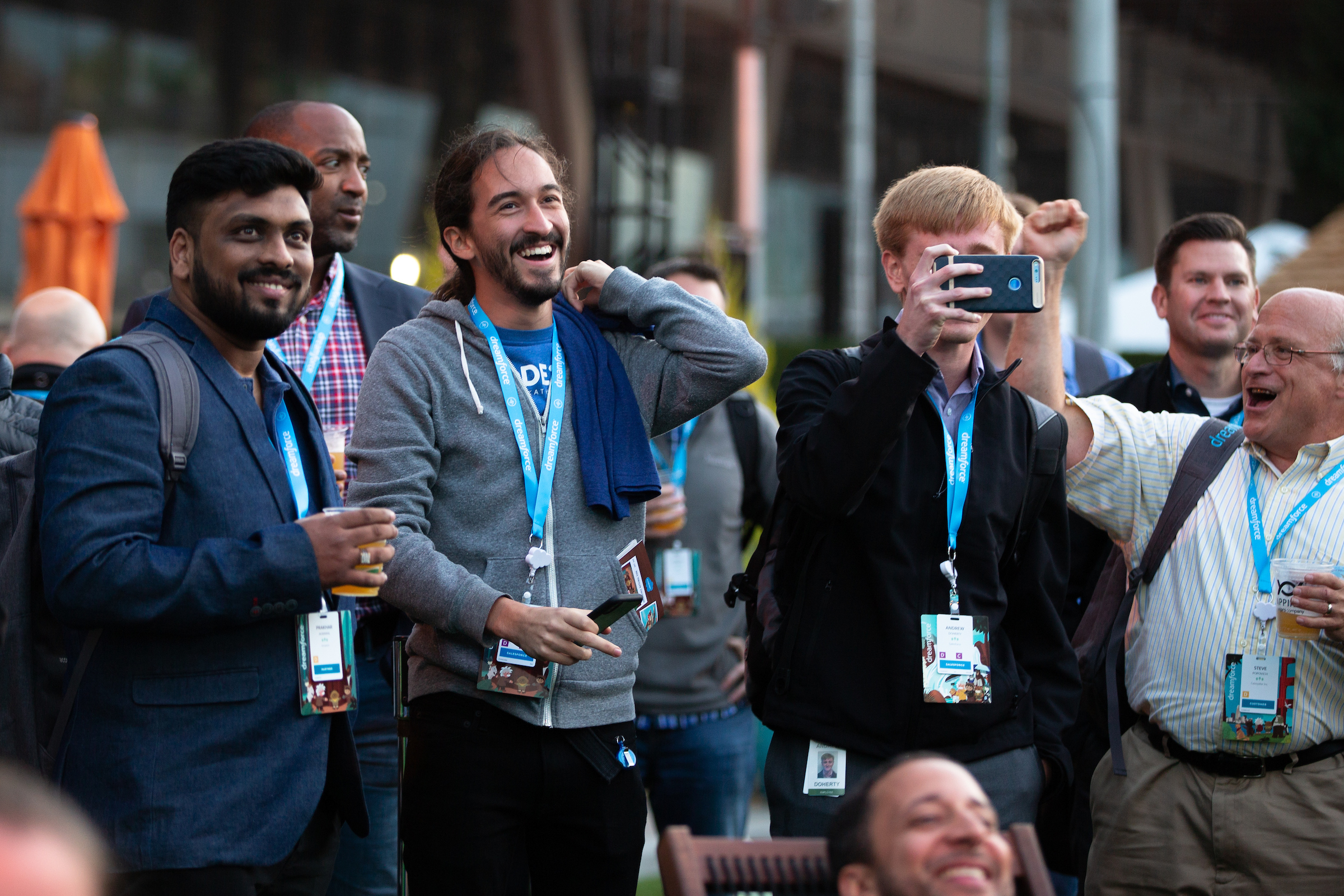 Thursday
Hold on to your badges — it's another whirlwind day.
8:00 a.m. — Circles of Success: Leveraging Your Salesforce Investment — Maximizing Reps' Efficiency with Quip
In this interactive discussion, a Quip expert will provide top pro tips and facilitate a group discussion to promote use-case sharing and inspire each other to make the most of their investment. Circles of Success are first-come, first-serve and have limited capacity.
11:30 a.m. — How DHL Uses Quip to Connect Teams and Drive Productivity
DHL, the world's largest logistics company, delivers over 1.3 billion parcels per year. To keep business moving, teams at DHL need to stay aligned. In this presentation, you'll hear how trailblazers at DHL use Quip to boost collaboration between teams and call in live data from Sales Cloud and Marketing Cloud to make informed decisions.
12:00 p.m. — How the Salesforce Innovation Center Drives Executive Experiences with Quip
The Salesforce Innovation Center hosts roughly 750 briefings per year, supporting our top customers, prospects, and industry visionaries. In order to manage briefings, enable the field, and execute effectively, the SIC team relies heavily on Quip inside of Salesforce. From speaker prep to online tool kits, Quip provides the infrastructure needed to help the SIC team drive customer digital transformation.
1:30 p.m. — How Ticketmaster Drives Business Value and Productivity with Quip Account Plans
Learn how Ticketmaster extends the value of CRM with Quip's document collaboration to improve existing processes like account planning & taking in new requests for work. Employees at Ticketmaster will cover real use-cases, providing actionable tips & tricks to get your teams using Quip today.
4:45 p.m. — Increase Agent Productivity with Quip for Service
When it comes to complex customer issues, service agents often spend more time hunting down answers and corralling inputs from multiple teams than engaging the customer. Quip for Service puts everyone on the same page to resolve complex customer issues faster. In this session, you'll learn how to swarm cases, automate resolution docs, and capture knowledge with Quip inside of Salesforce.
5:30 p.m. — How Salesforce Uses Quip to Accelerate the Speed of Business
Hear how Salesforce sales teams use Quip to drive business forward, get work done faster, and build more engaged teams. You'll learn how to use Quip inside Salesforce to build living account plans, capture collaborative opportunity notes, create alignment with mutual close plans, and more.
Friday
On this final day, there's still time to find ideas and inspiration to take back to your team.
8:15–8:35 a.m. — Amazon's Virtual Private Cloud with Quip
In this session, Russell Ragar of AWS Application Security will describe Amazon's concerns about sharing documents with a cloud service provider, and how Quip addressed those concerns by building a dedicated Virtual Private Cloud. This case study will provide valuable insight for Enterprises who are interested in managing the risk in working with SaaS providers, or are considering moving onto a VPC of their own.
11:00 a.m. — Quip Roadmap: Transforming Sales and Service Teams
Learn from two product experts about how Quip's new functionality with Salesforce can boost productivity for teams working inside and outside of your CRM. Get a sneak peek of what's next on the Quip roadmap, where we're placing our biggest bets for the coming year, while learning about all the collaboration tools built for teams using Quip.
Click here for a complete list of all 52 Quip sessions. Of course there are more than 2,500 sessions at Dreamforce. For a complete schedule, visit the Dreamforce Agenda Builder.