Starting a non-profit, organizing a school curriculum and more, all using Quip
Angela Bowman is a creative entrepreneur at Angela Bowman Design and VP at the Boise Modern Quilt Guild. She blogs about creativity, business, and tech at AngelaB.me. She's a planner at heart, a small-town girl, a wife & mom of two. She LOVES to make things with her own two hands.
Boise Modern Quilt Guild
The main reason I started using Quip is because I needed to help the Boise Modern Quilt Guild become an official non-profit. Serving as one of the founding officers, I needed to work with three other people to prepare our governing documents, do some strategic planning, and come up with our online presence. Our board members are a group of women committed to developing and encouraging the art of modern quilting (and helllllo, we love to sew! ), but we are all very busy with work, home, and family. We don't have a ton of time to devote to the organization, and the time we DO devote.....well, we would like it to be fun.
So I recommended we use Quip to organize our non-profit. It looked like a simple and efficient way to collaborate. The board members agreed. And now we all absolutely love it. I don't know if all makers are visual people, but we as a group definitely are, and so we love how Quip is so visually intuitive. Our documents are represented as icon images, not lists of file names. Click a folder, and all the docs' first pages are displayed - there's no question about what the document is, so we don't need to click it and go back and forth searching for what we want. We can also arrange the order of documents to what makes the most sense to us - just drag and drop.
We simply have one folder shared by all board members. Quip's sharing features are so smooth - the permissions process in other word processing apps can be so cumbersome. Within that shared folder we organize blog posts, board meetings, governing docs, and more.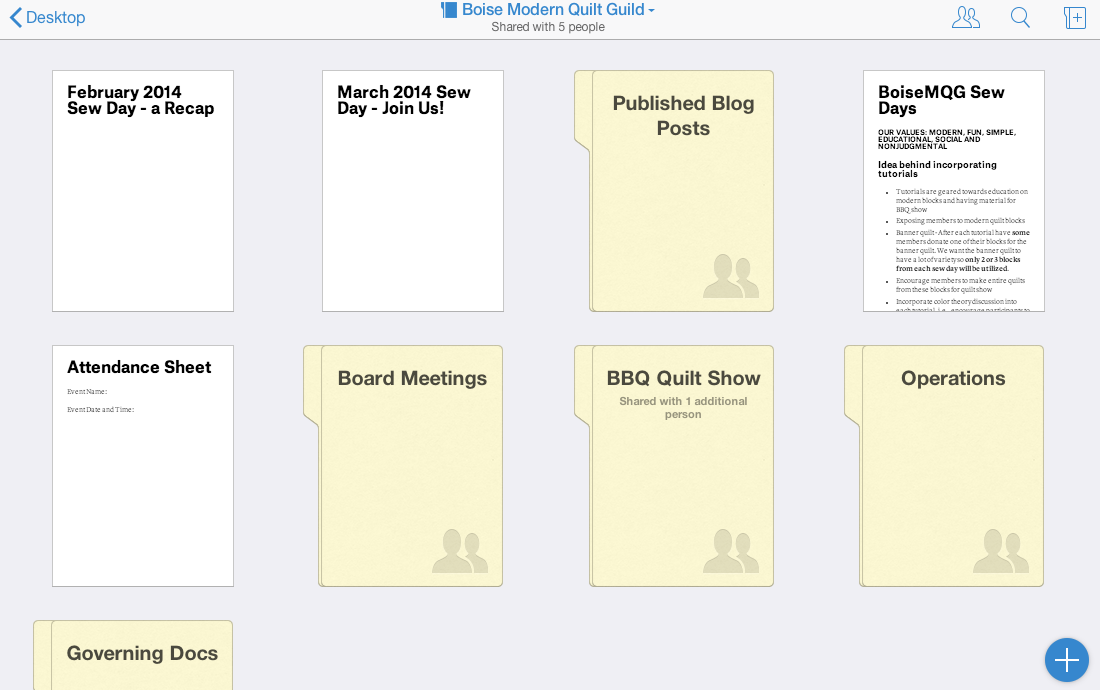 Organizing our monthly Sew Days is easy - we have a Quip document where we gather our ideas for what we want to do each month, whether it's a sewing tutorial, exchange, challenge, or open-sew. Once it's set, we write a document that we copy/paste into two places for our members to see: a "Join Us" blog post and a Google Calendar event. Once the blog post is published, we move the Quip document into the Published Blog Posts folder. Easy!
Our Governing Docs folder houses all our policies and bylaws: the first documents we wrote as a team. We really liked having the conversation thread, where we could post comments, questions, and links to other documents. It virtually eliminated back-and-forth emails. It also kept a complete revision history by user that will be handy for answering any questions we may have later, especially important for such an in-depth document as our bylaws.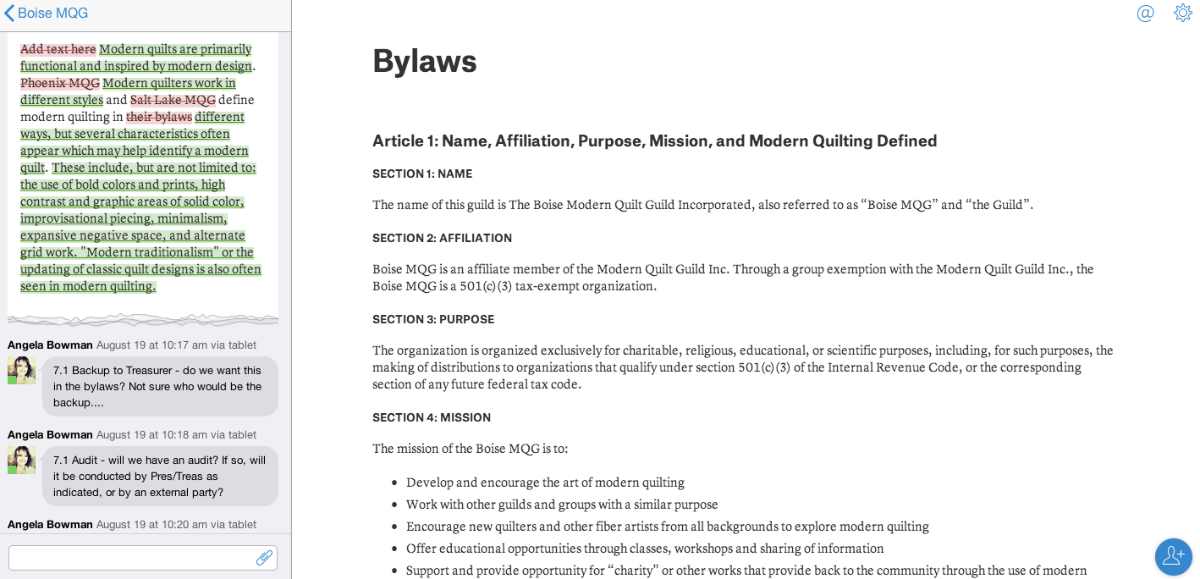 We also use Quip to prepare our board meeting agendas and minutes. This is where the mobile nature of Quip really shines. We all have different devices and Quip works equally well on each one. I was surprised at how well the Quip iPhone app handles word processing!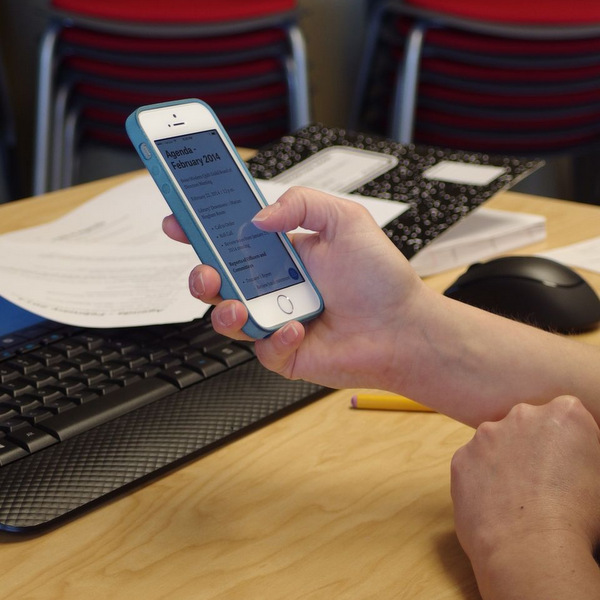 Taking minutes of each meeting is easy with the Quip iPad app and a wireless keyboard.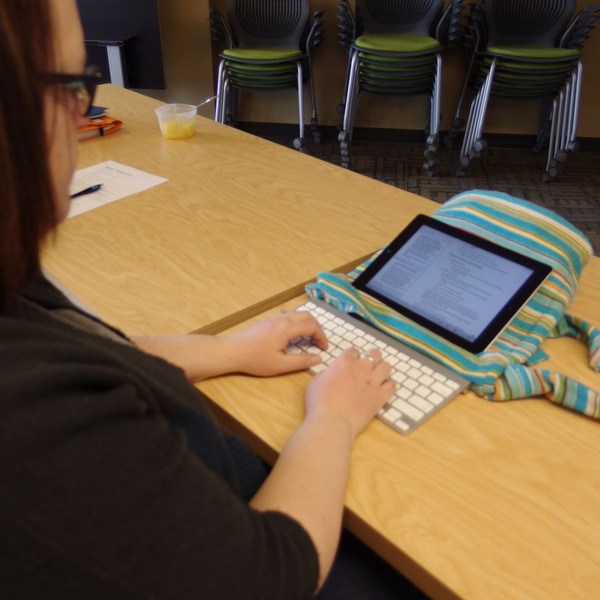 Some of the Boise Modern Quilt Guild's values are modern, fun, and simple. I'd say these words describe Quip, too! We've used Quip from the start, and I honestly cringe at the thought of all the back-and-forth emails that would have undoubtedly occurred had we not known about Quip. I really don't know how we would have collaborated effectively without it.
Personal
After using Quip in a team, I naturally started using it for personal stuff, too. We recently starting homeschooling our son, and I'm using Quip to organize his curriculum. I started a homeschool folder and shared it with my husband so we can collaborate and agree on what we think is important for our son to learn. It feels so good to have a roadmap in place for this. Sidenote: Lord of the Rings totally qualifies as Literature, right?
I'm also using Quip to work on a craft book proposal. To get the structure in place, I set up a private folder and added documents for the proposal, research, and ideas. Then I made a folder for the book itself. I'm just getting started, but I really like how it's working so far.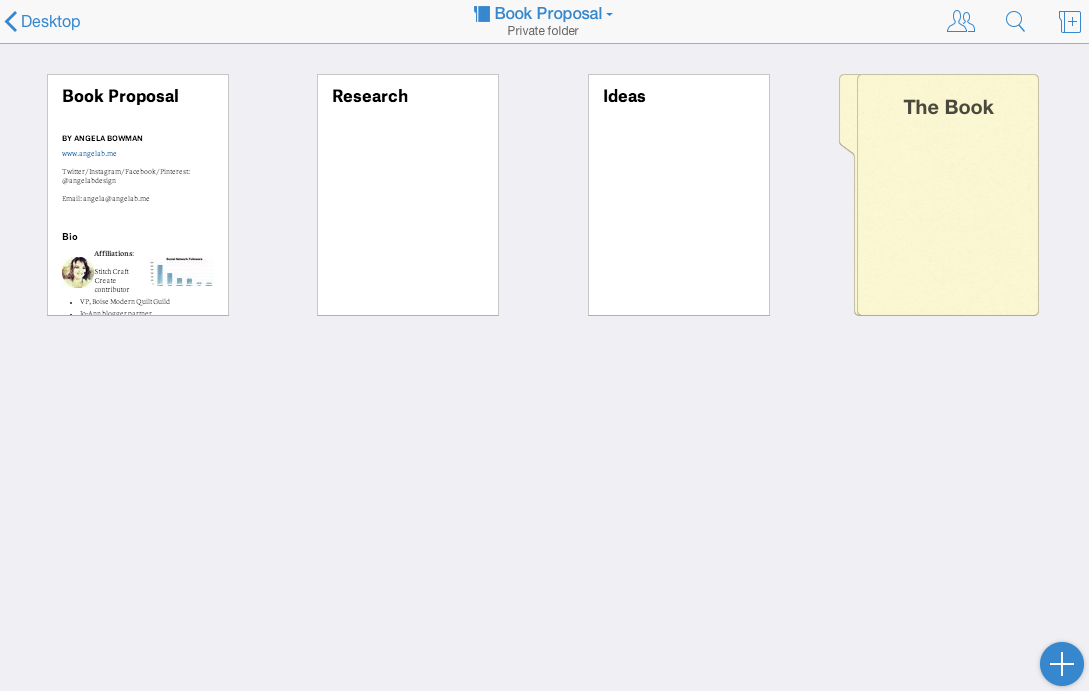 Here's the structure of The Book folder. It's pretty cool that I can make a Table of Contents with document links.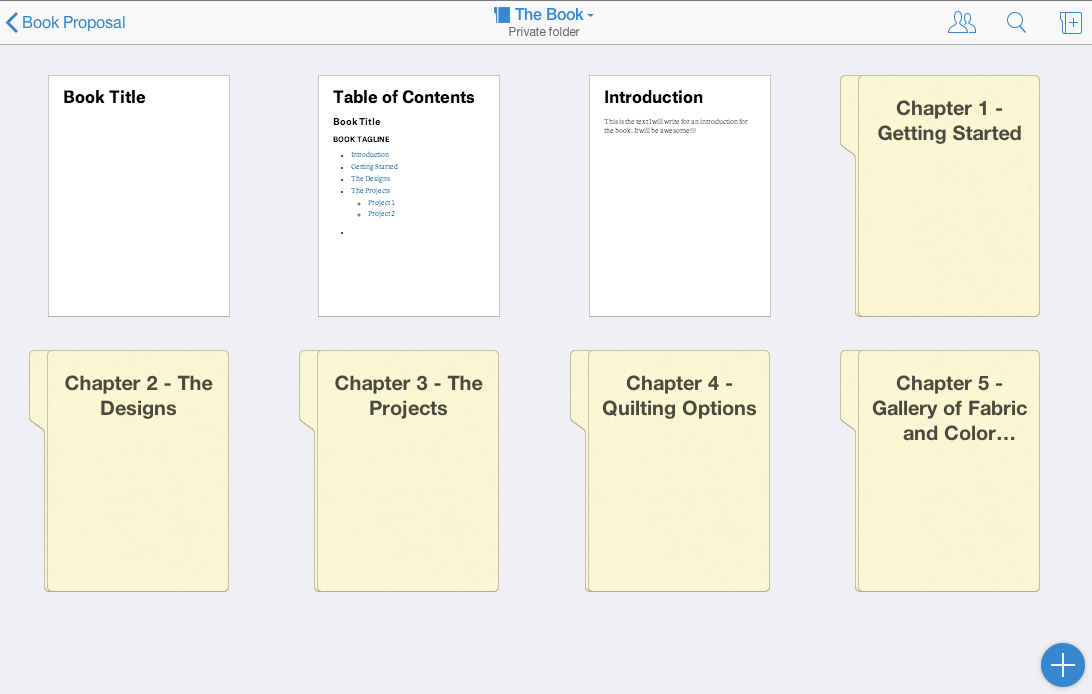 If I end up getting a book deal, I just might copy the content from Quip to a more full-featured book writing program such as Scrivener. But for right now, I really need to be able to capture my ideas on-the-go, and Quip is great for that. I always have my iPhone or iPad with me, and Quip's mobile apps rock. Who knows, I may end up using Quip for the whole thing - it's nice to be able to spend my time writing instead of learning how to use complex writing software.
At last, I'm using Quip in my new creative business, Angela Bowman Design. My products will be sewing and craft patterns, and Quip will be my pattern writing home. What's really cool is that my graphic designer uses Quip, too. Once I'm done with writing the pattern instructions, I can hand it off to her to do her magic!
So in the end, I love Quip for writing. It's easy to learn, it's mobile-friendly, and it works great when I need to collaborate.