5 ways Quip can help you navigate the post-Dreamforce world
How did everyone's first week back from Dreamforce go? You probably have no shortage of ideas, business cards, and vendor pitches to sort through. As you balance all the post-Dreamforce tasks with getting back into your daily responsibilities, Quip has a few ways to help you out. Let's get started!
1. Revamp your routine
You have a lot to do. With Quip, you can do it better. At Dreamforce you probably heard all about how our living docs — with spreadsheets, chat, and task lists all in one place — are the next generation of productivity. But what does that mean in practice? Well, we asked some of our customers how using Quip has impacted their teams, and here's what they told us:
Daily meetings have been reduced by 38%
Team members are sending and receiving 43% fewer emails
Project completion time has been cut by 37%
Team productivity is up by 46%
That all sounds pretty good, right? Quip really does give you and your team a whole new way to work together.
2. Compare Dreamforce vendors in a spreadsheet
While Marc Benioff did say in his keynote that Quip is the best app he's ever used on his phone, we know that there were a ton of amazing vendors at Dreamforce. If you're swimming through a sea of options, try using a spreadsheet in Quip to organize everything.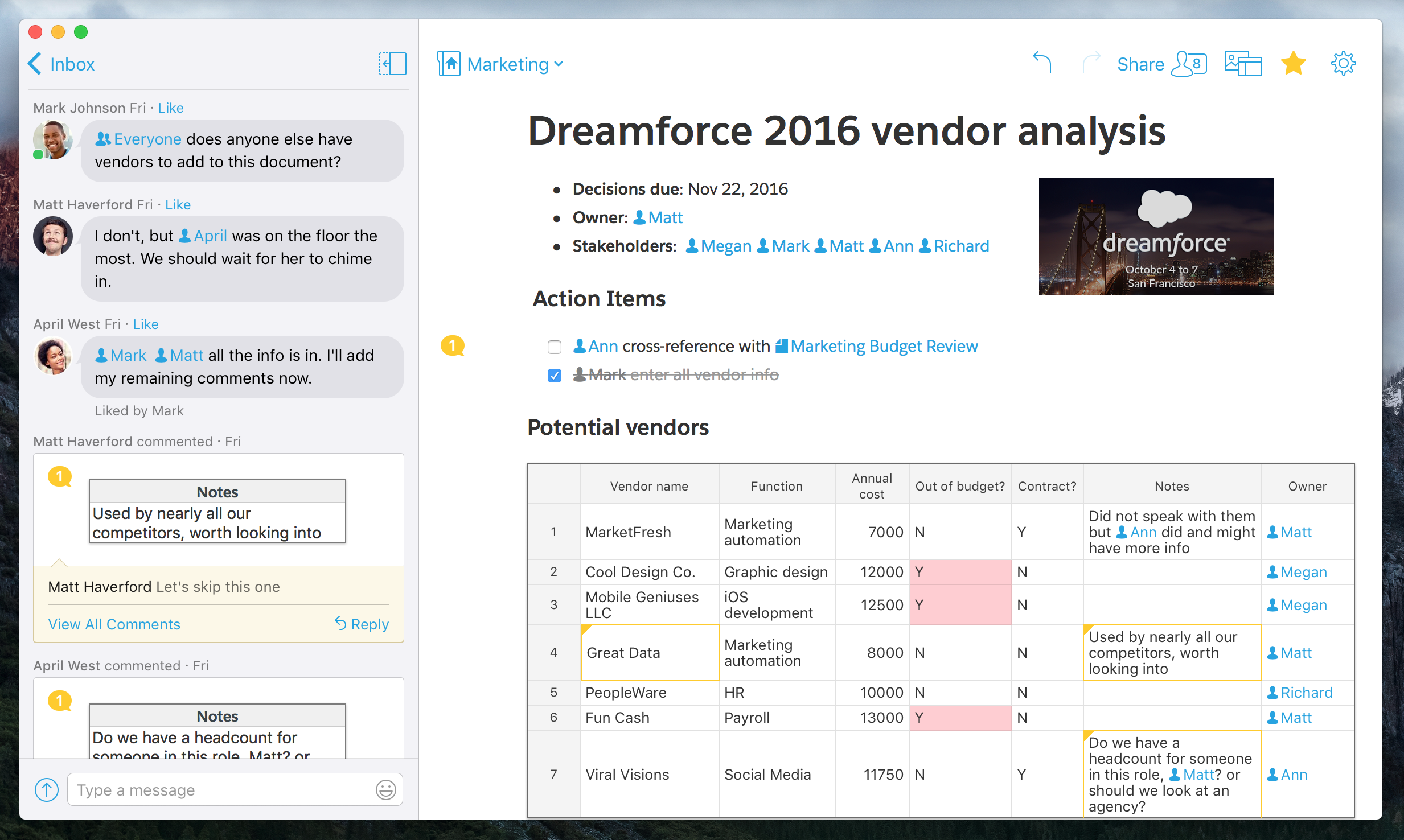 With Quip spreadsheets, you'll find everything you'd expect — formulas, formatting, and over 400 functions — but you can do a lot more than traditional spreadsheets allow. You can include images right in the doc, like photos you took at Dreamforce. You can @ mention your co-workers in the spreadsheet cells, other areas of the doc, or in the document sidebar. And you can view and edit your spreadsheet seamlessly on mobile — something the legacy products just aren't very good at.
3. Start using Salesforce and Quip together
For many teams, Salesforce is the single source of truth for all sales and customer information. Because of that, we're building powerful integrations between Quip and Salesforce. Right now, you can take advantage of single sign-on: Salesforce users can sign up and log into Quip with their existing Salesforce credentials.
Soon, you'll be able to use Salesforce rich mentions to display Salesforce data and account records in your Quip docs. Sales, service, and marketing teams will be able to create truly living documents in Quip to be more productive with Salesforce. We're also working on a Quip Lightning component, so teams can link, access, and create Quip docs, spreadsheets, and task lists — right from within Salesforce. More news on these in-progress integrations will be coming soon.
4. Plan your next project
You probably got plenty of inspiration for your next big thing at Dreamforce. And maybe you're even ready to get started. But projects can be hard to manage when materials are all over the place: different spreadsheets with timelines and GANTT charts, various attachments in folders and peoples' inboxes, and multiple conversations happening across email and chat.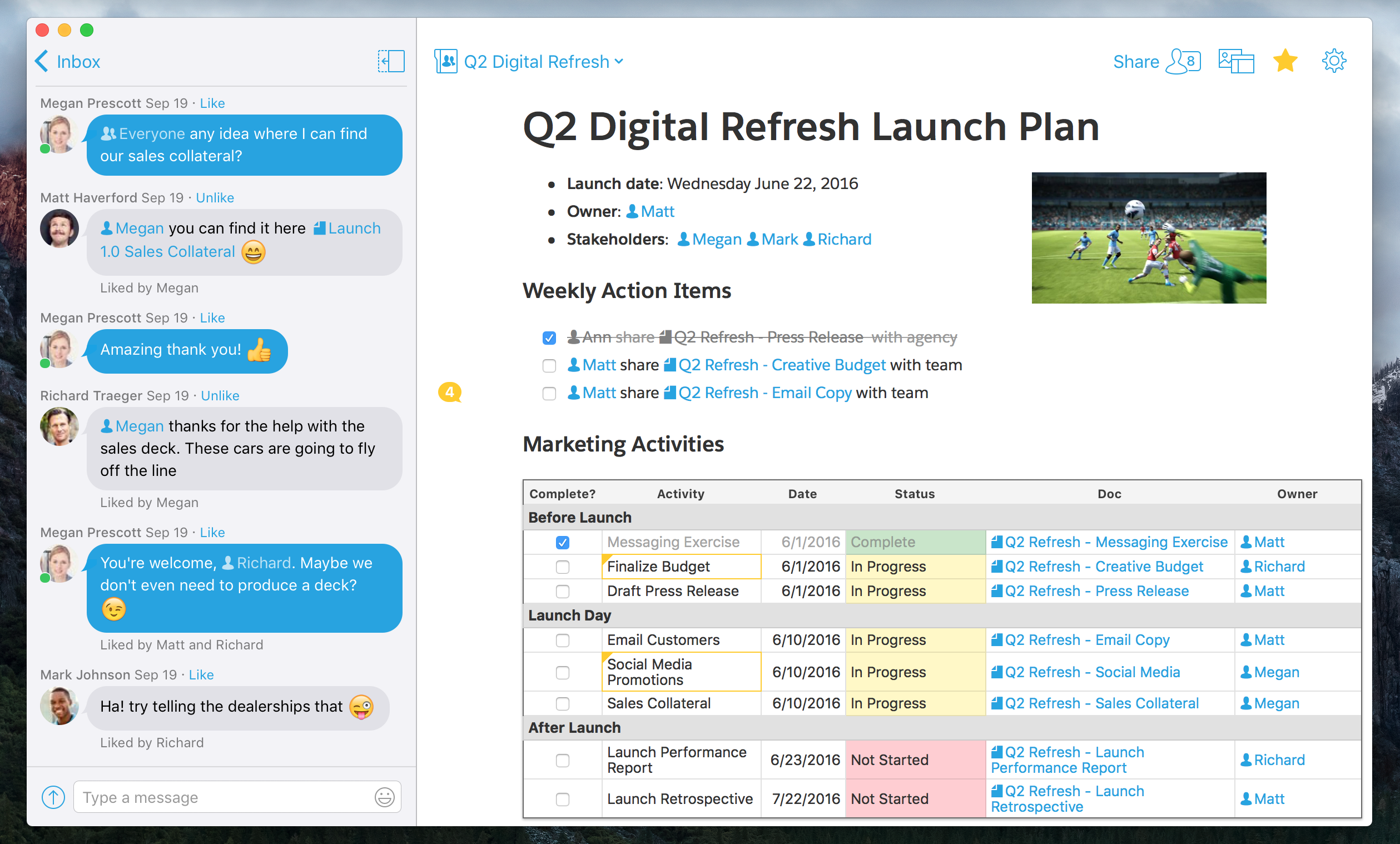 Quip fixes all that by giving you a central place for your project documentation and planning. You can keep your docs, spreadsheets, tasks, and conversations in one tool — plus, there's an intuitive folder structure so you can keep it all organized. And Quip is flexible enough for every team at the company to use, so you don't have different teams on different solutions that don't play well together.
5. Have a little fun
Memes and emoji are everywhere, and now they can be in your documents, too. No, we don't mean you should illustrate your roadshow deck with lolcats. But there's definitely a time and place for joking around in chats and comments — and Quip makes it super easy with fun, built-in tools. Use quick commands to create custom memes, generate random GIFs, or find just the right emoji.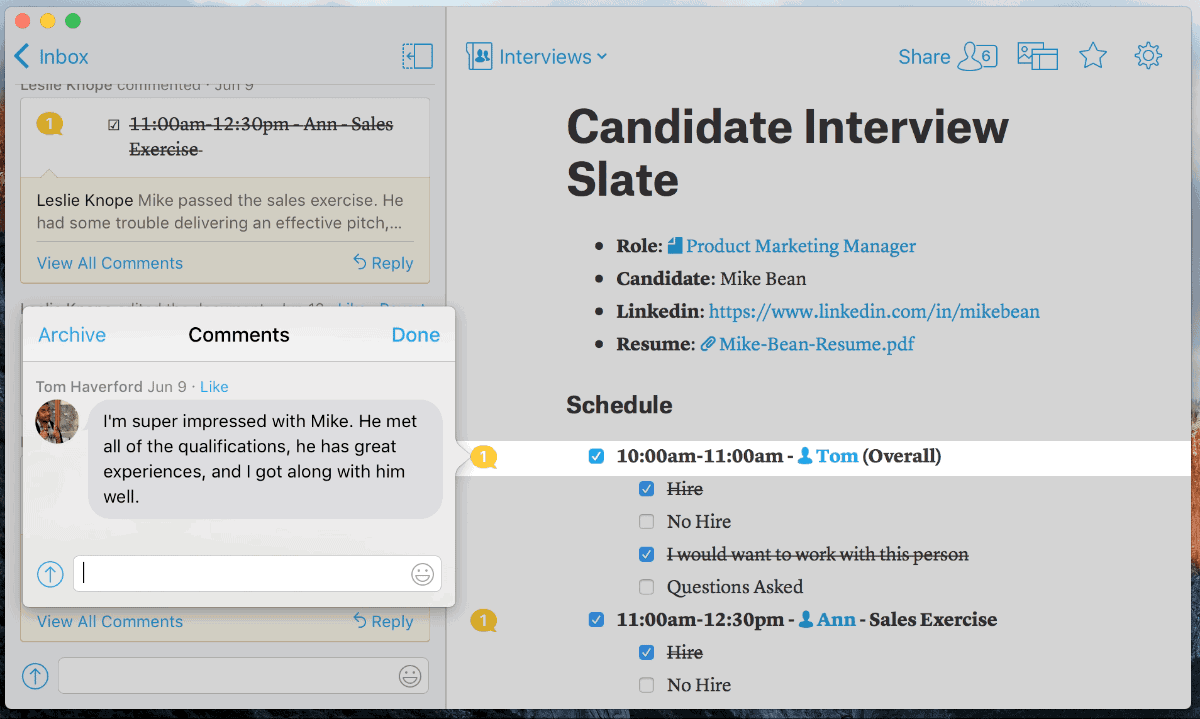 It's a simple way to bond with your coworkers, make each other laugh, and build team camaraderie. To learn more, check out our guide.
Get started today!
Try Quip with your team by creating a free team site at https://quip.com or download the app from the App Store or Google Play.
Already using Quip? Log in to https://quip.com/ or you can launch your Quip desktop app to get started.