Join us for our Quip basics and onboarding webinar
One of the most common questions we hear from new Quip teams is, "Where do we start?" Quip is a powerful and flexible productivity suite that combines documents, spreadsheets, tasks, and team chat all in one simple experience. With all that productivity power under the hood, knowing how to maximize those tools is the key to your team's growth and happiness.
To learn important Quip basics and onboarding best practices, join Quip experts, Ryan Anderson and Logan Randolph, for a live webinar on November 16th at 10:00AM PST.
Webinar: Mastering the basics and onboarding your team to Quip
This webinar is perfect for both Quip beginners, who want to review the basics and discover impactful use cases, and Quip champions, who want best practices to onboard their team with Quip. We recommend that you invite your team to join you on the call too!
What will I learn?
We'll share the fundamentals of creating, collaborating, and organizing work in Quip. You'll learn how to:
Create and share living documents with your team
Reduce your team's reliance on email
Optimize Quip's shared folders and notification system
We'll also share the key ingredients to help your team get up and running with Quip. You'll learn how to:
Set up Quip so it's ready for your team
Onboard your team around one, simple use case
Set your team up for success with Quip
How to keep Quip organized using the content hierarchy
Best practices for building out your team and project spaces
Who is presenting?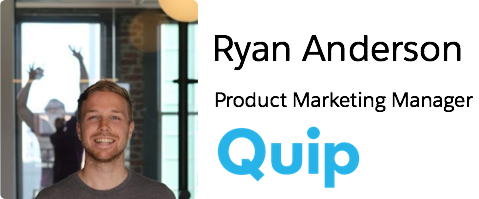 Ryan is a Product Marketing Manager at Quip. His favorite part about Quip is its insanely useful mobile app which he uses every single day. Before Quip he started a San Francisco-based brewery tour company and spent 5 years helping grow Atlassian Confluence. In his free time, he obsessively rides his bikes and stretches out on a yoga mat. He also loves super burritos.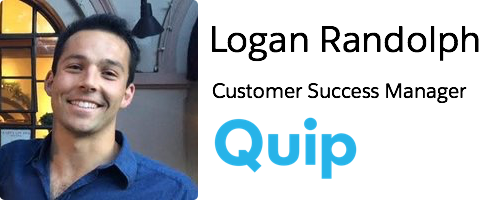 Logan is a Customer Success Manager at Quip. His favorite part about Quip is its task list feature, which he relies on to keep his personal and professional lives on track. Before working at Quip, he worked as a mountaineering Guide in Alaska and a ski patroller in Vermont. He enjoys competing in triathlons, climbing and surfing. He hates mustard and public transportation.
Register for our webinar now
Ready to up your Quip game? Register for our webinar and join us on Wednesday November 16th at 10:00AM PST. Registration is limited, so sign up while there is still room. Looking forward to seeing you!