What Case Swarming Looks Like in Quip + Service Cloud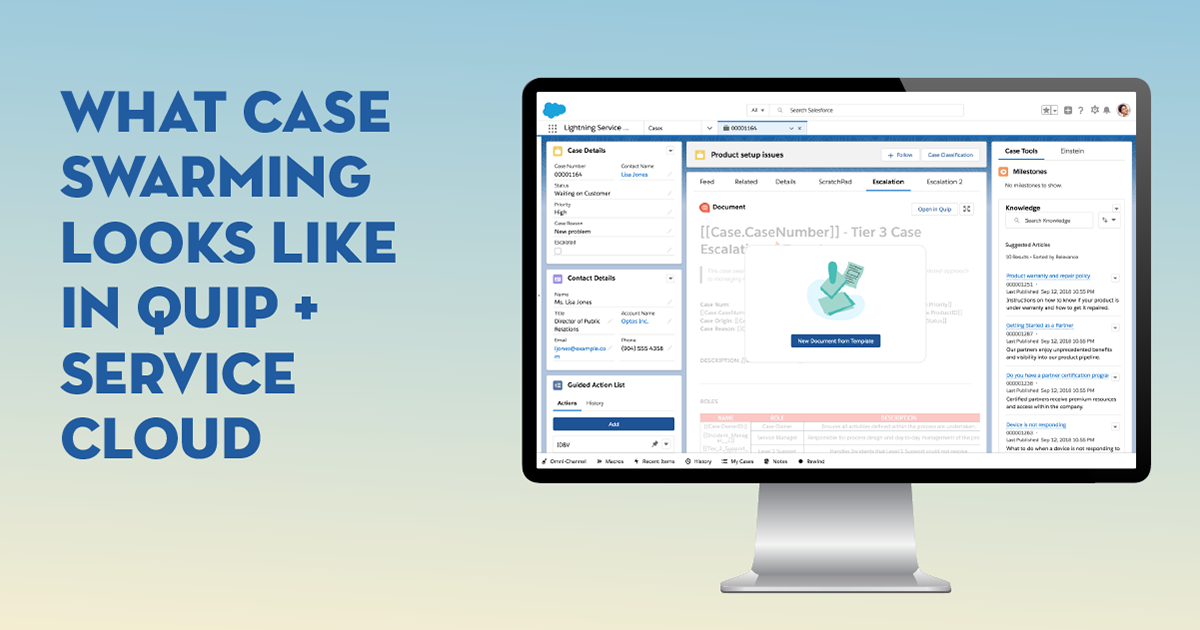 A call comes in. One of your top customers has a complicated issue and wants a solution, fast. If you're using traditional tiered customer support, it likely means that your first-line agent will hand it off to a tier 2 colleague. And that's when the messy, time-consuming process of solving a complex case begins.
But picture this instead: You've deployed a powerful platform that supports intelligent case swarming, a faster and more collaborative approach to customer service that leverages the power of a unified productivity platform integrated with your CRM. Now, when that same call comes in, your agent doesn't pass it off; she begins a swarm to collaborate with others and quickly locate the appropriate experts to solve the issue in far less time. Sound too good to be true?
Salesforce Service Cloud already empowers service teams to collaborate effectively, but the recent arrival of Quip for Service adds extra capabilities that supercharge swarming. When you add Quip for Service to Service Cloud, you'll have everything you need to swarm effectively — automated templates, live chat, virtual swarm rooms — and all of it within a single platform, connected to your case.
Swarming, Step by Step
To understand the impact that case swarming can have on customer experience, here's a step-by-step look at swarming in action with Quip for Service and Service Cloud.
Scenario: A large insurance company has purchased a new online payroll system from a leading software company but runs into some problems during installation. The IT director calls customer service to speak to an agent:
The service agent immediately creates a case in Salesforce so the customer's issue and account information are readily at hand.
The agent searches for an answer within the knowledge base and chats with service team members on the Quip platform. But this is a new issue, so there's no previous case she can reference.
Unable to find a quick answer, the agent initiates the swarm process. Quip comes with standardized templates that are integrated with Service Cloud and automatically pull relevant data from Salesforce. The agent doesn't have to waste precious time hunting down details or copying and pasting.
Quip is triggered to create a virtual swarm room, and the right experts get added automatically, based on set criteria. In this case, the expert is a member of the software development team.
The developer can access the shared documents and background information in the swarm room from her phone or laptop, so she immediately gets to work with the agent to resolve the issue.
They come up with an answer and the agent quickly calls the customer. Problem solved, and another satisfied customer has a great experience.
The case is updated in Salesforce, and the details of the solution are pushed into a standardized Knowledge article so the next time the issue arises agents will have quick answers ready.
The big takeaway?
Leveraging the capabilities of Quip for Service + Service Cloud gets rid of the guesswork so the customer and agent both have a better experience.
For more insight into how Quip for Service can help supercharge swarming in Salesforce, download Customer Service Accelerated: A Salesforce Guide to Case Swarming.