Introducing unsaved changes indicators: Dare to work offline
Have you ever opened your laptop on a long flight, expecting to do a couple of hours of work, only to find that the inflight wifi is down? ARGGGH. Now that you can't get online, you can't access your work. The rest of your flight is spent hacking together a few notes in your local editing app while mostly focusing on Dolphin Tale 2 on the inflight entertainment system. :(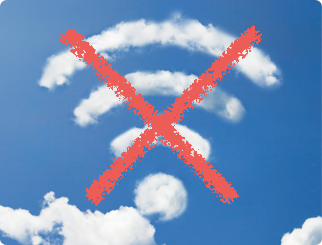 One of the greatest limitations to cloud-based software, especially tools accessed through your web browser, is that you have to be online to get your work done. But thanks to Quip's native desktop apps, working offline is one of our greatest strengths.
The transition between online and offline is completely seamless. Regardless of whether you're on an airplane with a slow internet connection, or none at all, you have the same abilities as if you were online. You can create documents, edit documents, and even send messages. As soon as you have an internet connection, every change syncs with the network and your team can see your updates.
Introducing unsaved changes indicators
Today, we've improved your offline experience by adding unsaved changes indicators. If you're creating, editing, commenting, or adding a message to a Quip document or spreadsheet you'll see the indicator at the bottom of the document.

The Quip desktop app saves any changes you make locally so your work is always safe. When an internet connection is made, changes are synced to the server where they are available to your teammates. Once your changes have synced with the network, the indicator will disappear.
If you're working offline, you're likely working across a number of different documents and messages. Quip counts unsaved changes with an indicator in the sidebar. You can click the indicator to show which documents, spreadsheets, chat rooms, or 1:1 messages have unsaved changes.
We hope the new indicators help you work fearlessly in Quip no matter where you are or what kind of internet connection you have.
Download Quip
If you're still using Quip in your web browser, get up to speed and download Quip on your Mac or Windows PC. If you want to learn more about the native Quip desktop app read this blog post.