Work Productivity Tips for When You're Out of the Office
Heading to Dreamforce? Here's how to stay productive on the road.
In modern offices, amenities such as dual monitors, standing desks, organized workstations, general privacy, a reliable internet connection, and many other tools make it easier than ever to get your best work done in an efficient and effective manner.
Increasingly though, many professionals find themselves taking their work on the road, whether it's to meet with vendors or secure new deals with clients. During these travels, many of those in-office luxuries go to the wayside. Instead, road warriors are limited to a phone and a laptop and, as a result, may face potential charging issues, a lack of privacy (especially in airports and on planes), and a host of other productivity killers. Thankfully, you can set yourself up for success with the right planning and tools.
We've rounded up five of the best productivity tips to help you accomplish even more when you're out of the office.
1. Carry the right equipment and technology
When you step away from your office, the two most important tools at your disposal are your laptop and smartphone. To keep them charged, pack at least one power bank and an extra charging cable for each of your devices. This ensures you'll never be stranded without power.
At airports, in trains, and even in taxis, the noises around you can quickly sabotage your focus. A pair of high-quality noise-cancelling headphones will block out the sounds around you and prevent you from losing your patience. In a pinch, a pair of earplugs can signal to the people around that you're working.
While working in a public setting, privacy is another concern. To minimize the risk of nosy neighbors, add a privacy filter to your laptop. This polarized plastic sheet blocks light from certain angles, which makes it easier for you to shield your activity from onlookers.
Although the perfect mobile workstation might still be years away, you can maximize your workspace with a portable attachment that converts your laptop into a dual screen set-up. That way, you can take advantage of an extra display — which could even be your phone or tablet — while on the go. Just keep in mind that this attachment may drain your battery faster, so make sure your laptop is plugged in and charging when using a portable dual screen.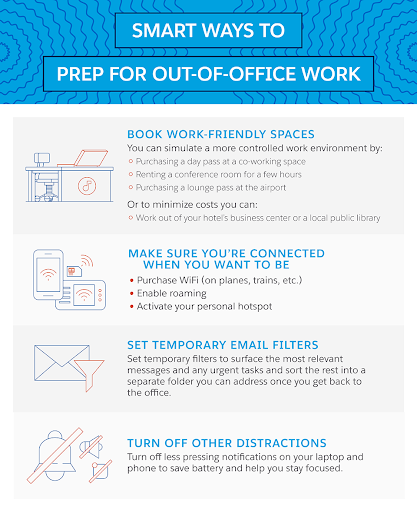 2. Plan and organize everything you need in advance
Between transportation, accommodations, meals, and meetings, you should coordinate several items ahead of your trip to make it a more efficient visit. Here are a few important time-saving and productivity-enhancing steps you can take.
1. Book work-friendly spaces. Consider purchasing a day pass at a co-working space, renting a conference room for a few hours, or purchasing a lounge pass at the airport. These options help you simulate a more controlled work environment, which allow you to focus on doing your best work possible. One way to minimize costs but still maintain focus is to work out of your hotel's business center or a local public library. Use these as substitutes for coffee shops, which are often filled with unpredictable and stimulating noise, interruptions, and people coming and going.
2. Purchase Wi-Fi, enable roaming, and activate your personal hotspot. Whether you travel by plane or train, purchase a premium Wi-Fi connection in advance to ensure you have a solid and stable internet connection while in transit. Enable roaming and activate your personal hotspot on your smartphone as a backup solution in case other internet connections prove unreliable.
3. Set temporary email filters. While you travel, business continues as usual and you'll likely receive dozens of messages for non-urgent requests. Help yourself stay focused by setting temporary email filters to surface the most relevant messages and any urgent tasks, and sort the rest into a separate folder you can address once you get back to the office. That way, you can prioritize projects related to your trip and not let other incoming requests derail your productivity.
4. Turn off other distractions. Turn off some of the less pressing notifications on your laptop and phone too. These not only slow down device processing speed, but also hinder productivity when they steal attention away from your primary tasks.
3. Communicate your schedule
Before you leave, inform your colleagues and clients about your upcoming travel schedule. Clearly communicate the times you'll be available and when you won't. That way, they know when they can reach you and when to adjust their expectations for receiving a response.
Keep the time zone differences in mind too. For meetings, always clarify which time zone you're referencing in order to eliminate confusion. Whenever possible, send a calendar invite for confirmation.
Also, make yourself available through various communication platforms. Provide team members and customers with your contact information including your phone number and email address as well as your preferred mobile messaging app and video conferencing tool. Make sure to download the corresponding applications or tools onto your devices in advance so you don't run the risk of arriving late to calls and virtual meetings or missing them entirely if your connection isn't strong enough for an app or software download.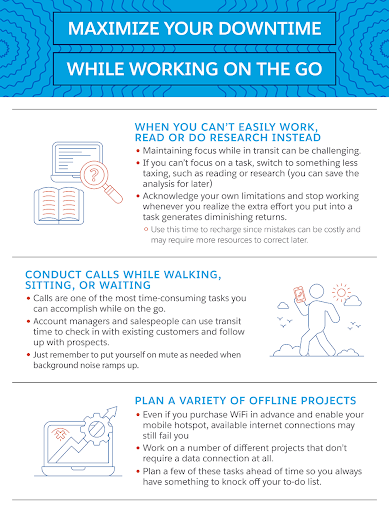 4. Use collaborative cloud tools
Seamlessly work between your smartphone, laptop, or another computer entirely when you host all your files in the cloud. That way, you never have to worry about leaving any files at home or on another device. Just make sure to secure all your devices with strong passwords and protect your cloud logins too.
Between file sharing and storage platforms, project management applications, and a CRM system, you'll always have access to the crucial information you need to make a strong sales pitch or complete an on-site project.
5. Capitalize on downtime and prioritize low-energy tasks
Take advantage of passive periods in your schedule, including the long waits at security lines, extended taxi rides, and flights that take you up in the air for hours. Use these times to tackle low-energy tasks that don't require a lot of focus, such as answering quick emails or messages. You can also take advantage of these three productivity tips to maximize your downtime.
There's no easy way to replicate the amenities and environment of a well-outfitted office when you're stuck in a plane, coffee shop, or hotel. These work productivity tips, however, can help you maximize the amount of work you get done while you travel.