6 Best Practices for Customer Service Swarming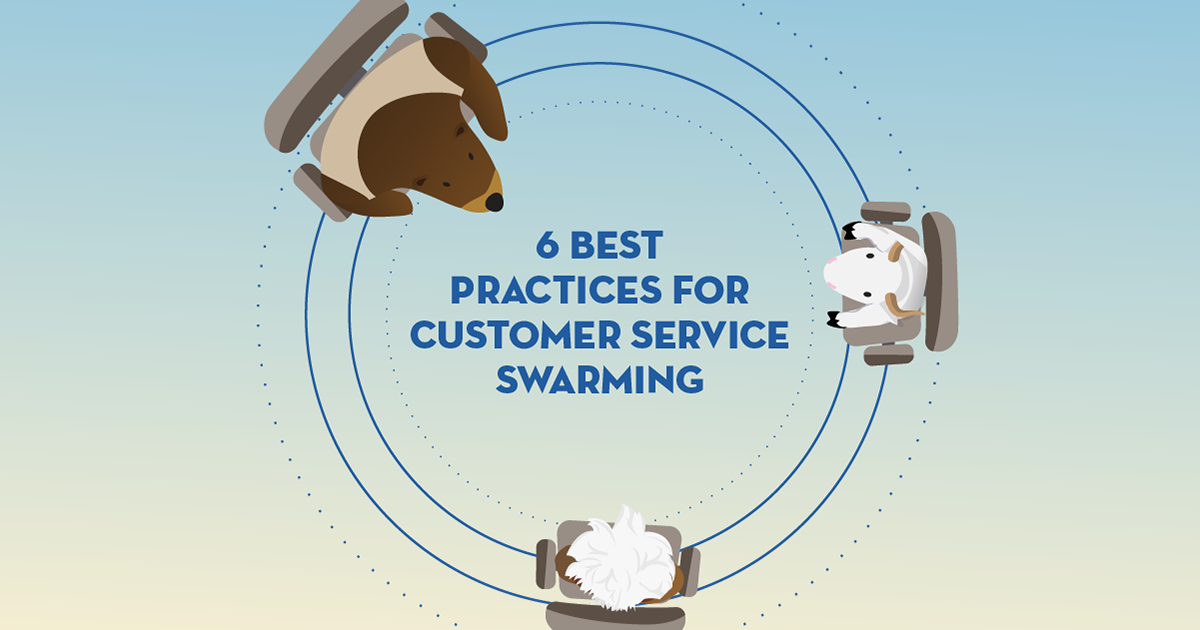 Traditional tiered customer support can feel a bit like a game of hot potato, with a difficult customer inquiry getting passed around different service tiers and no resolution in reach. That's exasperating for the customer and time consuming for the service team.
Case swarming, sometimes called "intelligent swarming," is an increasingly popular alternative. It takes a more streamlined approach, bringing together the right team members to collaborate on the fly and resolve the issue quickly. However, to make swarming work for your service team, you need to know how to unlock its potential and deploy the right technology, like Salesforce Service Cloud and Quip for Service.

With that in mind, we've pulled together some tips to set you up for swarming success:
Build templates with CRM context:
Standardized templates, like the swarm room template that come with Quip for Service, shave vital minutes when time is of the essence on a customer issue. As soon as that escalation clock starts ticking, agents need to be able to immediately create standard documents with all the information the service team and product experts need to resolve the issue. If those documents can automatically pull information from the CRM, eliminating manual data entry for agents, even better! 


Launch a dedicated swarm room:
The key to swarming is to ensure that the right people can see the right information so that they can quickly come to a resolution. That means setting up a virtual space that houses all the relevant information, allows for real-time collaboration and chat, and is accessible to the team as soon as a case is escalated. Bonus points for getting rid of the guesswork with a workflow trigger that automatically creates the room, populates it with the relevant information, and adds the right stakeholders. 


Capture unstructured data and conversation:
How much of the information about a case is actually in the Salesforce record? Plenty of course, but to really bring new stakeholders up to speed, your swarming tools need to break down communication silos and bring together the invaluable conversations on email and chat that could provide them with context. With Quip for Service, for example, all of the structured and ad hoc information is contained in the same place, allowing experts and customer service agents to see the whole picture at any moment. 


Communicate to the customer via front-line staff: 
One of the great benefits of swarming is that it can provide your customers with the answers they need with much less effort on their part. Rather than repeating pain points over and over to multiple agents, the customer shares the issue with a single agent. When the customer hears back with an answer from that same agent, it's a much less stressful experience. The key is to use tools like Service Cloud and Quip for Service that help internal teams stay organized, let them work within shared documents, and provide the opportunity for structured collaboration. 


Push swarm resolutions to your knowledge base:
Don't lose track of that great answer! Once a complex case is resolved, capture that knowledge in a standardized format so other agents and product experts can easily reference it and resolve future issues without needing to escalate.


Review and optimize your swarming process:
Service teams should reassess the impact of swarming and look for ways to improve the process a couple of times a year. This may mean developing new templates or updating which experts are automatically pulled into a swarm room, so you'll need a tool that makes it easy to update and customize workflows and documents as needed.
For more great swarming tips and best practices, plus a closer look at how Quip for Service + Service Cloud can supercharge your service team's productivity, download our ebook, Customer Service Accelerated: A Salesforce Guide to Case Swarming.