Quip for Android 1.6: No account required, Kindle Fire, and more
We've been really excited by the number of people in the Android community who have adopted Quip since our release in December last year. Today, we're delighted to release Quip 1.6 for Android, which adds a number of the most-requested features to the product.
Download the update in the Google Play Store.
More App Stores & Devices
With this release, Quip is now available in seven additional Android app stores — including on the Kindle Fire, in Yandex in Russia, and in 360 Mobile Assistant, the largest app store in China.
This means that with this new release, Quip is available to hundreds of millions more people with Android phones and tablets around the world. We are excited to see the impact, particularly outside of the United States.
Start Using Quip without an Account
With Quip for Android 1.6, you no longer need to create an account to start using the product. When you download Quip on your Android device, you can just start writing immediately. When you want to share a document and start collaborating with other people, all you'll need to do is to add your email address.
Import Documents
We know that many of you would like to access all of your existing notes and documents from within Quip. With that in mind, this release includes full document import capabilities from Microsoft Word, Dropbox, Google Drive, and Evernote.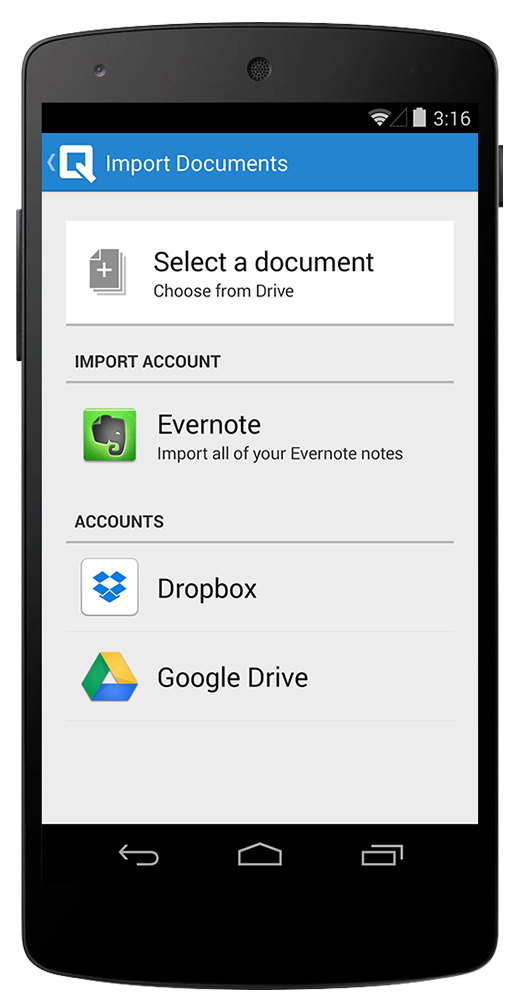 If you have a Word document that you want to share with others or a text file that you want to edit on any device, you can import it into Quip directly from your phone or tablet. It'll automatically be converted into a Quip document that works on all your devices. And if you're an Evernote user, we'll automatically import and organize all of your existing notes and notebooks on Quip.
You can import by selecting "Import Documents" in the gear menu on your Desktop, or just tap the "Import" button at the bottom of your inbox.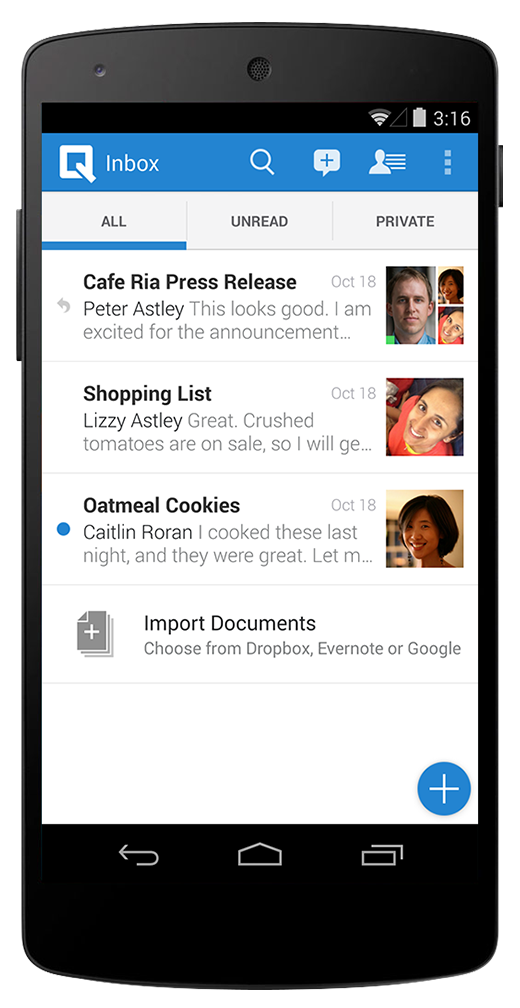 You can also import documents from the local storage on your Android device. From Quip's import menu, just tap "Select a document," and you can choose any file on your device.
Background Updates
Quip now updates in the background, so your shared documents will always be available instantly — even if you haven't opened the app in a while. With Quip, you don't need to mark documents for offline access, or force specific documents to sync. Every document and every message is always available offline, automatically.
Import Contacts
When you want to share documents or collaborate on Quip, having all of your existing contacts available is extremely handy. To make it easy to share, we've added contact import to Quip for Android. The Contact Import feature makes it easy for you to add your contacts from Yahoo, Google, Outlook.com and from your local device's contacts.
We will never email your contacts without your explicit permission; we just want to make it easy for you to share!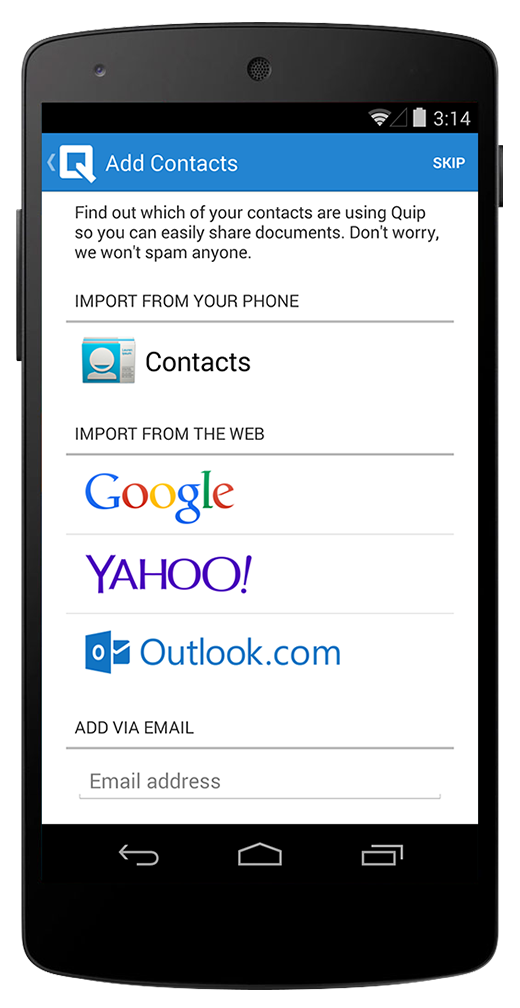 We love hearing about the features you want us to build, so keep the feedback coming.