4 Factors that Slow Down Customer Service & 4 Solutions to Speed It Up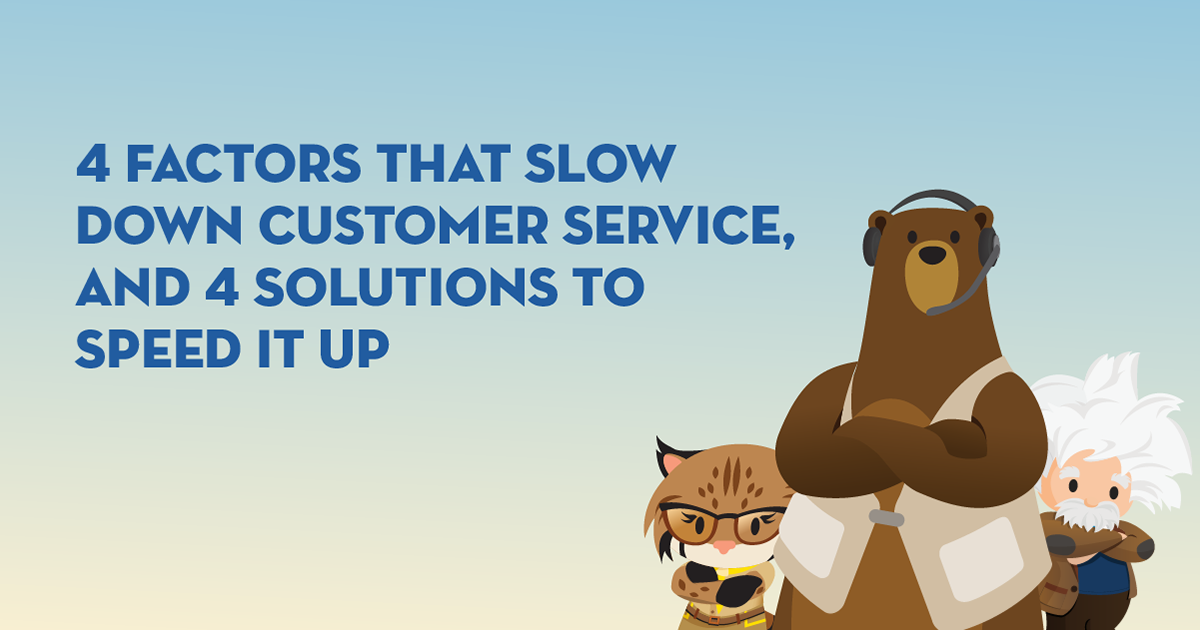 As a service team leader, you're probably feeling the pressure to move faster. In today's hyperconnected world, you know that customers expect fast, personalized responses to even the most complex questions. The problem is, those more complex cases eat up your team's time and create case backlogs. A closer look at the typical resolution process reveals some of the culprits that slow down teams. But fear not: for each one of them, we've got a proposed solution to supercharge your service team.
Challenge #1: Too many hand-offs
With traditional tiered support, when your front-line agents don't have the expertise or authority to resolve a case, they pass the request off to a tier 2 agent or loop in an expert from outside the service team. Multiple hand-offs can be frustrating for a customer. The process takes too much time, and too often the customer has to explain the problem over and over. That's unacceptable.
Solution: Case swarming
With case swarming (sometimes called intelligent swarming), that escalation chaos is transformed into an efficient, streamlined process. By eliminating the tiers and, instead, swarming cases as a team, agents can address urgent customer needs through real-time collaboration among themselves and with the right experts.
Challenge #2: Too much time spent searching for answers
Agents spend too much time searching for answers and the right internal experts. In fact, according to Salesforce's State of Service report, lower-performing teams spend only 43% of their time actually solving issues, with the remainder eaten up with mundane data entry and hunting for information. By contrast, top-performing teams are able to spend 63% of their time resolving issues and working on other high-value activities.
Solution: Standardized templates
Creating standard processes and templates that leverage automation to pull data directly from the CRM will slash the time agents spend tracking down data and help maintain consistency. When every case has all the relevant information — structured and ad hoc chats and notes — in the same place, it's easier for stakeholders to review the issue, get up to speed quickly, and provide agents with resolutions.
Challenge #3: Communication silos
In many organizations, people, data, and information are scattered across different communication threads and systems. Because of this, it's all too easy for the latest updates on a customer or case to fall through the gaps, leaving some stakeholders out of the loop and causing stress and confusion across the team.
Solution: Automated workflows and sharing
With the right processes in place, you can eliminate communication silos: An escalated case can be automatically shared with relevant team members and stakeholders, based on criteria that you set up in advance. This brings the right people into the swarm at the right time with full visibility into all of the Salesforce case documentation and ad hoc chats they need to handle complex cases.
Challenge #4: Switching between multiple apps
Agents routinely jump from CRM to chat to email and other apps in the course of a case. Every switch creates distraction as agents lose focus and must re-orient, wasting precious time.
Solution: A productivity platform that integrates with CRM
Rather than jump across multiple apps, teams are more effective when they can work inside a single, integrated productivity platform — connected to the CRM — where case data, escalation action items, and communication takes place. This helps organize stakeholders and rally them to put out the fire faster.
Quip for Service supercharges the collaborative power of Service Cloud, bringing all of the solutions and more to your service team. Find out more by downloading our ebook: Customer Service Accelerated: A Salesforce Guide to Case Swarming.