Integrations: Add your world to Quip
Thousands of companies around the world, including Facebook, Quora, and New Relic, depend on Quip every day to get things done. We're no exception—we run Quip on Quip, and the product has become the single hub that ties our whole company together.
Like our customers, we spend our whole day inside of Quip, and we found that we wanted to connect the other tools that we use every day to Quip.  We thought: what if we could see our team's code commits to Github? Or be notified when someone mentions @Quip on Twitter? Or get real-time updates about our all-important Fantasy Football league?
That's why we created Integrations for Quip.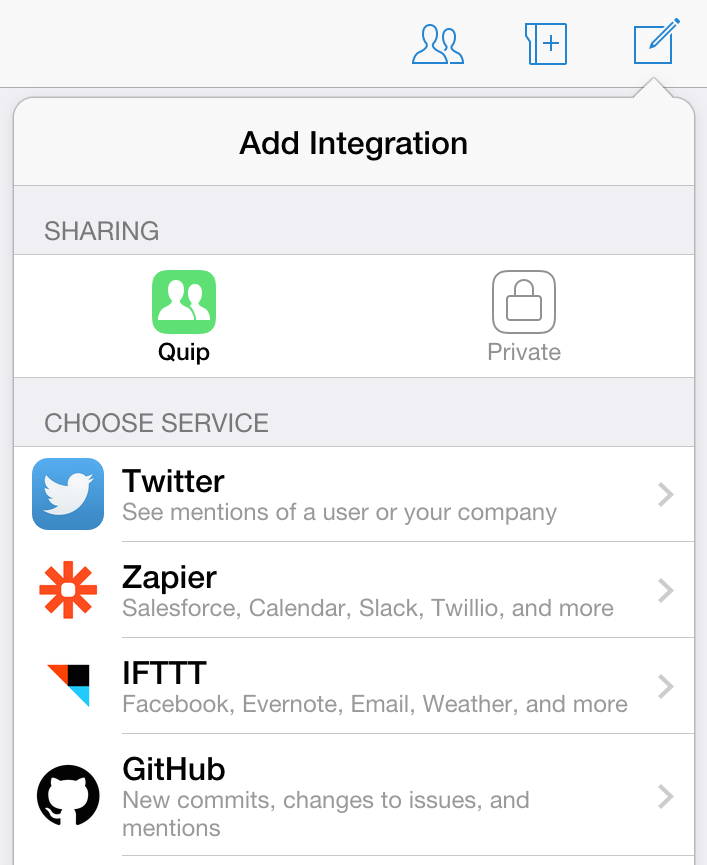 Integrations enable you to connect hundreds of other products, including Dropbox, Zendesk, JIRA and more, directly to Quip. When you add an Integration, you can receive messages about activity on these other services. You can attach these messages to a group chat or a document, and your whole team can share, interact, and discuss the messages together. With Integrations, everything you add becomes something you can collaborate on, right from your phone.
And everything you add is searchable by your whole team, forever.
What can Integrations do?
Nearly any application can be connected to Quip. You can stay up to date with:
GitHub commits for your team



Files added to a Dropbox or Google Drive folder


Emails sent to a team mailing list




PagerDuty, Jenkins, and Crashlytics updates




Customers added to Stripe, Square, or Salesforce




SMS messages or phone calls to a specific number



Calendar updates when an event starts or a project is due


Messages sent to Slack, Campfire, or a Facebook Group




Ticket created in ZenDesk or JIRA



Thanks to our friends at IFTTT and Zapier, you can connect more than 300 different apps to Quip.
How does Quip use Integrations?
Like many of our customers, we barely use email anymore. With Integrations, we've been able to connect nearly every aspect of our company to Quip.
We view code changes for our team in Git Commit Log

Our Prod Log records when we push to our servers, change production settings, or get alerts from PagerDuty

The whole team reads Twitter mentions of @Quip to support our users

Our Sales Triangle! pings us when a new customer signs up on Stripe (and we all cheer)

Transit Alerts monitors Twitter for Caltrain and BART problems

Most importantly, Survival Fantasy Football reminds us to make our picks each week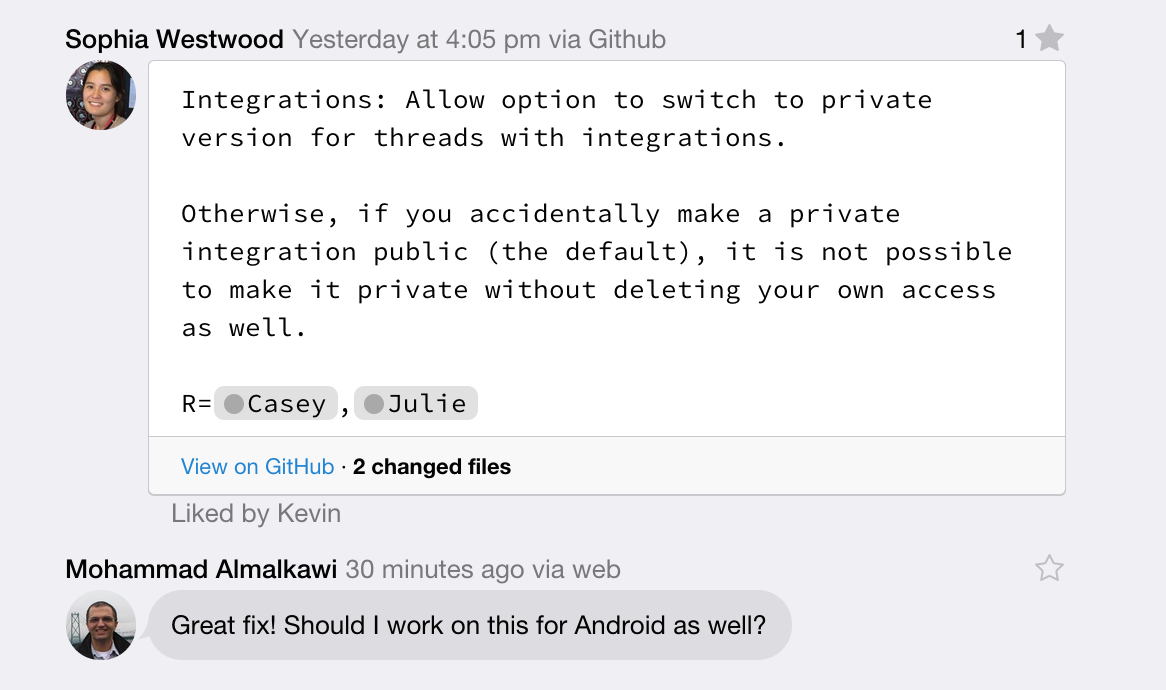 Thank you, and tell us what you think
We built Integrations for Quip because we wanted to help everyone connect the applications they care about to the tool they use every day.
But this launch is just the beginning. We want to get your feedback on what applications and services you want to integrate into Quip, so we can make your experience better. And, if you are a developer, we would love to work with you to help you create your own integrations. All of our integrations use our completely public API, and that means that you can plug your own integrations — with custom configuration, provisioning, and more — directly into Quip.
So please, keep the feedback coming — you can email support@quip.com or reach out to @quip on Twitter.
We love hearing from you.