Introducing Quip for Sales: Drive sales productivity in Sales Cloud
We all know the age-old sales adage: Time kills deals. That's never been truer, and it's intensified by the fact that customer expectations have increased and deals have gotten more complex. To keep up with these demands, selling has become a team sport. Unfortunately, most sales teams aren't equipped with the tools they need to work a deal together, relying instead on frantic email threads and chat storms, confusing file versions, or even worse, post-it notes. But the real problem here, is that all of it typically lives outside of Salesforce – creating silos, miscommunication, and complexities which slow deals down as teams try to catch up. With so much time wasted toggling between apps, it's no wonder the Salesforce State of Sales Report found that reps today end up spending 52% on manual administrative tasks and only 34% of their time actually selling.
This is why today is such a momentous day for the Salesforce Platform and sales teams everywhere. Today, Quip brings productivity apps inside the #1 CRM for the first time – streamlining deal coordination so sales teams can close more deals faster.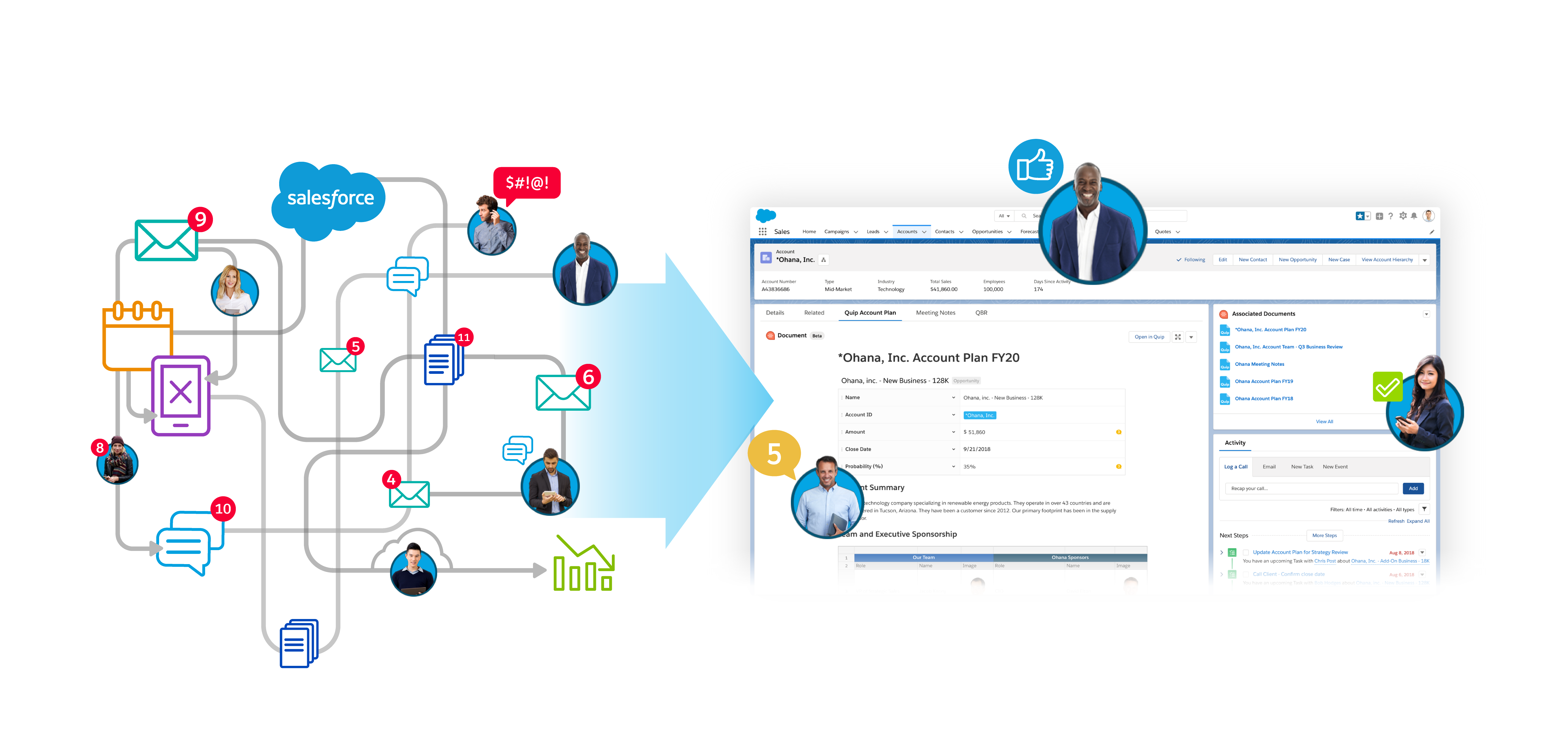 Introducing Quip for Sales: Boost deal productivity inside Salesforce
Today, we're excited to announce that we've launched Quip inside of Salesforce and in the process reimagined the future of CRM. Quip for Sales brings a fundamental enhancement to the way sales teams work together inside of Sales Cloud. This powerful addition is the first of its kind – allowing sales teams to embed Quip's collaborative documents, spreadsheets, slides, and chat rooms directly within Salesforce objects and records.
Quip docs embedded in Sales Cloud are:
Real-time – Simultaneous editing, commenting, and messaging in docs, spreadsheets, and slides.
Rich – Robust content creation, social messaging, and mobile collaboration.
Contextual – Built-in chat is in every doc so all work lives directly in Salesforce.
Templated – Salesforce Admins can enforce business processes with single-click, best-practice doc templates.
Integrated – Quip and Salesforce are a secure, two-way street of data exchange and decision-making.
Cloud-based - Built on our trusted technology platform, Quip for Salesforce is 100% cloud-based.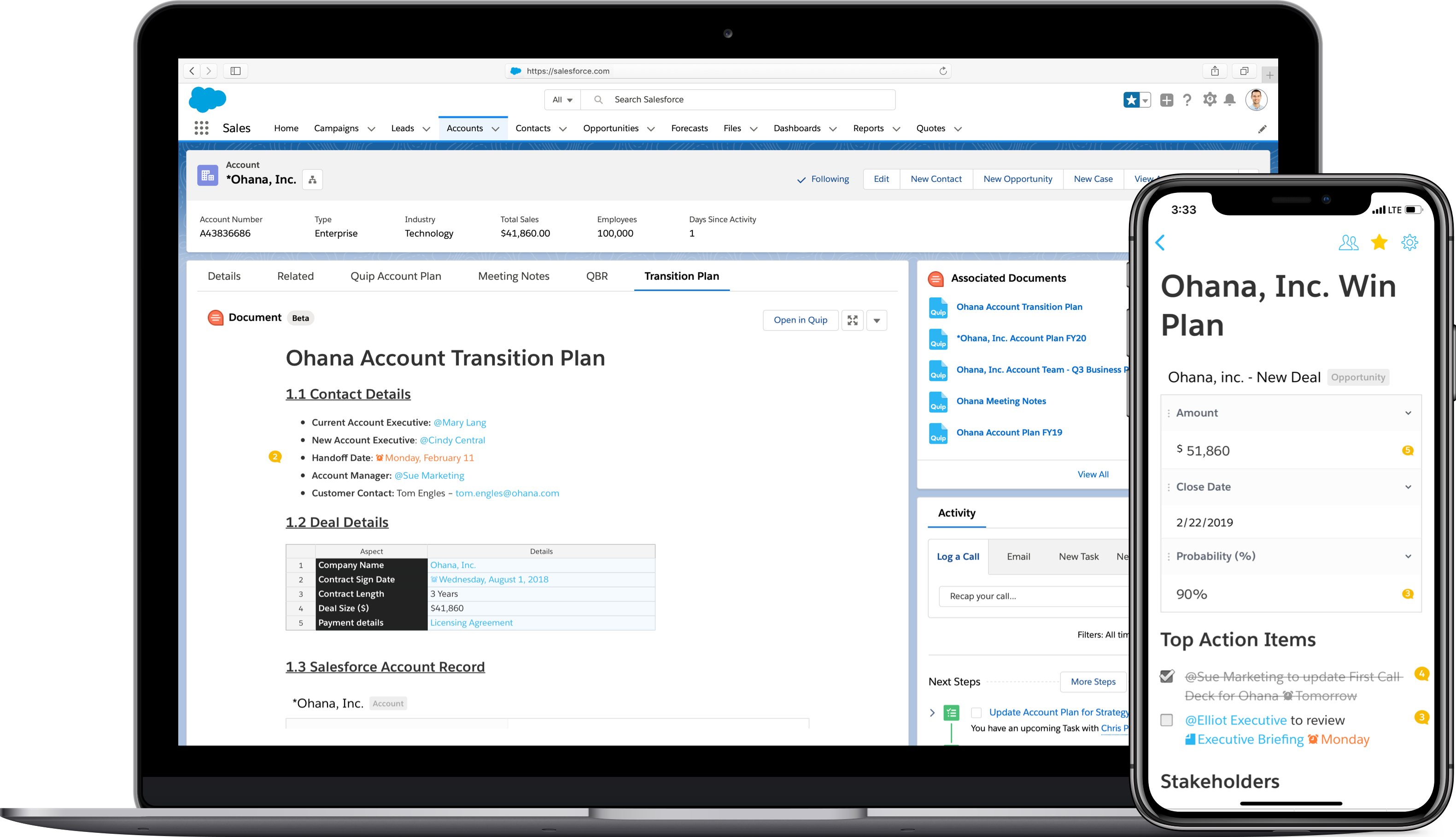 With Quip for Sales your team can:
Centralize deal work: Embed modern productivity documents for account plans, account transitions, or executive briefs inside Salesforce records so every part of the deal lives in a single view. Help reps keep everyone on the same page so no one misses a beat.
Scale sales strategy: Standardize and simplify how your teams win deals with customizable document templates for plans, briefs, and notes inside Salesforce. Give your team blueprints to deliver on customer needs, no matter how unique.
Accelerate deal coordination: Spring into action without disconnected email or chat storms that live outside your CRM. Satisfy urgent customer needs through real-time collaboration that's always connected to Salesforce.
Standardize all of your unstructured sales processes inside CRM
Quip for Salesforce brings modern productivity directly into the Lightning Platform and enables admins and developers to automatically associate the right Quip document at the right time with the right Salesforce record. This means that every sales process in Salesforce can now be supercharged with Quip. Salesforce Admins can define which Quip document templates are used to populate relevant records. This gives them the control to automate sales processes so reps can focus and be instantly more productive.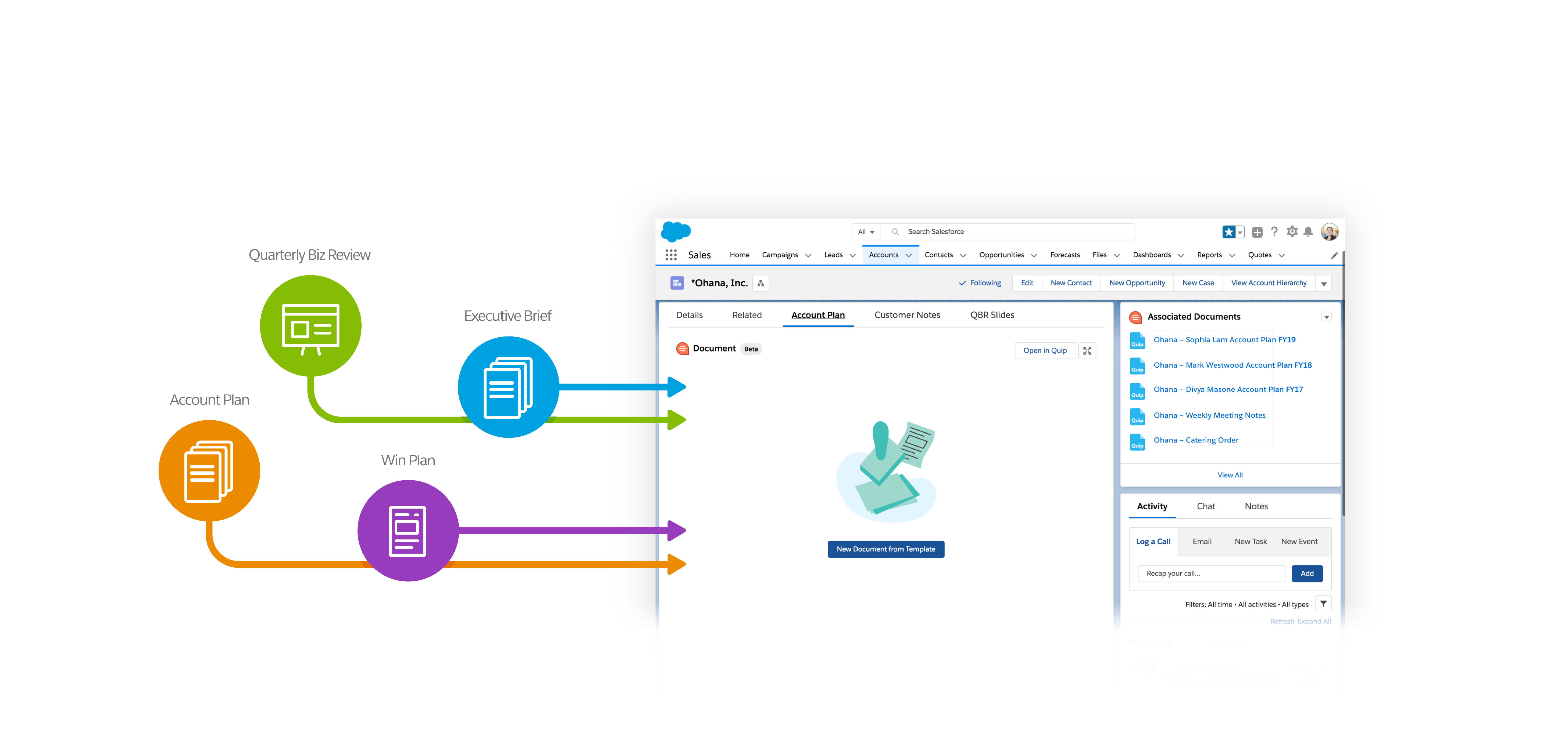 You can easily build your own library of customizable best practice template documents and connect them to any Salesforce record. Quip for Sales will help your sales team with deal, account and team management:
Account plans
Win plans
Account transitions
Customer meeting notes
Executive Briefs
Territory plans
Mutual success plans
Pipeline Reports
Weekly Team Meetings
Case swarm rooms
Incident updates

Try Quip for Sales today
If you're already a Salesforce and Quip Admin, all you need to do is add the Quip Document Lightning Component to an object. All the instructions you need are here.

If you don't have Quip yet, or haven't connected it to Salesforce, start a free a trial and then integrate Quip with Salesforce. The instructions are here.

 If all else fails, contact one of our Quip for Sales experts here.

 Additionally, find us at the upcoming Salesforce World Tour events. We'd love to give you a demo:
Either way, it's easy to get started, and your team will thank you for it. We hope you enjoy these new updates!