Chat tabs are here!
Quip's collaborative docs, spreadsheets, and slides get a lot of attention for having built-in chat, so teams can have real-time conversations in the context of their work. That's because we believe context is a key ingredient in our special sauce that helps teams be more productive together. When you don't have to jump between apps to get work done, you can stay focused and make decisions faster.
But what you might not know is that Quip also offers instant messaging and chat outside of documents too. You can chat in real-time with teammates through chat rooms and direct messages. We're excited to announce that today we are improving direct messages inside Quip with chat tabs.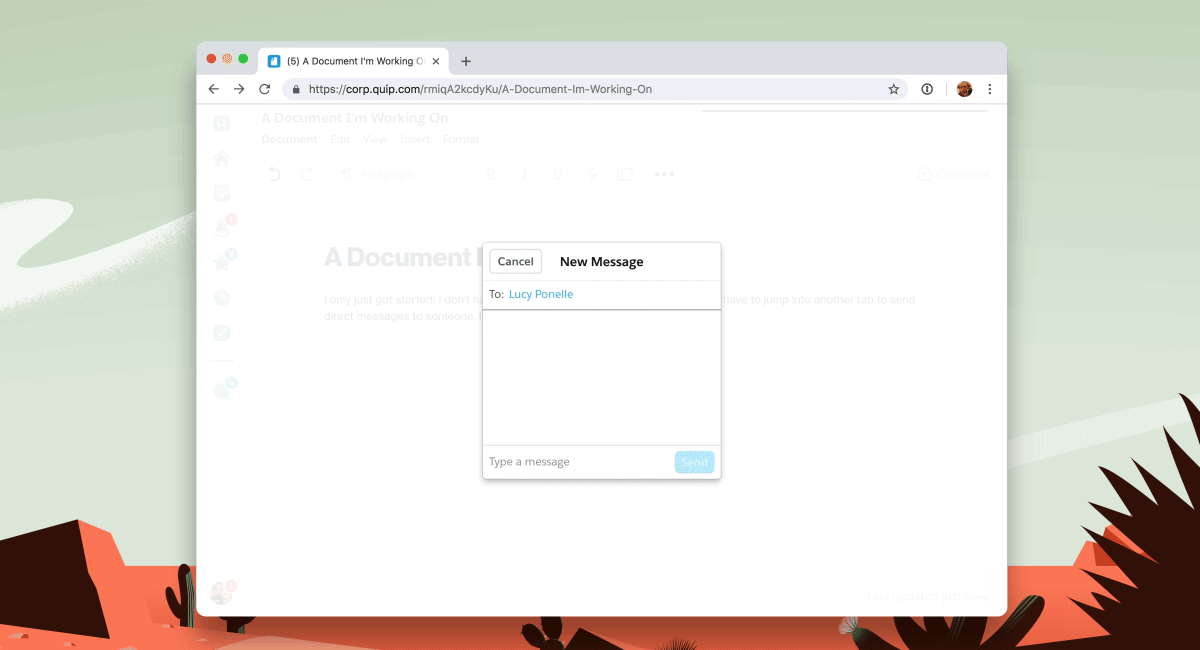 Never lose context in Quip, ever
Chat tabs let you hold private, 1:1 conversations without leaving the context of your current screen. Next time someone messages you, a chat tab will open at the bottom of your screen where you can respond immediately and get back to editing your document.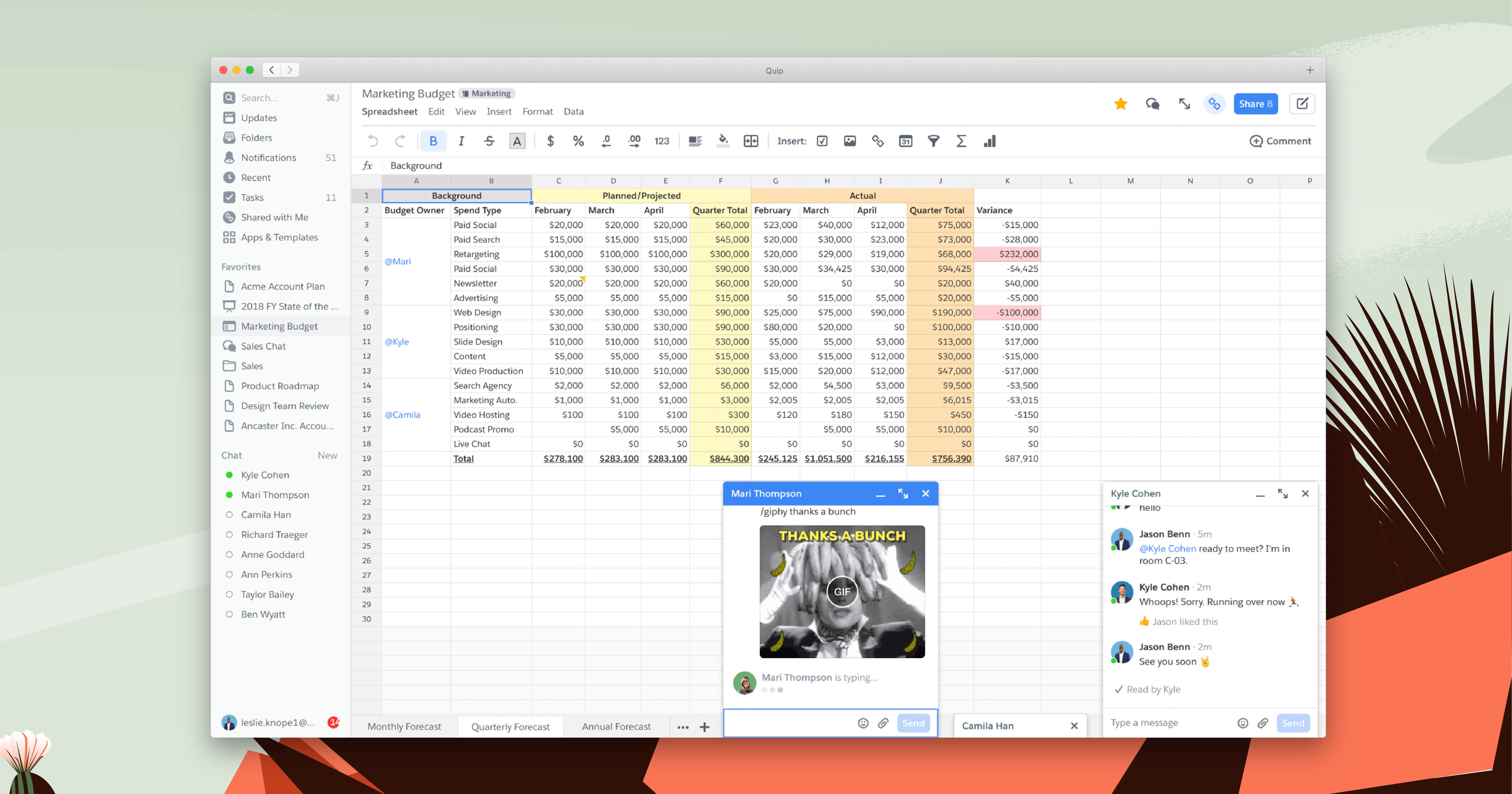 You can have multiple chat tabs inside your browser or desktop window for all your chatting needs. By default, direct messages now appear in pop-up tabs at the bottom of the window, rather than opening in a new page. This way, 1:1 messages are a lot less intrusive, and much, much easier to integrate into your overall workflow.
Using the controls at the top of the tab, you can:
Collapse the chat, so you have more room to work. (To uncollapse the tab, just click on it again.)
Expand the chat to full-screen.
Close the chat.
Direct messages are packed with goodness
Instant messaging in Quip is all about speed, action, and fun. No matter whether you're chatting inside a document, chat room, or direct message – you've got a lot of tools at your disposal to get something done with your teammates. Here's a quick overview:
Real-time – See when others are typing and when they've read your message with read receipts.
Instant Notifications – @mention a teammate so they get a push notification to their desktop and phone.
Linking – With @mentions you can search for and send a link to anything inside of Quip.
Emoji & Bitmoji – Black and white messages are boring. Messages with a 🤘or your face inside a tree trunk are not.
Slash Commands – Type /giphy or /invite to trigger actions inside message threads. See all the slash commands here.
File Sharing – Just drag and drop a file into your chat tab and share it instantly with a teammate.
Mobile – If it wasn't obvious, all of this is available from Quip's iOS and Android mobile apps. Download your app now!
Keyboard Shortcuts – Start a new message by typing Option + Command + m on a Mac or Option + Control + m on Windows.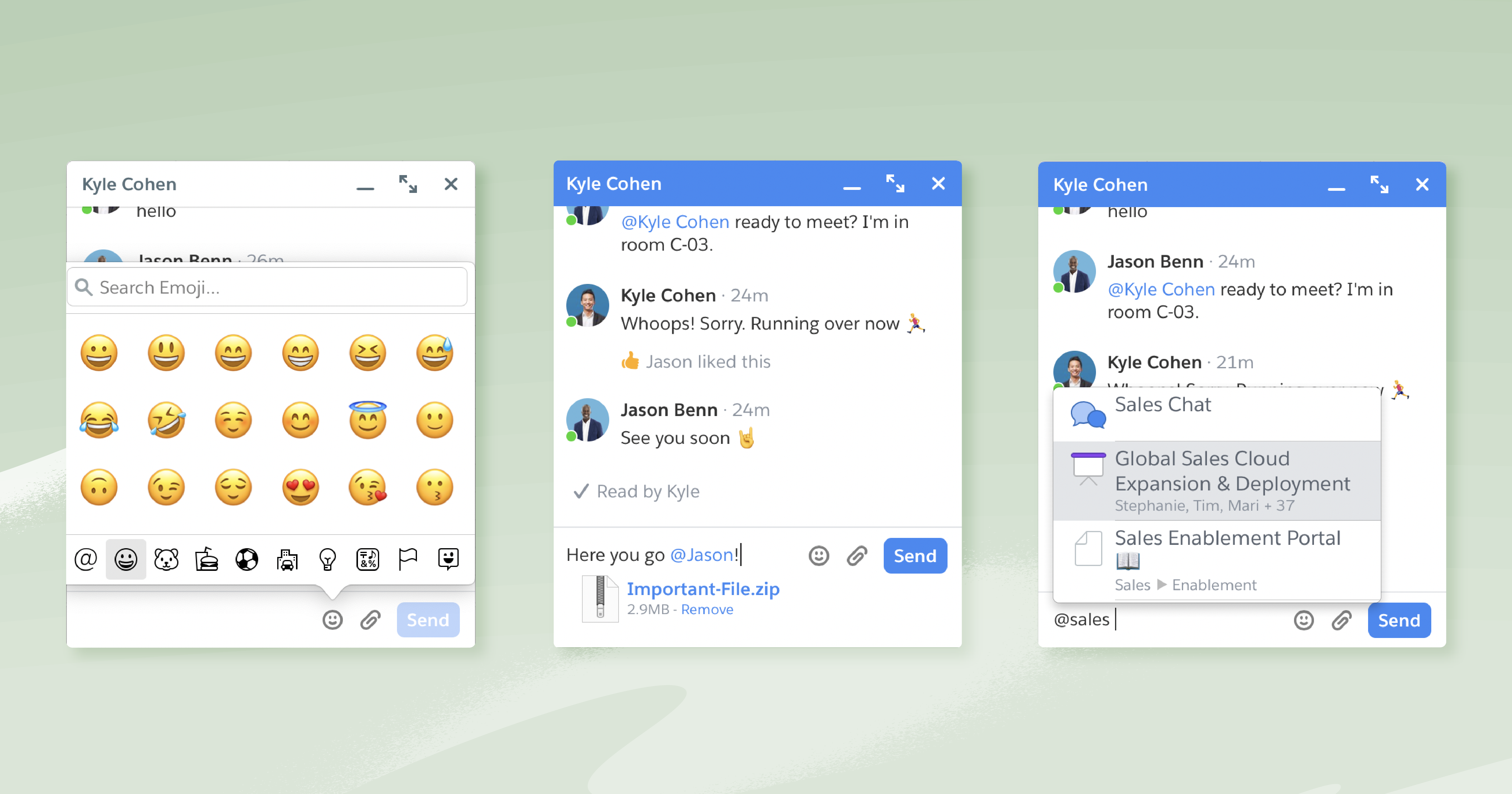 Get Started Today
We hope these improvements to direct messages in Quip encourage you to chat more with your teammates in Quip, and less in disconnected email and chat apps. With chat tabs in Quip, it's faster than ever to respond to a message and get back to work. Learn more about direct messages here.
Don't have a Quip site yet? That's easy to fix — start a free trial today.