Meet the new Quip
Quip documents get even smarter with project management, a new design, and Salesforce integrations
Getting things done is at the heart of team productivity. But a lot of the time projects get managed in one place, while the work itself happens somewhere else — leading to fractured communication, duplicate effort, and incomplete projects. Rather than moving work forward, your team has to "sync up" through long email chains and time-wasting status meetings.
Today, Quip is changing that with living documents that are smarter than ever before. Powerful checklists let you manage projects right inside Quip, with tasks that go beyond owners and due dates — they speak up and tell you what's happening, so you never miss a beat. We're also launching a redesign that does more than just look pretty. It helps you find, contribute to, and execute on the work that matters most. Finally, we've brought the power of live Salesforce data right into Quip, so teams can work more collaboratively across the organization.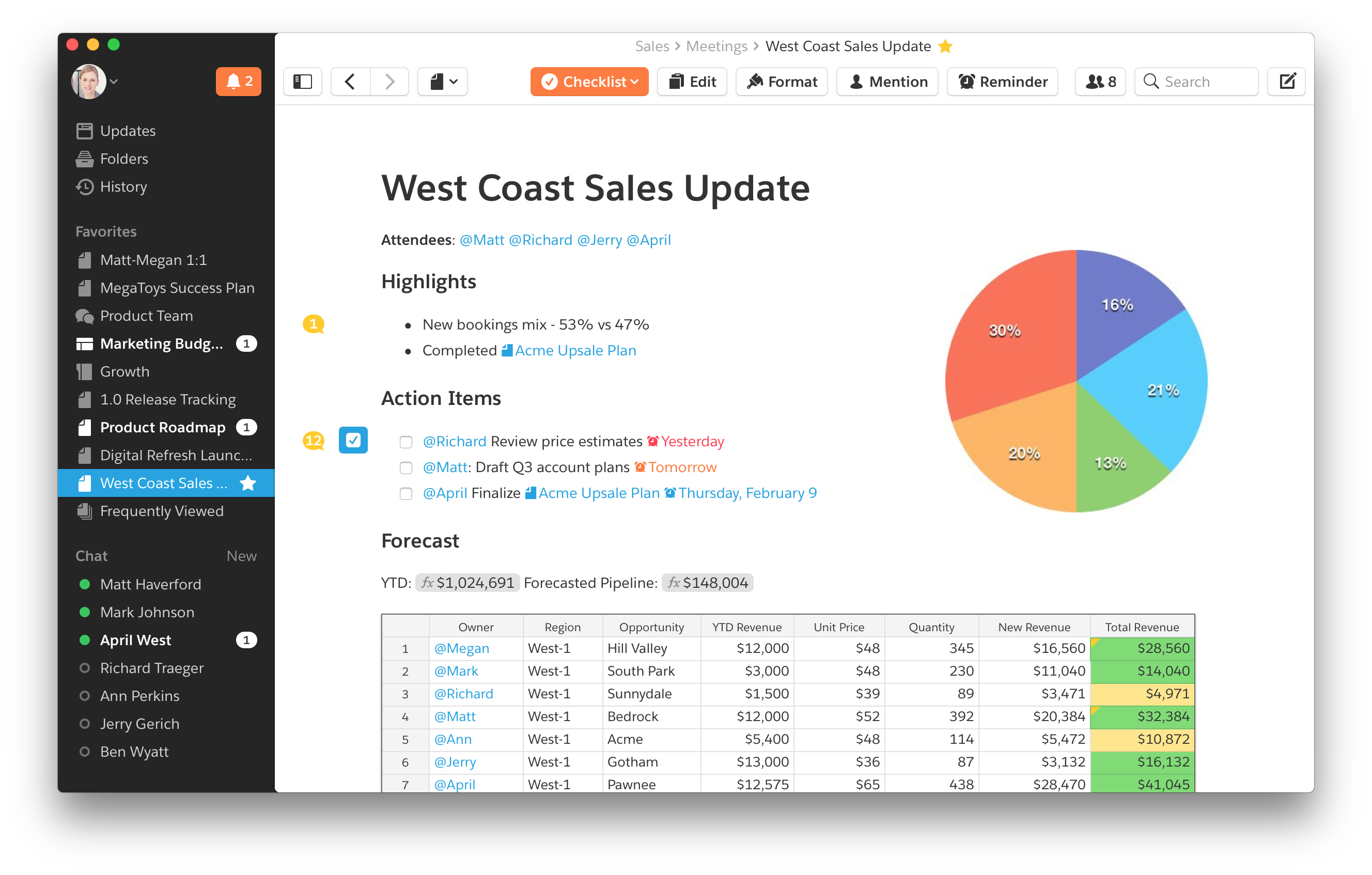 Add "projects" to the list of things you can do in Quip
Go into any organization, and you're likely to see projects still being managed in static spreadsheets, disconnected from the work that's happening  — and the people who are doing it. Quip now lets you manage your projects right next to everything else the project consists of: roadmaps, meeting notes, budgets, design assets, and decision-making conversations.
With Quip, project management becomes part of the communication that's already taking place. The checklists are simple and flexible, so your team can focus on getting the job done instead of wrestling with software. Just type a teammate's name to create a mention and assign a task to them, or choose a date to create a built-in reminder. Tasks proactively notify you when a due date is approaching, or if someone has commented on an item you're mentioned in.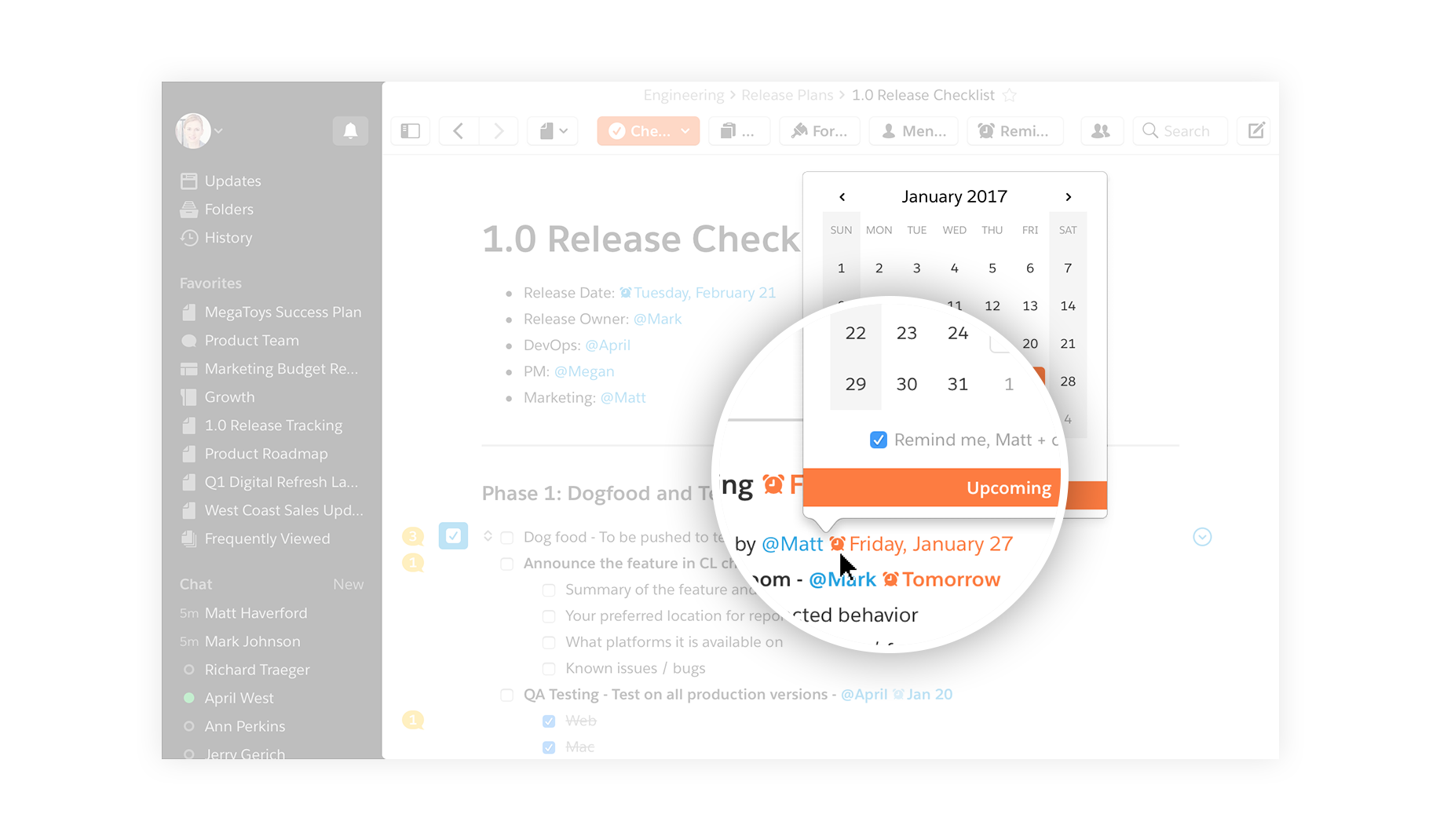 Reminders aren't just for project tasks, though. You can enhance your everyday workflow by adding a reminder to anything: a spreadsheet row you need to update, a checklist you want to follow up on, or a draft you need to review.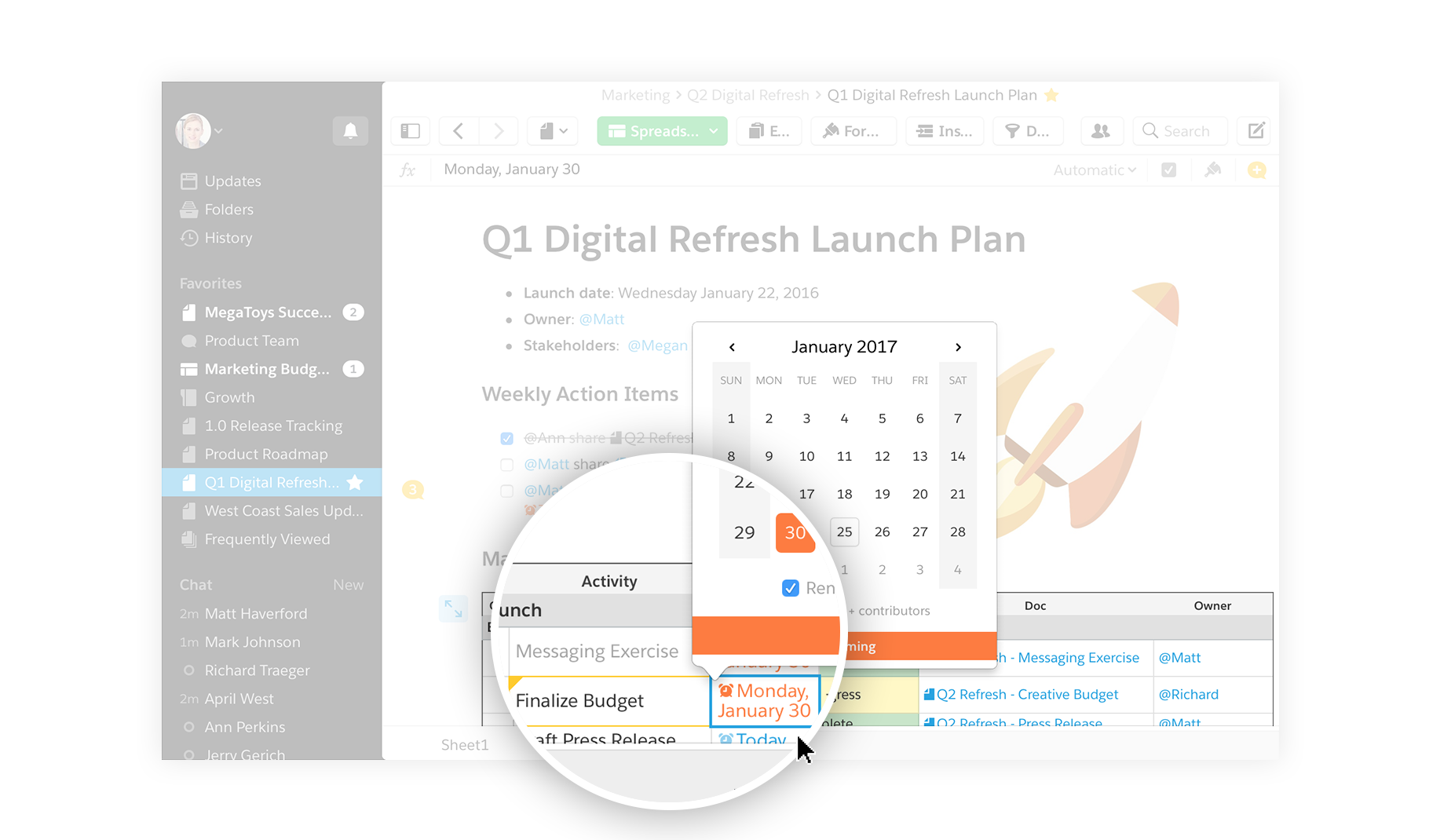 To see checklists and reminders in action, check out this video:
A smarter design for smarter teams
We've also updated Quip's overall look and feel, making it easier for you to get work done. Acting on feedback from teams that use Quip the most, we took a fresh look at Quip's core features. We started with the sidebar, transforming it into your workflow sidekick: always there when you need something, and tucked away in the background when it's time to focus.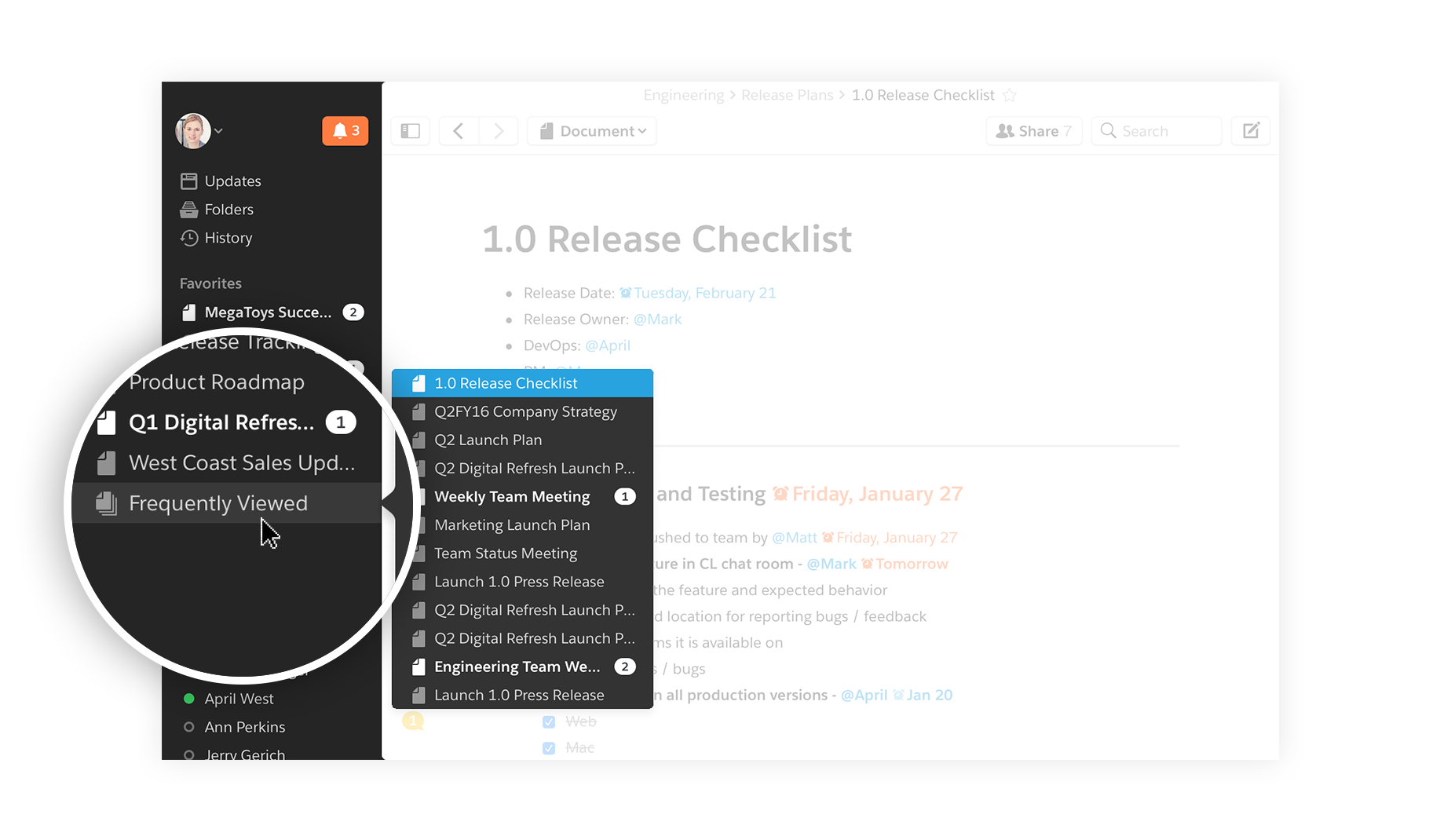 You'll also see colorful new menus in Quip that reveal the powerful tools available to you. The menus adapt to fit the work you're doing in documents, spreadsheets, or checklists. The things you need are front and center right when you need them, with nothing else in your way.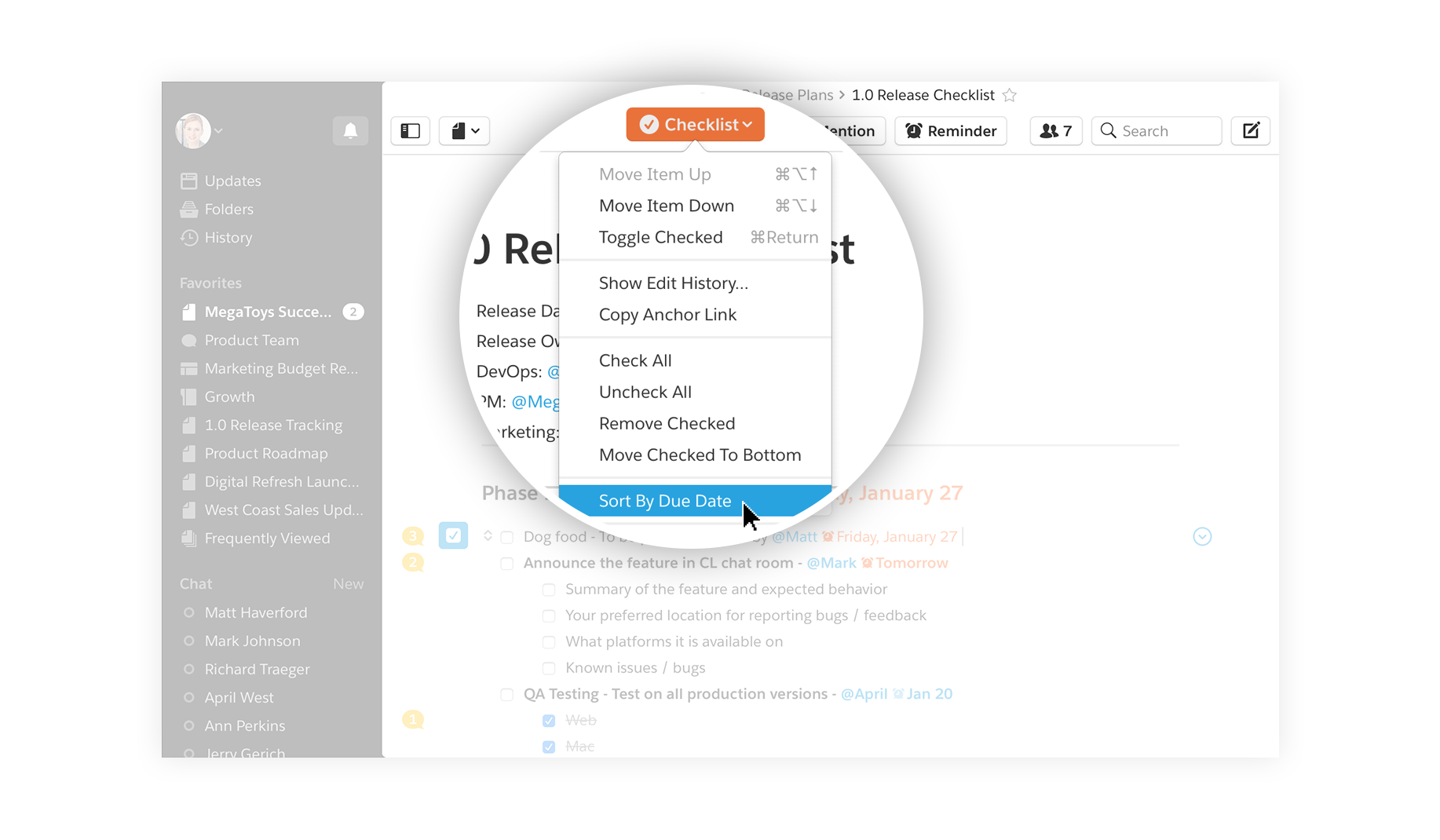 Bring Salesforce data right into your docs and spreadsheets
Finally, we're excited to announce a new integration with Salesforce. Quip Connect is available in the Salesforce AppExchange, giving teams powerful new ways to work with Quip and Salesforce.
With Quip Connect, you can export reports to Quip documents and spreadsheets with Live Data. With a few clicks, you can open your CRM data in Quip to model sales scenarios in a meeting, or update your team on a deal's progress. And the information you bring from Salesforce into Quip is always up to date; if Live Data changes in Salesforce, it will update in the Quip document.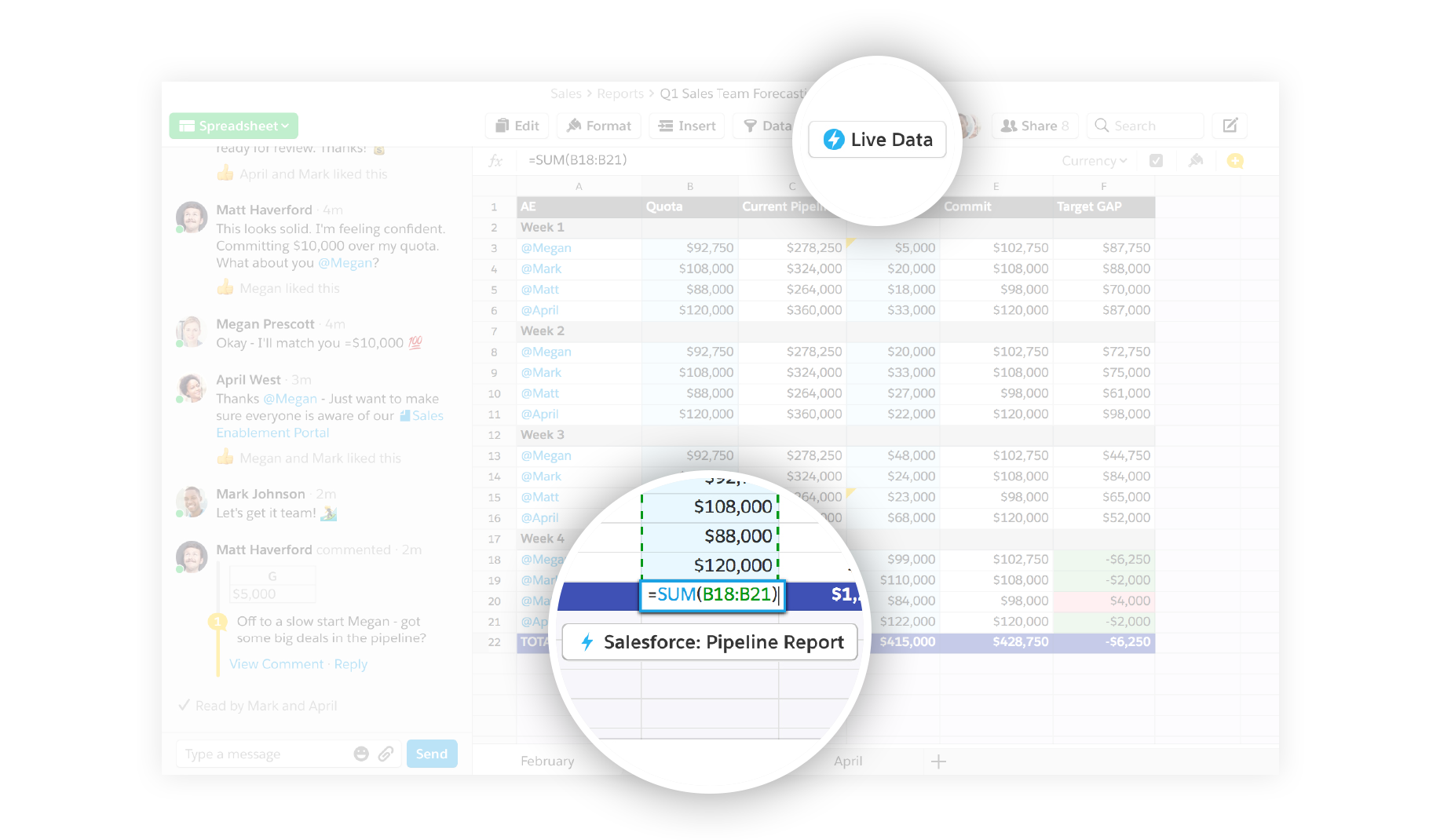 Quip Connect also includes the Quip component for Salesforce: a place to link, access, and create Quip content right inside Salesforce. With the Quip component, you and your team can find and collaborate on the documents, spreadsheets, and checklists that are crucial to your work. For example, a rep can link to an opportunity's deal close plan to ensure alignment across teams, or a customer service agent can source ideas from colleagues in a single doc to resolve a customer service issue.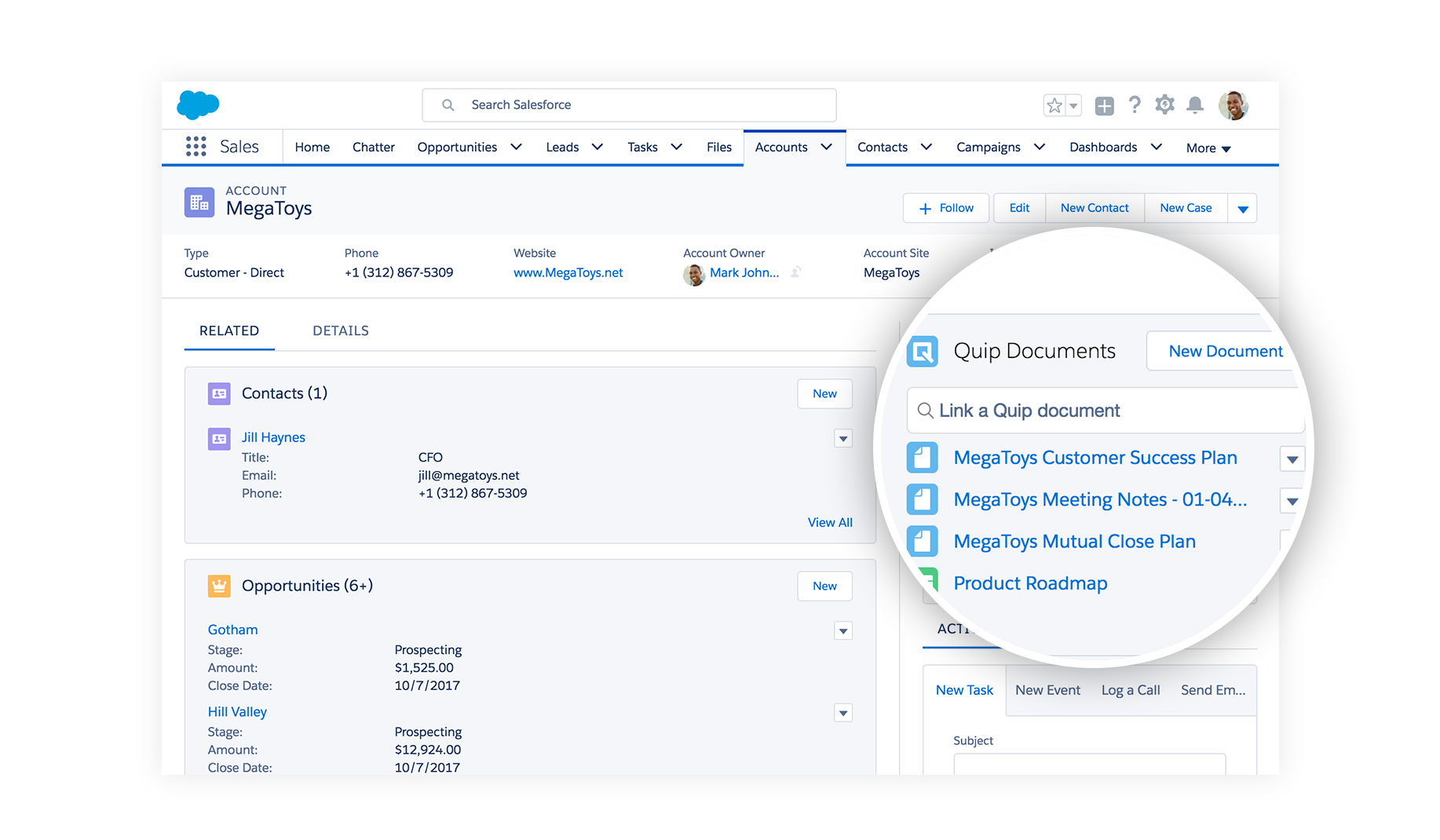 All these things add up to a new, smarter Quip for you and your team. You can manage projects alongside your work, and bring Live Data from Salesforce into your documents and spreadsheets — all in an intuitive interface that's built to anticipate your needs. With Quip, work becomes easier, projects finish faster, and your team can move onto the next thing sooner.
Create a project in Quip with your team today
We're excited to bring you all these great new features to help teams to work better together. We hope you love the new Quip as much as we do.
Already using Quip? Log in to quip.com or launch your Quip desktop app to get started.
New to Quip? Try Quip with your team by creating a free team site at quip.com or download the app from the App Store or Google Play.
To connect Quip to Salesforce, talk to one of our Quip experts to get help enabling the integration. Or if you're a Salesforce Admin, go to our AppExchange listing to enable the integration yourself.