Quip 2.2 - A New Approach to Notifications
We're excited to announce Quip 2.2, available for iPhone, iPad, Android phones and tablets, and desktop today.
Quip is now used at thousands of companies around the world, many of which have thousands of employees. As Quip has been deployed more widely across these organizations, we've gotten a lot of feedback about the way Quip notifies you about messages and activity on your documents. When you're sharing documents with 5,000 coworkers, it's pretty hard to sift through the noise to find the one or two updates you shouldn't miss.
With the revamped notifications system in Quip 2.2, you'll never miss an important update no matter how much Quip activity you have. Likewise, we've drastically reduced the amount of email Quip sends so you won't drown in updates when your whole office starts using the product.
Notifications
Quip 2.2 introduces Notifications, a new communication channel that alerts you to the most important things that have happened in Quip since you last used the app. You can see your notifications by tapping on the bell icon at the top of your inbox on your phone, tablet, or desktop.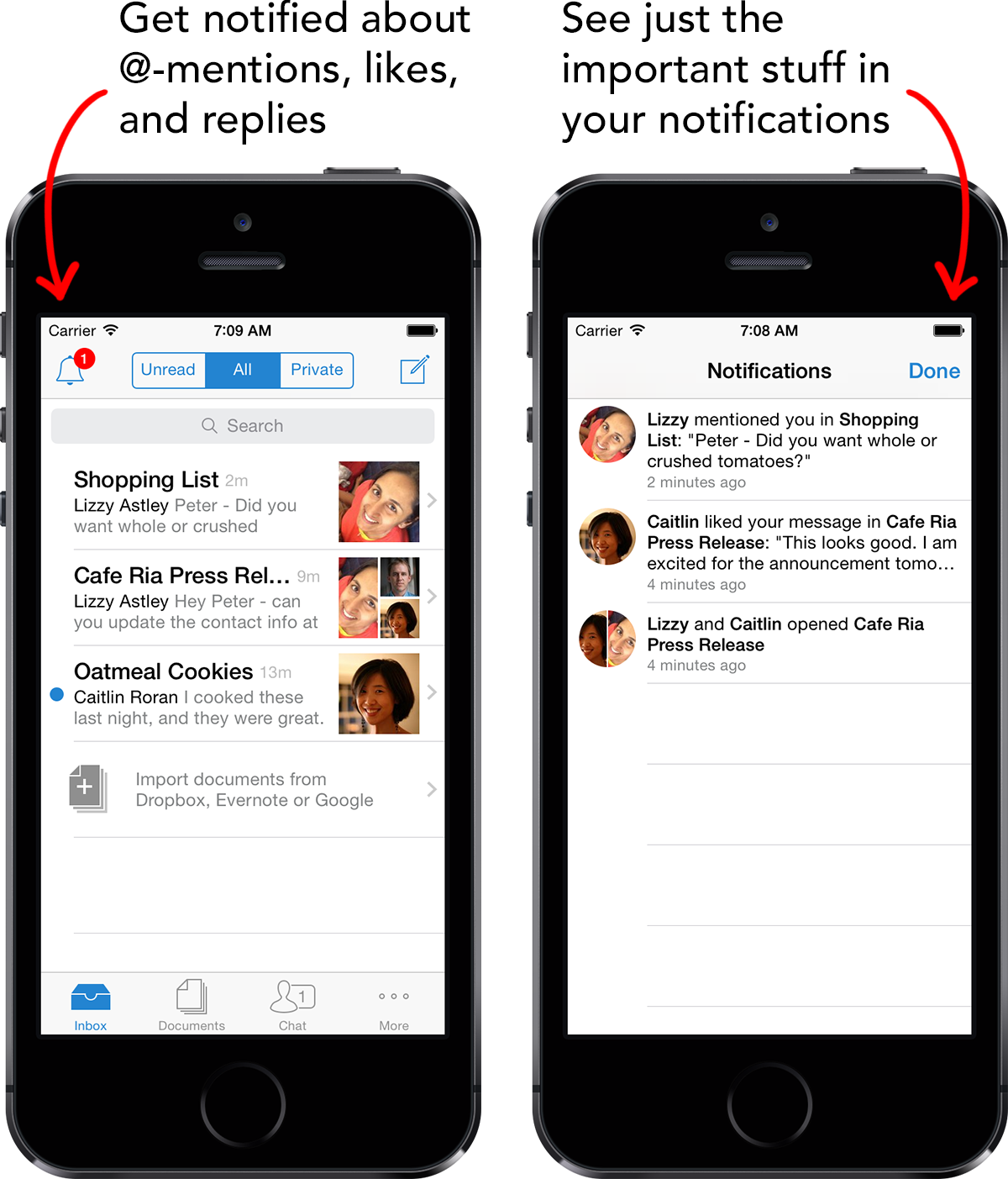 Just like notifications in Facebook and Twitter, you'll get notified about things that impact you personally, like:
When you're @-mentioned in a document

When someone responds to one of your comments

When someone likes one of your messages

When someone opens a document you shared
Notifications makes Quip even better for collaboration. Now, when you mention someone in a task in your launch checklist, they'll get notified, so you know they won't miss it. When you respond to someone's feedback on your design document, they'll get notified, so you'll get a response much faster.
Internally, it's completely changed the way Quip employees use the product — it's been the most impactful change we've made to the product since launch. We hope you like it as much as we do!
A New Approach to Email
Quip 2.2 is also much smarter about email — meaning we send a lot less of it, and when we do, it's relevant and high signal.
Now you'll get two types of emails from Quip:
Notifications — You'll get an email when you get a new notification (e.g., when someone @-mentions you). We try to be smart about these — you won't get them if you're actively using the app or have push notifications on your phone. We also cap these at a handful per day, so your inbox won't fill up when you're on vacation.

Daily Digest — If you haven't used Quip in the past day, you'll get one big email with all your Quip updates, summarizing the most important things that happened while you were gone.

You can configure both of these in your email preferences.
These new email settings make it much easier to start using Quip with your team — your colleagues won't be inundated with email, but they also won't miss an update thanks to the daily digest.
Thank You!
We built these features because of the feedback that we've gotten from the teams using Quip, so please keep it coming — you can email support@quip.com or reach out to @quip on Twitter.
We love hearing from you.