Quip Chat Rooms
Today, we're thrilled to release Chat Rooms and a fresh new design for Quip.
Since Quip launched, we've been passionate about breaking down the barriers of the traditional productivity suite. Quip blurs the lines between communication and productivity because we think the distinction is artificial.  What's the point of creating a document if you're not going to discuss it with your colleagues? That's why every Quip document has a chat thread — so you can collaborate on a document without the insufferable process of emailing attachments back and forth.
With Chat Rooms, we're significantly expanding the prominence and functionality of chat so your team can talk about anything in Quip, whether or not it's attached to a document. Your team can use Quip as a collaboration hub and reduce your dependence on email at the same time.
If you haven't tried Quip with your team yet, join the 10,000+ companies already using it, and let us know what you think.
Chat Rooms
Chat Rooms are channels for ongoing team discussions. You can make a chat room to discuss a topic, share files, or get notified about activity in external services like Twitter, Zendesk, and JIRA.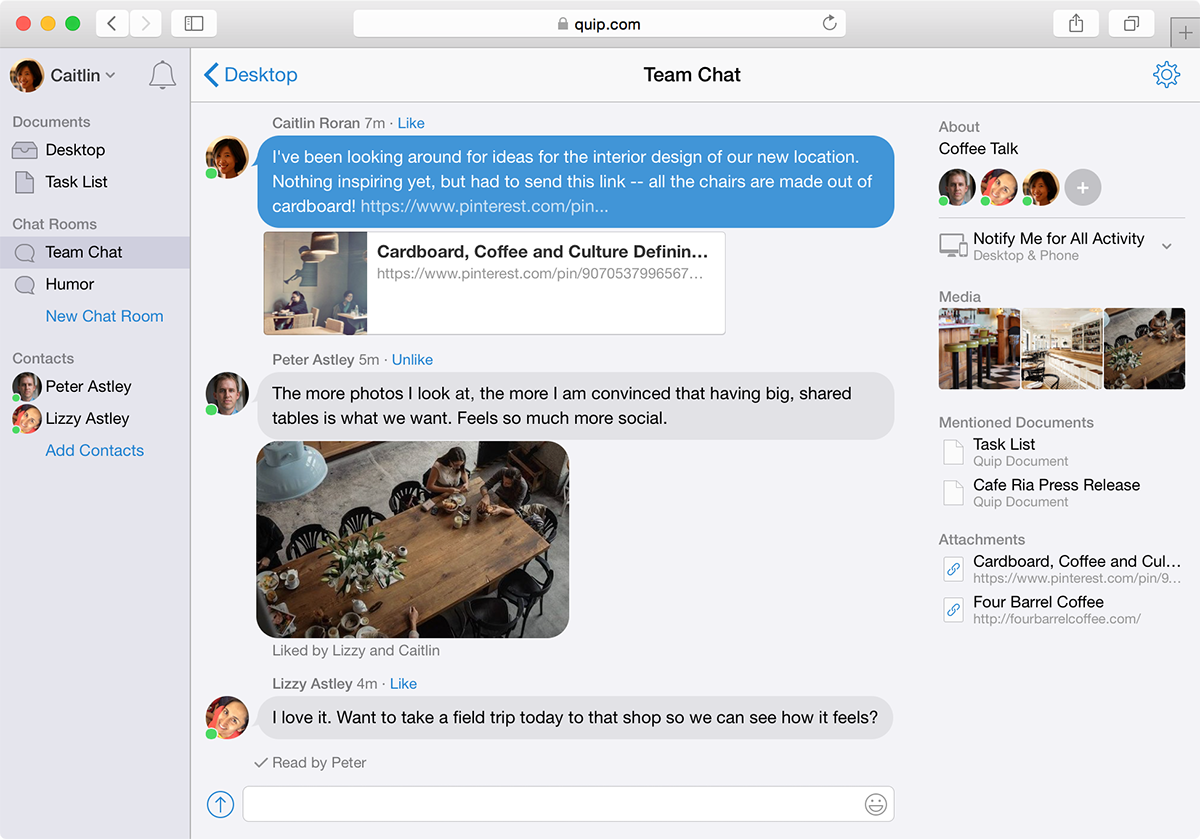 You create and navigate to Chat Rooms from the new, dedicated sidebar on your Quip homepage. We've tuned the experience so that it scales to a large number of chat rooms with lots of activity without overwhelming the product.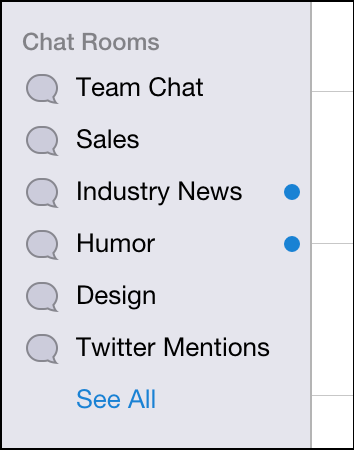 Integrated With Your Documents
The most compelling part of Chat Rooms is how tightly they integrate with your team's documents. You can @-mention documents in any message, and all recently mentioned documents show up next to the chat so you can easily get back to them: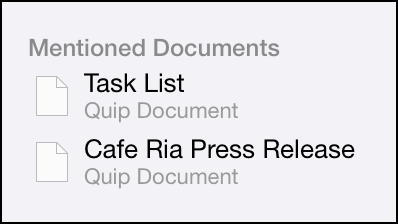 You can also create a new document and share it with everyone in the chat with the click of a button — a great way to transition from a design discussion to a design document, taking everyone in the chat with you.
Integrated With Your Services
Chat Rooms also integrate with third party services via Integrations. Integrations enable you to connect hundreds of other products, including Dropbox, Stripe, and Salesforce, directly to a chat room.
Nearly any application can be connected, so your team can stay up to date with:
Mentions of your company or brand on Twitter

GitHub commits for your team

Files added to Dropbox or Google Drive folder

PagerDuty, Jenkins, and Crashlytics updates

Customers added to Stripe, Square, or Salesforce

News from your favorite RSS feed

Alerts for local weather, Craigslist posts, or public transit

Calendar updates when an event starts or a project is due

Ticket created in Zendesk or JIRA
To get started, click "Add Integrations" on the right hand side of any chat room.
Fun and Functional
At Quip, we believe that the products you use at work should be as simple and fun as the apps you use away from the office. Quip chat now includes a bunch of lighthearted and social features, including emoji, a custom meme creator, and slash commands to bring a little more fun to your team.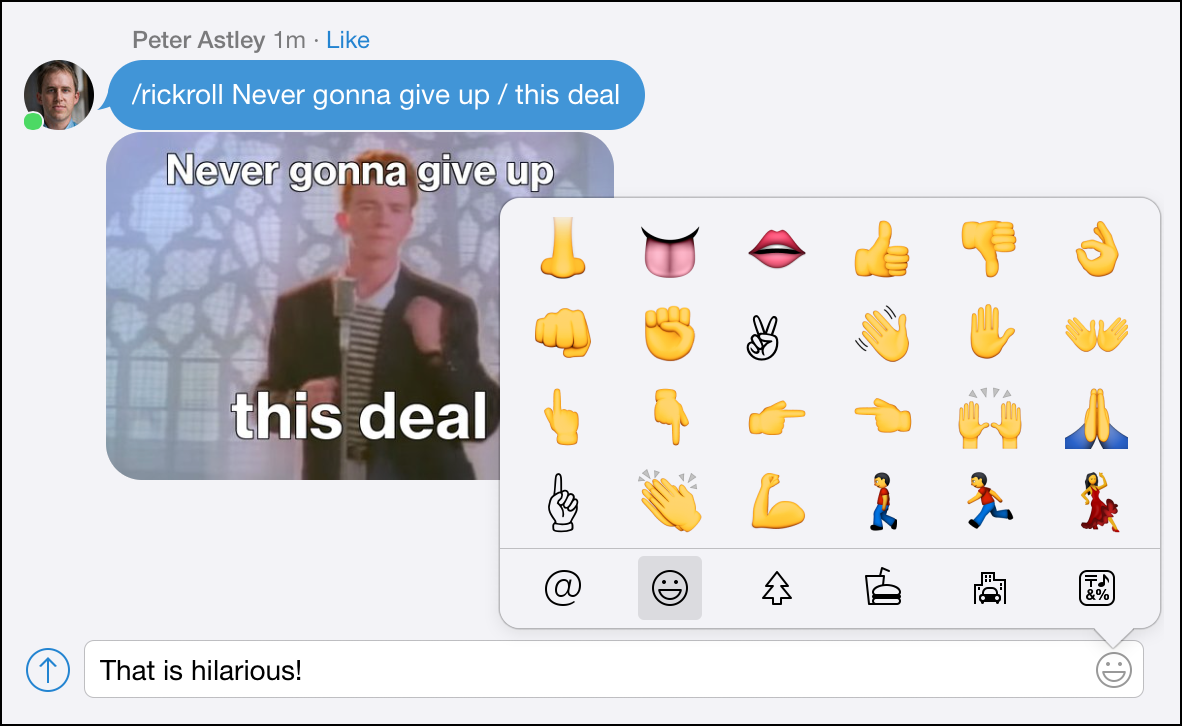 We've made all these features simple and accessible, so you don't need to be a computer programmer to add an inside joke to your team's memes.
A Fresh New Design
Along with Chat Rooms, we've revamped Quip's design so that your most important documents and chats are always a click away — no matter how active your team is.
In the new design, the documents, chat rooms, and people you interact with most frequently are always available in a sidebar on the left hand side of the screen: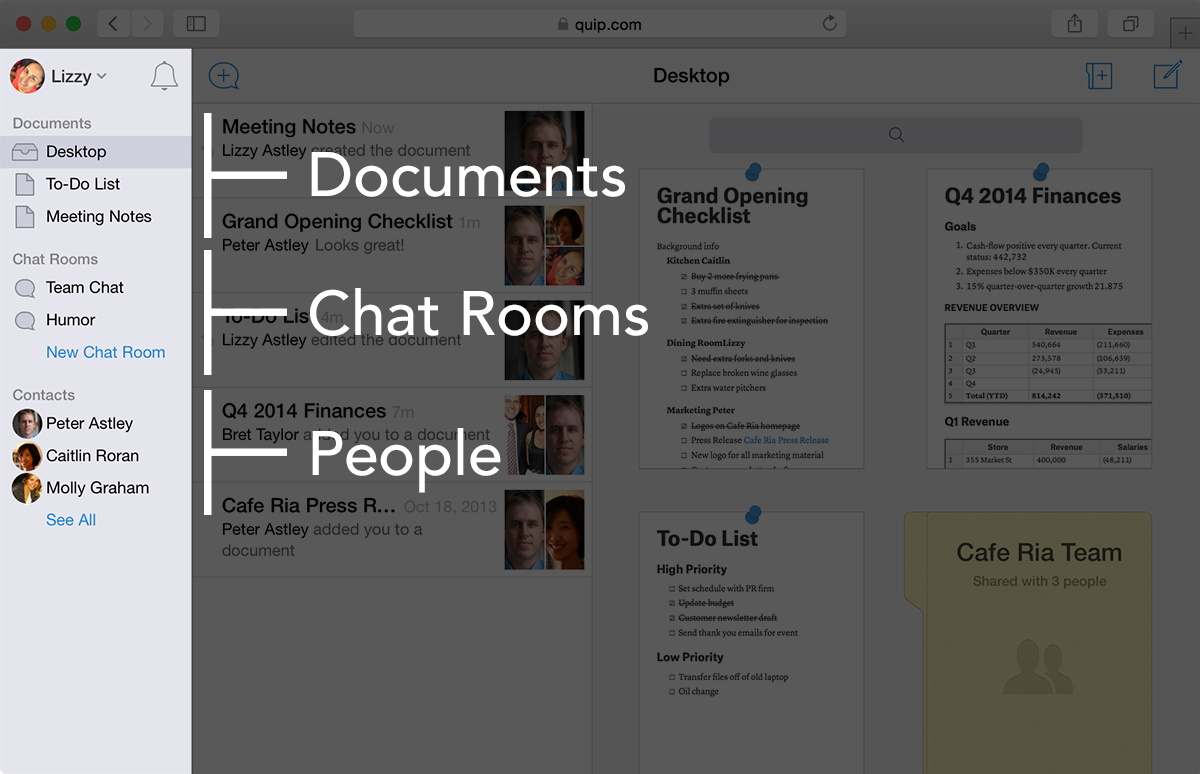 Quip magically populates the sidebar with the stuff you access most, but you can easily customize and curate the links you see there.
A New Approach to Notifications
With this release, we've also made Quip's notification controls more sophisticated so it's easier for members of extremely active teams to manage the volume of notifications they receive from Quip.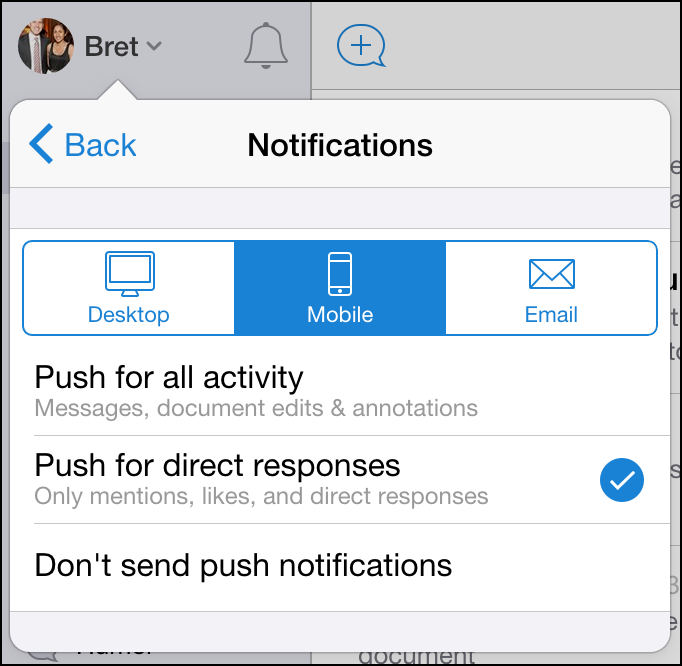 The new features include:
"Direct Responses" notification level — We've added a new notification level for desktop, mobile, and email that makes it easy to get notified only about important activity in Quip. When you select "Direct Responses," you'll only get notified when someone explicitly @-mentions you, direct messages you, or responds to something you wrote. This is a great default level for active teams.
@Everyone - Send a notification to everyone in a chat by mentioning @Everyone. It's a great way to get everyone on your team to jump into a chat immediately — even if they're away from the office.
Separate mobile and desktop notification levels — You can now change your notification level for your desktop and phone separately, so you can, e.g., get fewer notifications on your phone than you see on your laptop.
Company-wide control — If you're a Quip Business customer, you can now change the default notification level for your whole team so new employees aren't overwhelmed with Quip activity on their first day.
---
To try Quip Chat Rooms, go to https://quip.com/, or download the app from the App Store or Google Play.
We're really excited to hear your feedback on Chat Rooms and what you want from Quip next. To reach us, email support@quip.com or reach out to @quip on Twitter.
We love hearing from you.