BTW, this launched—summer 2018 edition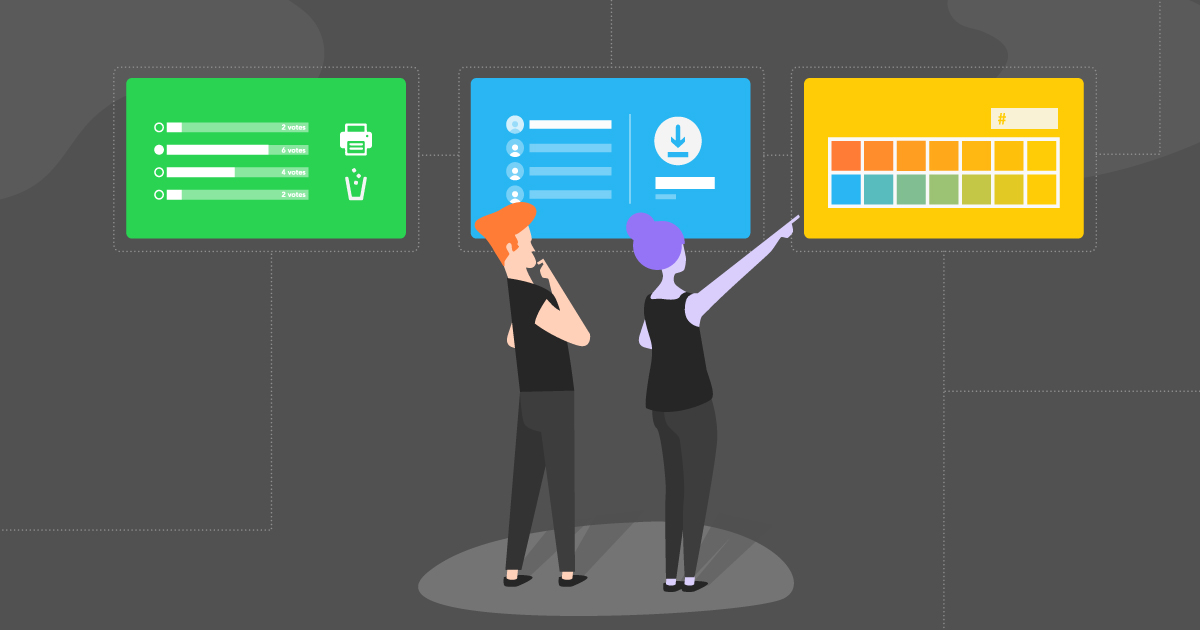 Welcome to our quarterly feature roundup post! To see what we've done in the past, check out the first, second, and third posts in our BTW, this launched series. This post is packed with fun stuff that the Quip team has been building for you. So let's jump right in.
Improved document history
We updated the Document History function to give you a more organized, granular look at what's going on in your busiest Quip docs.Check it out under the Document menu on web and the desktop app. It sorts versions chronologically, showing you who changed what, and when. You can copy and paste from any version if you want to salvage a snippet. Or if you want to revert the entire document to a previous version, you can do that too with the Restore button.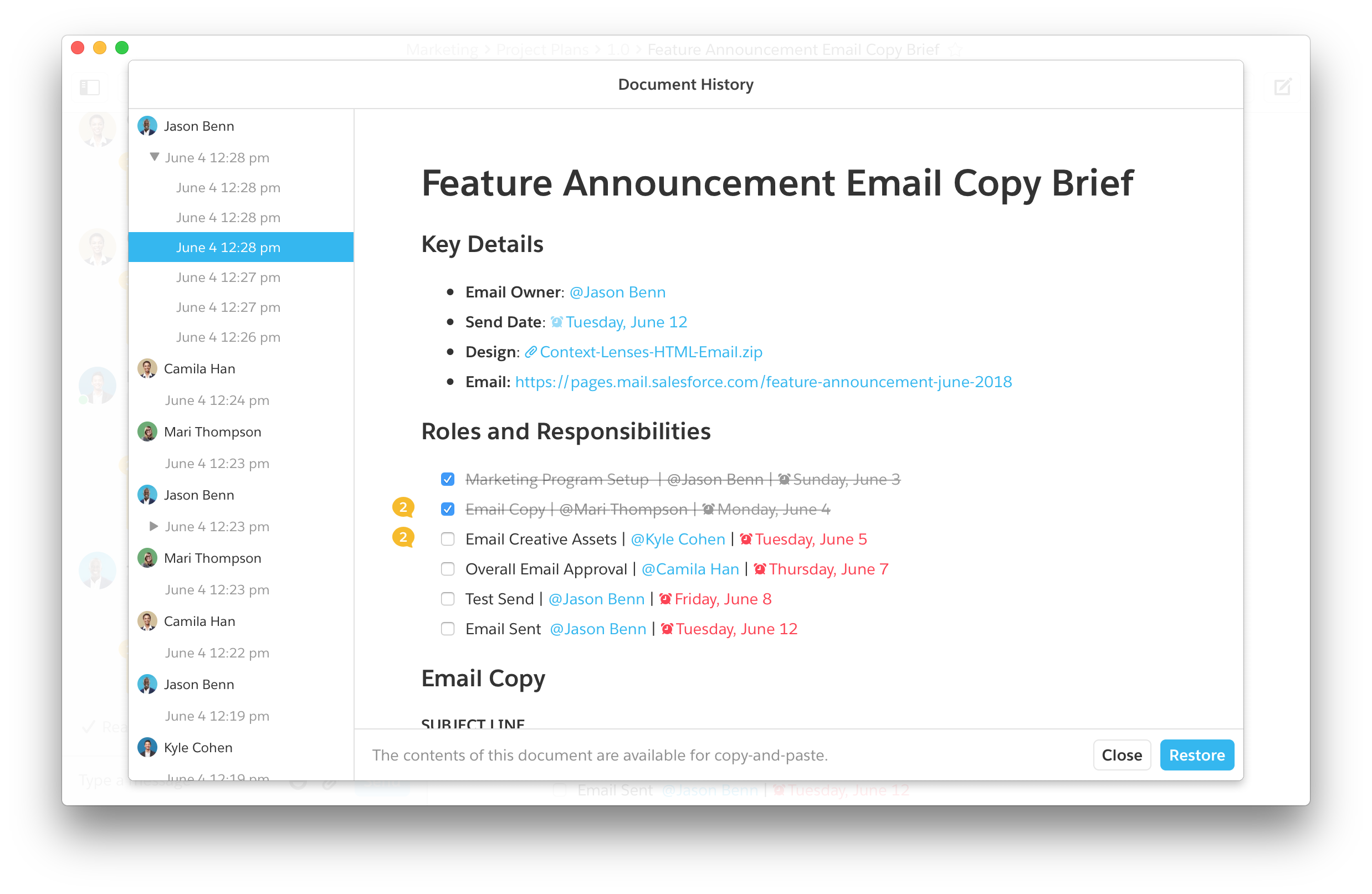 Edit messages you already sent
Ever type out a comment, send it, then realize you made an embarrassing typo? Before, your only option was to delete it and start over (or leave it, and trust that your colleagues won't judge you too harshly). But now there's a new option to edit a comment or message that you've already sent. Just click the pencil-and-paper Edit Message icon next to your post, make changes, then click the check box to save your edits. This is available on web and the desktop apps.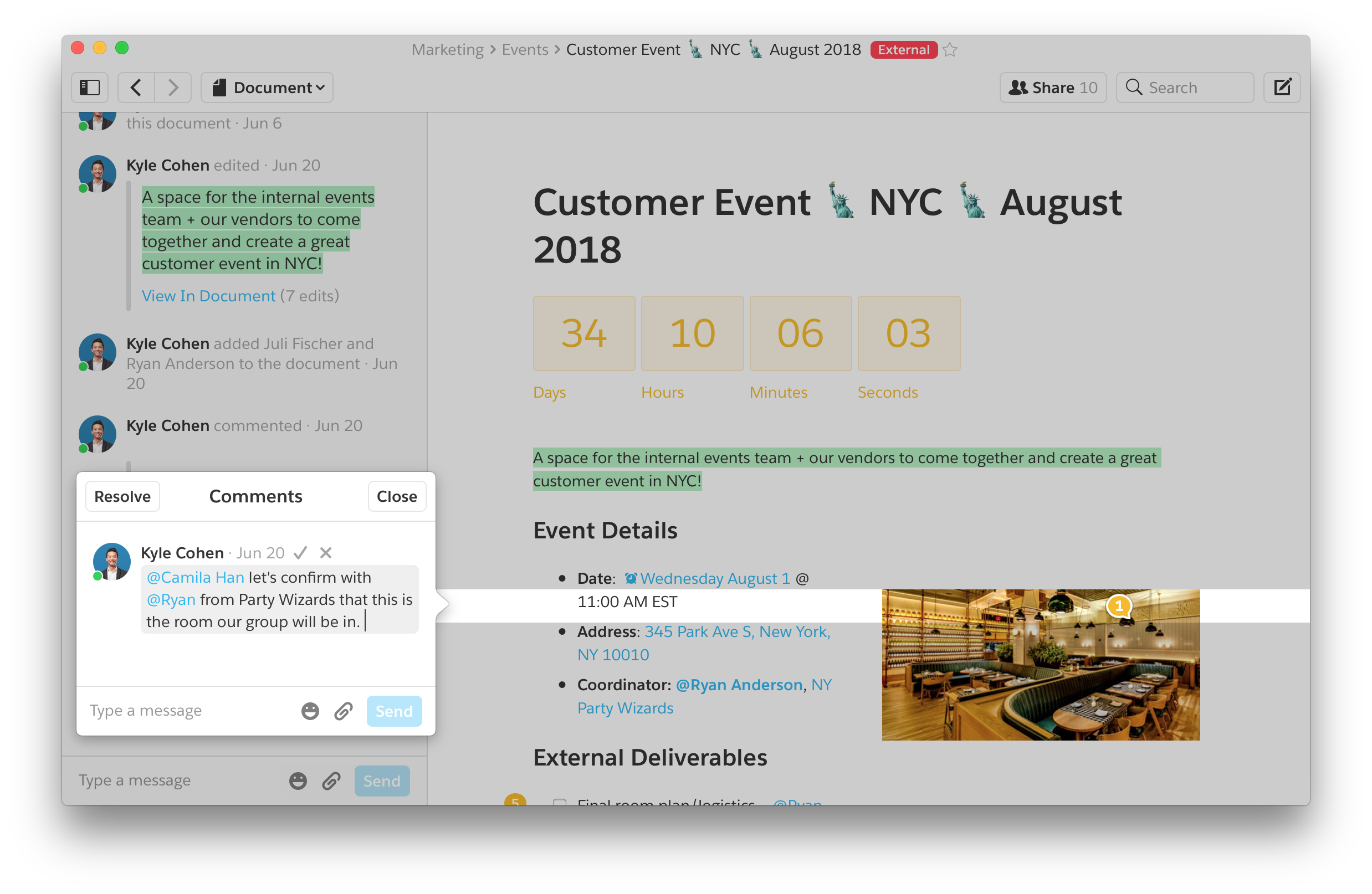 Ask your admin to install a Live App
While several Live Apps are available by default in Quip (like @kanban and @calendar), the third-party ones (like Smartsheet, Lucidchart, and Altify) and need to be installed by your Quip site's admin. We didn't want that to be a roadblock though, so we built the ability for any Quip user to ask their admin to install a Live App. When you visit the App Explorer in Quip and click on Get More Live Apps, you'll be taken to the Salesforce AppExchange. From there, you'll have the option to request that your Quip admin install any given Live App for your Quip Site. The admin will get an email notifying them of your request, with a link for them to install the Live App.
Better recovery for deleted documents
We've added a new Deleted by Others subfolder in the Trash folder on the web and desktop. Now, if you were part of a document and it was deleted by someone else, you can search for it (on web) or find it in that new folder. If you click on the document you'll see who deleted it, and have the option to contact that person (perhaps to ask why they deleted the document, or ask them to un-delete it).
More colors for your spreadsheets
You've always been able to format spreadsheets in Quip with colors, but we made an update to the color picker that gives you more flexibility. First, we added some new pre-set color options to the palette. Then we added a visual color picker that lets you find and choose arbitrary colors without typing in a hex code. As Patrick Linehan, one of our engineers said, "We really BEEFED things up. Contribution of the DECADE!"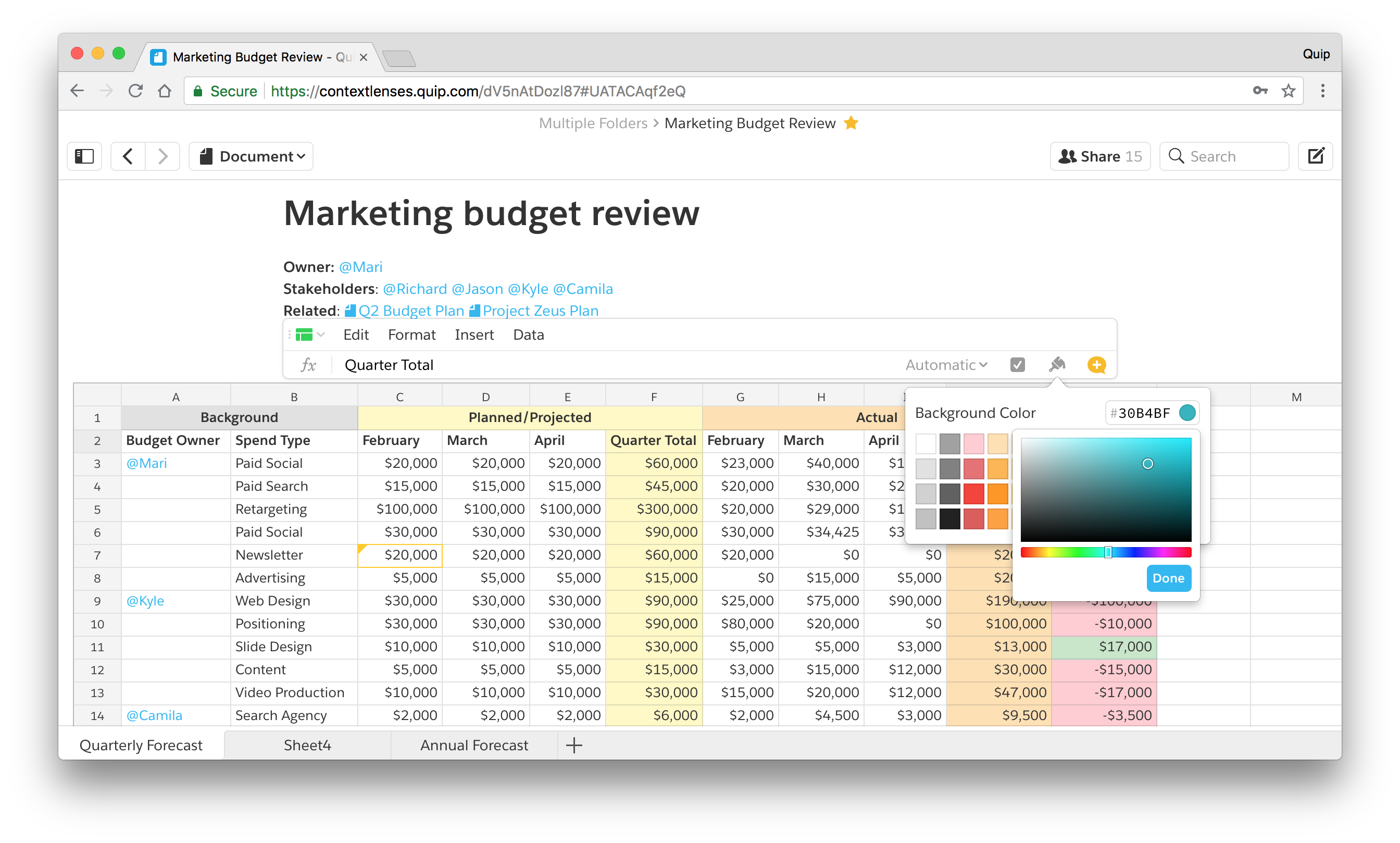 Improved printing
We heard from customers that they often need to print Quip documents out for various reasons. We realized we'd been so focused on making sure Quip looks great on screens, that the printing experience wasn't that good. We made some tweaks so now a printed Quip doc looks more like a virtual one: It's more compact, and has more words on each page. This makes it easier for users, and also saves paper. Yay!
Enjoy these new goodies in Quip
What's that you say? You don't have a Quip site yet? Well let's fix that!